Legacy Sports International, Inc., have added a new member to their popular line of M-1911s: The Citadel Cerakote M-1911 in Flat Dark Earth (FDE). Aside from making one good-looking firearm, the Cerakote high-end finish is the most durable protection against corrosion, impact and scratching. The coating also aids in smooth slide action in charging and cycling the pistol.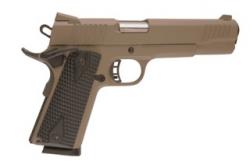 The Citadel M-1911's are built by Armscor. They're high performance and reliable guns great for sport shooting, concealed carry and practice shooting. The entire line features a slide stop with grooves, flared ejection port, extended thumb safety and grip safety with beavertail. Additionally, each firearm is manufactured with a skeletonized hammer and trigger as well as a beveled mag well. Full-size models of the Citadel M-1911 have a five-inch barrel with full guide rod, an ambidextrous safety and two magazines. The compact versions have a 3.5-inch barrel and also come with two magazines.  
One of the Cerakote FDE models is the Hogue G10 Pirana grip. The full size handgun is available in .45 ACP and 9 mm calibers. It has an overall length of 8.87 inches and weighs 36.8 ounces.
The compact size available in Cerakote FDE is the Hogue Officer. Calibers are .45 ACP and 9 mm and, because it's the compact size, it has a barrel length of 3.5 inches. The overall length of the Officer is 7.5 inches and it weighs 33.8 ounces.
MSRP: $796