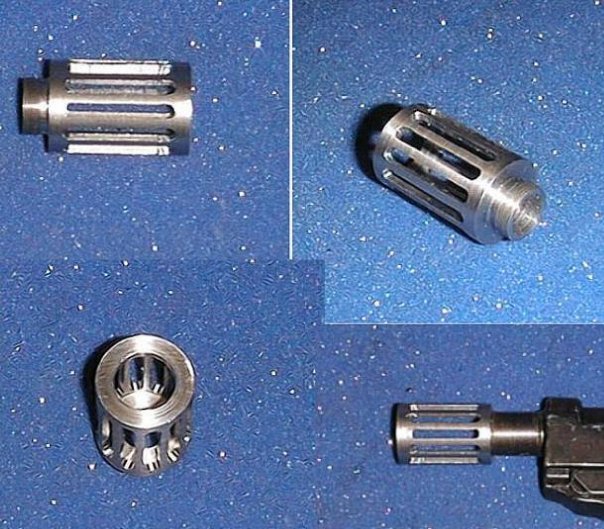 While it's easy to understand why some perceive the cage-shaped flash hider on the U.N.C.L.E. Special to be one of those cosmetic add-ons used to give the gun a certain degree of state-of-the art flare, the fact is it was included to serve as a blank adapter. Prop masters cut the standard P38 barrels just short of where they tapered then internally threaded them to except either the flash hider or carbine extension—which explains why the flash hiders weren't a permanent fixture.
Larry Green's are made similarly in that they require the P38 barrel be cut down and interior of the muzzle slightly counter-bored prior to being internally threaded for the cage. Having been designed for use with live ammo, its dimensions are different, but only slightly: the threaded stem is shorter with a finely threaded exterior, while the hole inside is wide enough to allow access of a 9 mm bullet (which is why it appealed to me so much). Lengthwise, it's slightly longer than Brad's, although this is virtually unnoticeable without measuring.


However, I wanted the versatility of being able to run one of my suppressors on the gun, which required a different thread configuration on both cage and barrel—plus, knowing how suppressors tend to loosen during extended periods of fire, I suspected the cage would follow suit. As a result, I viewed the potential change more as a slight alternation with an added ounce of prevention—if for no other reason than for piece of mind. In an effort to find a solution, my friend John referred me to Steve L'Italien, who in addition to selling U.N.C.L.E. memorabilia, also sells gun parts on his website. Despite never having the pleasure of speaking to him, the few enthusiastic e-mails we swapped included the necessary drawings and most specs necessary to custom build my own cage. Much like coveted single malt, Steve occasionally proves as hard to get a hold of—but the results are worth it and equally enjoyable.
Still, in the back of my mind I couldn't help wondering if Larry Green's flash hiders—or what his website refers to as flash arrestors—could be modified to meet my needs. My gunsmith responded telling me he'd have no problem doing so. The end result included a brazed skirt mated to the cage—the interior of which was threaded ½ inch to attach to both the modified barrel as well as my suppressor—duplicating the overall length of an originally-configured prop barrel both with (4") and without (3") the cage attachment (A similar approach was used when making the carbine barrel (more on that later). Despite the change, the addition of the threaded skirt doesn't change the overall aesthetics of the original design.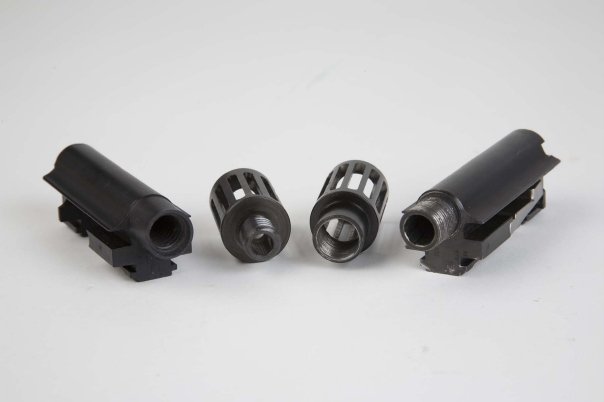 For the moment however, I viewed the solution as the first successful leap over one of many hurdles yet to be discovered. Little did I know the next would occur when I took it to the range.(First image courtesy of Larry Green)