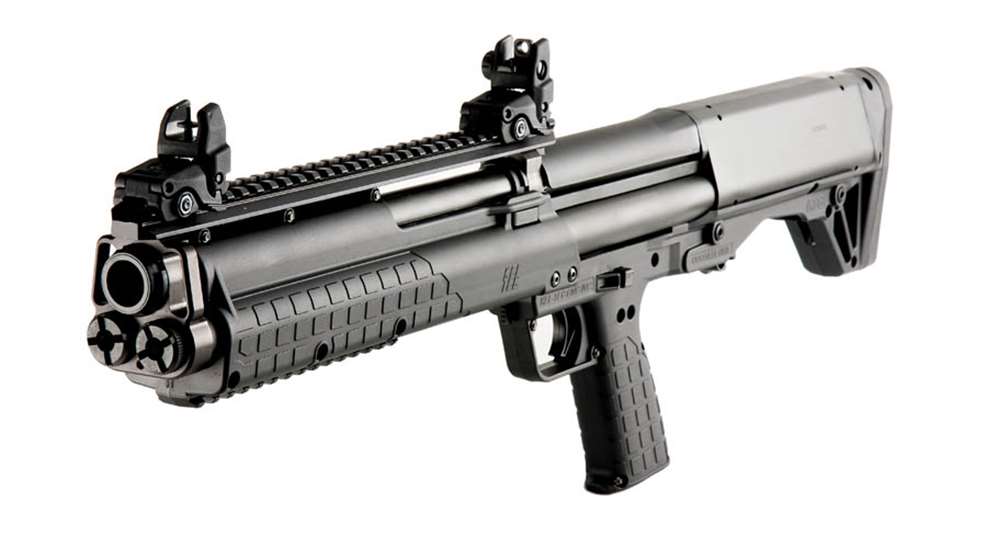 Without question, it's easy to find yourself in sensory overload at the SHOT show, due to having so much cool stuff under one roof to gawk at.
One of the firearms that piqued my interest, and no doubt many others, is Kel-Tec's KSG—the company's first entry into the shotgun market.
With features such as dual magazine tubes boasting an impressive capacity of 14 rounds of 2 3/4-inch 12-guage shells, and downward shell ejection to promote ambidextrous use, the KSG puts a lot of firepower at your finger tips. Overall length of 18.5-inch-barrelled shotgun is 26.1 inches, thanks to its bullpup-style design, which offers quite a lot in an ultra-short, lightweight package.
Being a fan of bullpup-platform firearms, I can certain see one of these shorty shottys in my future. While the KSG unquestionably has loads going for it (no pun intended), it is by no means the first shotgun of its kind. In the mid- to late '80s Mossberg produced a short-lived bullpup variant of its venerable Model 500. 
However, the notion of incorporating a bullpup design to a riot-style shotgun dates back much further. In 1966, using its Flite King as the basis for the new, innovative modification, High Standard began manufacturing a semi-automatic 12-guage, bullpup shotgun that included such features as a swiveling buttplate, along with an integral carry handle and an built-in Kel-Lite flashlight. The Hi-Standard Model 10A was originally designed to be the ultimate entry shotgun for the newly created SWAT teams being formed in police departments nationwide.
The later Model 10B (my favorite semi-automatic riot shotgun) was improved with a left-hand charging handle, flip-up front sight, and featured a pivoting, detachable carry-handle mount, which a Kel-Lite could also attach to when the handle was not in use.