Loading a revolver under pressure can be a slow process without good training and the right equipment. If you want some of the best revolver training, seek out instructors like Grant Cunningham or Michael de Bethencourt—just to name a couple of the nation's premier self-defense revolver trainers. If you're looking for good equipment, consider trying the speedloading tools from Zeta6. 
History
Prior to embarking on my law enforcement career, I was fortunate to work as a security officer at a major trauma center in the southeastern United States. We carried personally owned .38 Special revolvers and trained frequently with them. My duty gun was a 4-inch Smith & Wesson Model 10 with a five-shot Model 642 riding as backup.
I trained hard with those guns and got good. Really good. My skill wasn't limited to only pressing the trigger. I also became quite efficient at reloading those revolvers. For the K-frame, I carried a pair of HKS Speedloaders while a Bianchi Speed Strip carried spare ammunition for the backup.
While the HKS and Bianchi products worked fine, during the past 25+ years, I've continued looking for better ways to feed ammo into wheelguns. That's how I found Zeta6 and its innovative line of ammunition loading tools.
Zeta6
Based in the Peach State, Zeta6 was formed by shooters who felt that reloading options for the J-frame revolver were limited. Since its inception, the company created loading products for the K-frame revolvers as well.
Currently, the company makes loading products that use flexible polymers instead of mechanical devices with screws and springs. This reduces the opportunities for debris to jam up the works plus keeps everything affordable. All of the products seem well suited for concealed carry, though which one you might choose is dependent on your needs.
Let's take a look at some of the products the company currently offers.
J-CLIP and K-CLIP
The J-CLIP and K-CLIP speedloaders are small polymer slabs that are designed to load a full cylinder of .38 Special/.357 Magnum ammunition in one flick of the wrist.
Shaped as a pentagon (the five-shot J-CLIP) or as a hexagon (the six-shot K-CLIP,) rimmed revolver cartridges snap into the slab easily. When you are ready to load an empty cylinder, you insert all of the rounds into charge holes in a single motion and then quickly peel off the CLIP. All of the rounds are now loaded and the J-/K-CLIP drops free. These loading tools offer the potential of rapid revolver loading.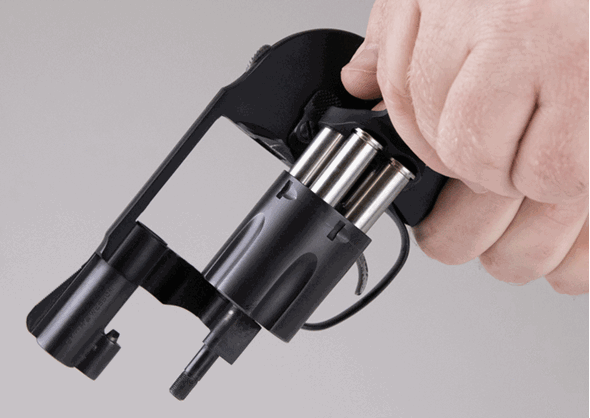 In practice, I find these work well. They are more compact than mechanical speedloaders, but still provide a secure way to carry spare ammunition. One caveat you should know: They work best with standard sized grips. Large rubber or wooden grips may interfere with a smooth reload. This should not be surprising to revolver shooters who have used other full-cylinder speedloaders as most will not work with oversized stocks.
J-STRIP
Sometimes it's the small things that can make a big difference. The J-STRIP is one such example. Similar to the Bianchi Speedstrip, the J-STRIP is made of a flexible polymer that aligns the cartridges in a single file row. It lays flat in the pocket and is easy to carry.
The innovation comes from the spacing of the cartridges on the J-STRIP. Instead of having five rounds at regular intervals, the J-STRIP arranges the rounds in a 2-2-1 configuration.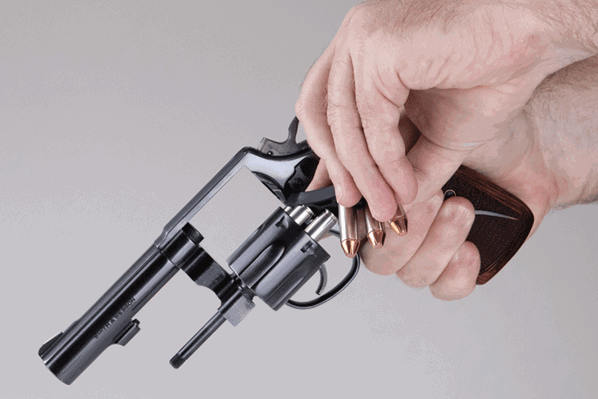 The first two rounds are spaced at the right distance for quick loading of two charge holes in the J-frame cylinder. There is then a gap followed by the second two rounds that are again spaced perfectly for fast loading. The final round is on its own with a larger tab that can strip away quickly. 
Frankly, I wasn't sure that the spacing would make much of a difference. I was surprised at how much of a difference it did make. I could feel the cadence of the spacing with my fingers which allowed me to rapidly index the rounds with the charge holes. For a J-frame revolver, I believe this is the best strip-type loader available.
K-PAK
Without a doubt, the K-PAK is my favorite Zeta6 speedloader for the K-frame revolver. This polymer strip holds six cartridges arranged in a pair of half-moon circles. This allows you to quickly load three rounds at a time from a holder that is much flatter than a K-CLIP or alternatives from other companies.
When I first examined the K-PAK, I was unsure if I would like it. But, as soon as I tried it, I realized what a great loading tool it was. I was able to quickly load my wheelgun in about half the time of an inline strip and alignment with the charging holes was very natural. The extra width of the K-PAK gave my hand better control over the loading process without sacrificing much of anything when it comes to concealment.
Final Thoughts
Reloading a revolver can be slower and more difficult than with a bottom feeder. That doesn't mean it has to be slow or hard. With training, practice and the right tools, getting your wheelgun back into the fight can be accomplished quickly. Zeta6 offers a number of tools that can help you keep your handgun running. I recommend giving the company's innovative products a look. For more information, visit zetasix.com.