STI's new Total Eclipse—an ultra-concealable, higher-capacity 1911 designed to keep everyone in the dark but you, combines subcompact ergonomics with twice the capacity of standard 1911s. 
Given its long history of building higher-capacity 1911s for competitive shooting, STI is no stranger to pushing the envelope. It should come as no surprise—with a name like Total Eclipse—STI's latest offering was not born from competition, but from the dim domain inhabited by undercover law enforcement officers, where effective firearm concealment is vital.
Following the success of STI's law enforcement-inspired pistol, the Shadow, further feedback from the LE community urged the company to improve the design by making it more concealable. In the end, the Total Eclipse possesses all key features of its predecessor in a more-compact pistol with twice the capacity.
Two key components contributing to its concealability are its compact grip and 3-inch barrel. With an overall length of a mere 7 inches, the pistol may be small, but with the availability of popular chamberings like 9 mm, .40 S&W and .45 ACP, rest assured this particular eclipse possesses an immense path of totality.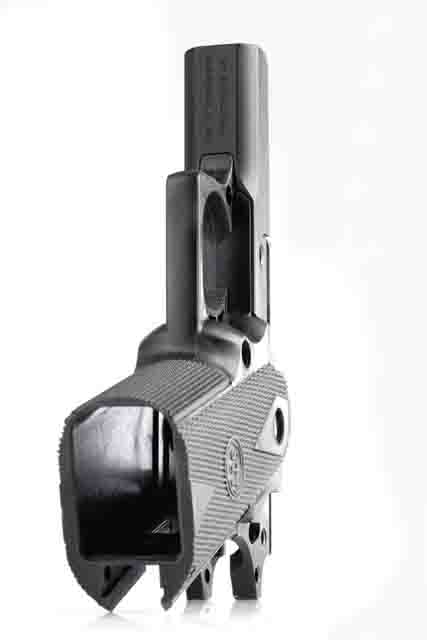 Built using the company's innovative 2011 frame of CNC-milled 4140 Maxxell-alloy steel billet, the Total Eclipse retains the same comfortable 17-degree grip angle as the original 1911 design. Its modular, two-piece construction keeps weight down, while accommodating a double-stack magazine—without excess bulk. Constructed from glass-filled nylon polymer, the shortened grip contains 30-lpi checkering on both its frontstrap and mainspring housing. Additional 25-lpi checkering is found on the face of the trigger guard for shooters who prefer to wrap their support-hand index finger around it for recoil management.
Several features on the frame promote creation of an optimum firing grip, such as its flat mainspring housing and STI beavertail grip safety. The single-sided thumb safety also aids in this regard. Its wide paddle provides a perfect ledge for the shooter's thumb during firing. While STI's thumb safety is more than sufficient for most shooters, I'd consider an ambidextrous model a more-practical alternative, not just from the standpoint of a southpaw shooter, but because an ambidextrous safety provides the means for both strong- and weak-hand shooting.
As with the relationship between autumnal and vernal equinoxes, the Total Eclipse's barrel and slide assembly work in concert. Sporting a slide measuring a diminutive 3 inches long, its sights sit lower than similarly sized pistols for a snag-free draw, while an integral channel milled into the top of the slide make the Heinie-brand low-profile, snag-free sights easy to see. The presence of tritium night sights, containing a Straight Eight configuration, provide for lightning-fast target acquisition during low-light conditions.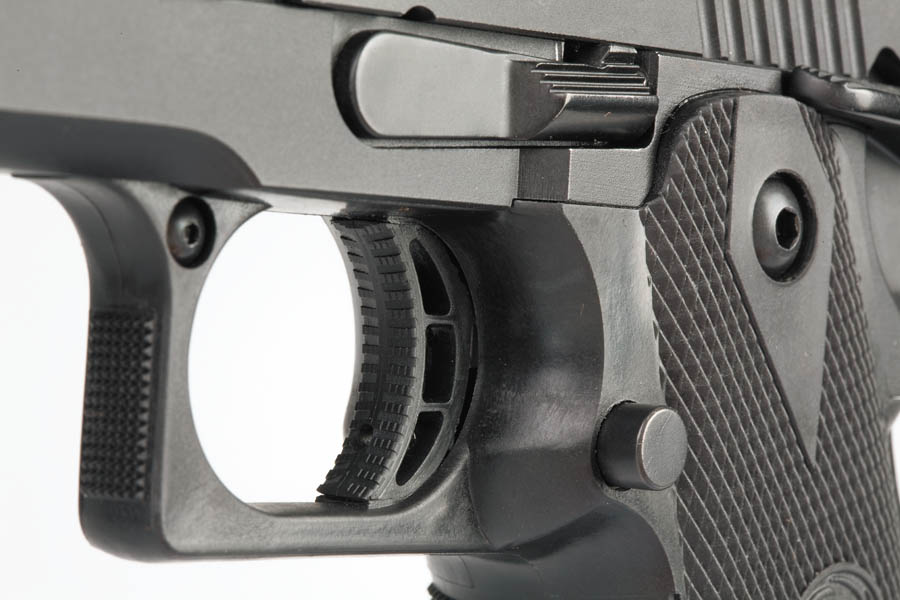 While the Total Eclipse's barrel is extremely deceiving at first glance, closer inspection revealed all the necessary attributes for precision-grade performance and reliability. The presence of an integral feed ramp offers better rearward case support to handle the higher pressures commonly associated with .40-caliber pistols. The barrel's feed ramp angle is also caliber specific for maximum reliability during slide reciprocation.
The Total Eclipse features an STI RecoilMaster guide rod assembly. According to the folks at the company, its dual recoil springs help compensate for the subcompact slide's shortened travel. It also reduces the likely stress on a single recoil spring by sharing the load between two.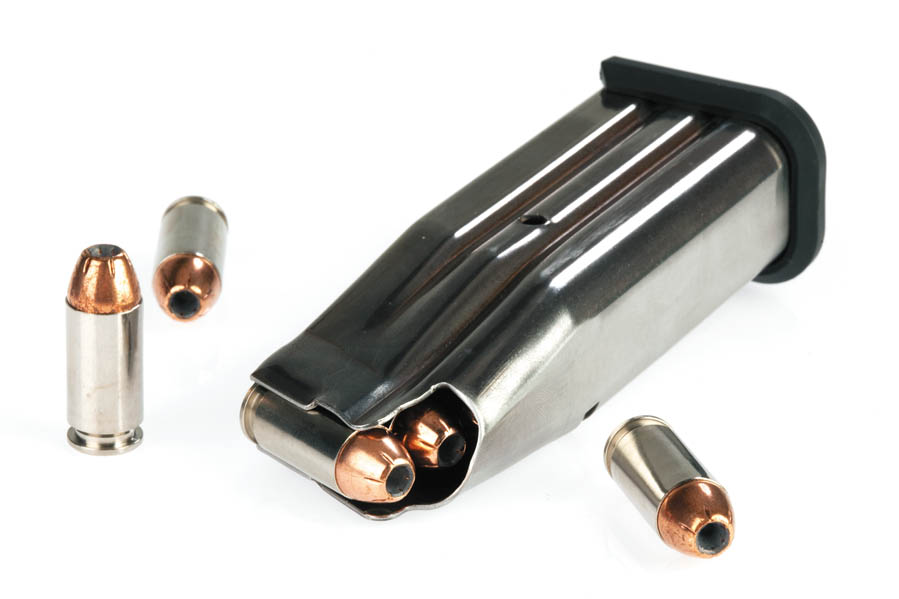 All three loads tested performed more than adequate for self-defense purposes. Although felt recoil was much more noticeable with the lighter-weight bullets, the pistol's dual-spring recoil system tamed the snappiness nicely. From a reliability standpoint, the pistol malfunctioned twice with the Speer and Winchester loads. However, failures to feed aren't uncommon during the break-in period of a brand-new pistol—especially one machined to such tight tolerances.
Given the limited rifling of the Total Eclipse's short barrel, I suspected the pistol would find favor with lower-velocity loads—I was wrong. The subcompact pocket rocket had a penchant for lightweight, supercharged fodder, printing .5- to .75-inch groups at 10 yards.
When carrying concealed, invisibility is key. STI's Total Eclipse blends the concealabilty of a backup with the higher capacity of a full-size pistol, resulting in a precision-crafted, subcompact 1911, designed to stay cloaked in shadow until needed.
Manufacturer: STI International; (512) 819-0656
Action Type: Recoil-operated, semi-automatic
Caliber: 9 mm; .40 S&W (tested); .45 ACP
Capacity: 13+1 (9 mm); 12+1 (.40 S&W); 9+1 (.45 ACP)
Frame: CNC-milled billet; 4140 Maxxell alloy, blued steel
Slide: 3 inches; classic cut; KG coated black
Barrel: 3 inches, 416 button-rifled stainless steel
Rifling: 6 grooves; 1:16-inch RH twist (9 mm); 6 grooves; 1:16-inch RH twist (.40 S&W); 6 grooves; 1:16-inch RH twist (.45 ACP)
Sights: Heinie low-profile night sights with Straight Eight configuration
Trigger Pull Weight: 4.4 pounds
Length: 7 inches
Height: 5.125 inches
Weight: 23.1 ounces
Accessories: Hard case, manual, one magazine
MSRP: $1,825