The Italian-made close-combat dagger was packaged with a robust box wrapped in an aggressive paint job. Tucked inside the box was the knife with the blade handle wrapped in plastic and the blade itself protected by its own cardboard sheath. The entire knife was carefully tied to the inner box with smart, snug Velcro straps, and the Italian leather sheath tucked behind it smelled fresh off the factory floor. That's amore! The meticulous knife, designed for the military, including its special operations forces, as well as knife enthusiasts and collectors was presented precisely as Steel Will envisioned it–a work of art.
Right on top of the knife sat a thick cardboard quality control inspection card, hand-signed and serialized, validating my suspicions. A lot of companies check the box on "quality control" by slipping in a razor-thin slice of paper with a rubber-stamped seal of quality often lost in the manual or marketing brochure stuffed inside most knife boxes, but not these folks. Their "QC" card was built to last and told me clearly Steel Will's knives will cut many things, but corners won't be one of them.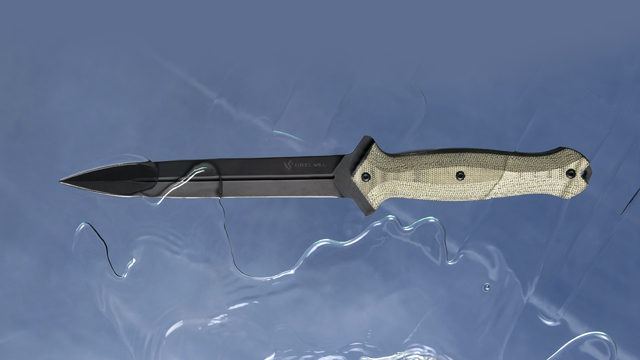 "Quality control is carried out at different stages of production, according to SMG. "The first control takes place in the factory where specific instructions are given for each knife model. After we receive the first batch of production models, they are closely inspected, disassembled, and undergo strength tests. When adjustment becomes necessary or if problems are found, these units are sent back to the factory to ensure this issue is remedied for the remainder of the production run. In addition, all of our knives once again undergo a quality control check at the packaging stage. They are closely examined and folding knives are tested for fluid and stable mechanical performance," SMG stated. It should be noted these knives are built in Italy. Why? SMG said they chose the Italian factory due to the high quality and precision of their work. "Furthermore, their technical ability allowed us to implement our design exactly as it was conceived," explained SMG.

Knives and the creators who design them are often well known in the industry. However, SMG believes in a no name on the back of the jersey kind-of ownership.
"The design of these models speaks to the talent of our design department, but SMG prefers not to bring these individuals into the spotlight," SMG detailed. While the company wouldn't give me a name, it certainly gave me a description of the Fervor's creator: "The designer for these particular knives has a rich background in knife-making (custom and art knives and daggers), and is an avid outdoorsman who brings his own experiences to every design he conceives," SMG declared. "SMG chose this designer based on knowledge of his earlier work and his subject matter expertise in the field of historic weapons, custom knife making, design, and engineering. We take pride in his talent and input into development and direction of the Steel Will product line."
A great knife like the Fervor demonstrates SMG does a lot of things right when it comes to making knives. While SMG alluded to one artist having the most influence on the development of the Fervor, the company made a point to thoroughly explain the teamwork it took to bring the Fervor to market. "The creation of these knives are not solely the work of our designers, as other members of our team are involved in the discussions and influence of the knife design," said SMG. "This collective brainstorming and prototype testing input from other valued members of our team ensures that the knives we design are truly verified and thought-out."
Regardless of whose vision became the Fervor, there was still a vision. "The inspiration for the creation of this dagger came years ago after one of our designers did an internship in the 'Study of the History of Weapons' at a museum in Europe," SMG delineated. "In studying and holding many medieval daggers, there grew an appreciation and respect for these beautiful melee weapons. So the idea for the Fervor was to create a modern dagger, but to infuse it with the spirit of an ancient weapon. The search for the perfect form for the Fervor took a long time but was eventually found when the perfect balance between practicality and aesthetics was achieved."
Form meets function is a story told many times in the manufacturing business but when it comes to knives, the bottom line is always the same – the metal. The knife market has no shortage of manufacturers who think any steel works to take your money. Steel Will isn't interested in being average and their choice of Austrian N690Co blade metal proved it. "N690Co was chosen because it requires very little maintenance, has good corrosion resistance and, at the same time has a high hardness among stainless steels," SMG explained. The metal comes from Austrian steel maker Bohler and is cobalt enriched stainless steel.  The cobalt helps the metal last longer and keep its edge while giving the blade a more uniform grain structure. While N690Co has many advantages, it isn't perfect and SMG pointed out the significance of having a quality manufacturing process when working with N690Co saying the steel can become brittle and develop a proneness to chipping if hardened to 59-60 HRC.
In addition to what the blade was made from, SMG designers focused on the Fervor's shape, thickness and design for its ultimate task – close combat engagement. The blade itself is a narrow stiletto-type double-edged blade .22 of an inch thick with black ASPIS corrosion protection designed to stop reflection and enhance the knife's ability to perform in a tactical environment. The main purpose of this blade is piercing and thrusting," said SMG. "Sharpening angle is paramount and should be between 45-50 degrees." According to SMG after creating several prototypes, they were able to find the ideal balance and thickness of the blade, as well as the form of the handle. They added the Fervor's penetrating and penetrating ability was also tested until the best shape for the blade tip was determined. "The creation of designs is guided by the idea of the inseparable link between beauty and function," elaborated SMG, which owns two brands: Gletcher air guns (replica air pistols) and Steel Will knives.
The handle on the Fervor is Micarta, or phenolic laminate, which SMG 3D machine mills for an ergonomic fit and feel. "The canvas Micarta handle that was chosen is ideal for knives and daggers.," said SMG. "Micarta is not afraid of moisture and is a lightweight and durable material. It naturally has a high slip resistance, even when wet." I found the fit and finish of the Fervor's handle to be exceptional and well within the elegant and functional design of the rest of the knife.
To carry the Fervor, Steel Will gives its customers a fine Italian leather sheath designed from the beginning to hand form a belt or vest for easy tactical access. While many sheath materials have emerged over the past few years, Steel Will prefers the quality and tactical advantages of a silent leather case for their knives. The placement of the loop on the Fervor series also enables it to hand well from a belt even while sitting.
SMG said prior to launching Steel Will, they started a knife project with one of their designers and released a line of knives under the "Gletcher" brand. "These knives were extremely well received by the market," said SMG. "Due to our initial success and our love for knives, we decided to spin off an entirely new brand and get the resources and talent necessary to design and produce knives we could truly be proud of. Almost three years after work began on Steel Will knives, we have finally launched our line." In fact, Steel Will has three lines of knives: Urban, Outdoor and Fervor's home, Tactical.
Steel Will knives are guaranteed for life to the original owner to be free of material or workmanship defects. Not only that, but new Steel Will customers have a full 30 days to test-drive their knives and if customers are not satisfied with products purchased from their online store they can return them within the 30-day window for a refund. Customers who get their Steel Will knives from other places will have their knives repaired or replaced if found defective. For more information about Steel Will knives, visit them at steelwillknives.com
Specifications
Maker: Steel Will
Line: Tactical
Series: Fervor 1201
Steel: N690Co
Handle Material: Micarta
Blade-HRD: 58-60
Finish: ASPIS
Sheath: Leather
Size: Full Length 11.81 inches
Blade Length 6.69 inches
Weight 8.22 oz
MSRP: $319.99.