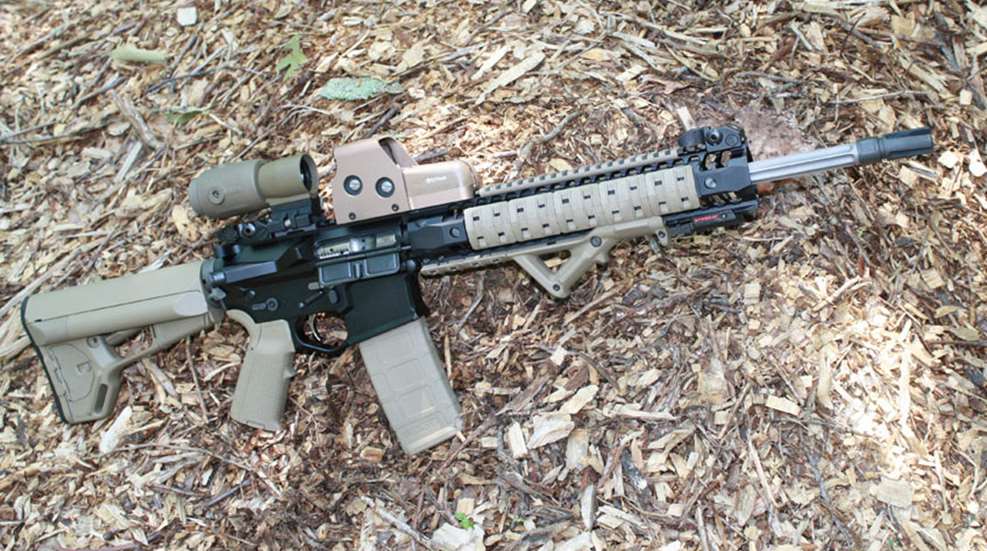 Spike's Tactical built its latest AR-platform rifle using the company's Biohazard upper and lower receiver set, each machined from a solid-aluminum 7075 billet with a Type III hard-coat anodized finish. The billet upper and lower receivers are certainly beefier than those found on a standard AR, and they give the rifle a very solid and slightly more angular look than a mil-spec gun without looking or feeling oversized. The lower receiver has a heavy-duty oversized trigger guard with all the sharp edges beveled away. (Go here for more photos of the ST Vanguard)
The ST Vanguard is fully ambidextrous, including the safety selector, which has easy-to-recognize pictograph bullet markings. The right side of the safety is also thoughtfully cut down so it does not interfere with a right-handed shooter's trigger finger. A Norgon ambidextrous, steel magazine-release is slightly extended and oversized. A rare but welcome feature is the ambidextrous bolt release, which can be easily activated with the trigger finger.
A non-ambidextrous bolt stop is in the usual place on the left side of the receiver. The magwell is widely and deeply flared for easier magazine insertion. Three distinctive, downward-pointing chevrons have been machined on the front of the mag well. Internally, Spike's tactical has machined the lower receiver with a low shelf for those with a Registered Drop-In Auto Sear (RDIAS).

A captured buffer retaining pin and rear takedown pin help prevent accidental loss of these small parts. Setscrews are also used to provide an adjustable trigger reset and are nylon tipped to achieve the best upper- and lower-receiver tension. This attention to detail extends to the really small parts. Spike's Tactical even uses threaded pins—instead of the usual and much cheaper roll pins—to secure the forward assist, the bolt catch and the ambidextrous bolt release.
The ST Vanguard also includes a very crisp, single-stage, nickel-boron coated ST Battle Trigger Set, which had a 6-pound pull weight. Nickel-boron surface treatment helps dissipate heat and hardens the metal surfaces, making them smoother, easier to clean and more resistant to wear and corrosion. Another welcome touch is the KNS Precision Gen II Mod II non-rotating trigger and hammer pins secured by Torx screws on either side of the lower receiver.
Also included is Spike's T2 buffer system, which is machined from solid-aluminum bar stock and anodized matte-black. It is laser engraved on the front with the Spike's Tactical logo. This buffer is filled with a high-density tungsten powder, so there are no weighted washers bouncing back and forth or liquids to leak out. The result is an extremely quiet buffer that provides for smoother cycling and reduces perceived recoil.

Thoughtful improvements over a generic AR continue on the upper receiver, which features M4 feed ramps for improved reliability, especially with heavier bullets and hollow-point ammunition. Spike's 12-inch BAR rail system is a one-piece, fully free-floated design machined from 6061-T6 aluminum, with the barrel nut machined from 7075-T6 aluminum. It includes five built-in quick-detach sling attachment points. The rail attaches to the barrel nut using eight Torx screws. The handguard offers 10 inches of usable Picatinny rail on the bottom and 8.5 inches on either side.
The top rail integrates completely with the rail on the upper receiver, offering uninterrupted mounting points along the entire top of the gun. Like the rest of this AR, the rails are nicely scalloped to eliminate sharp edges and provide a comfortable hold, even without rail covers.
Open ventilation on the handguard also provides an excellent view of Spike's proprietary mid-length gas system, featuring a melonite coated, 17-4 stainless steel, low-profile gas block pinned to the barrel and the gas tube. An attractive 16-inch stainless steel barrel made by Lothar Walther is also plainly visible. This carbine length barrel is a new offering from Spike's Tactical and was previously available only in an 18-inch model. It has polygonal rifling with a 1:8-inch twist rate and a bead-blasted finish. Because it is stainless steel throughout, it is not chrome plated on the inside, but the barrel extension is nickel-boron coated. The barrel is topped off with an aggressive-looking Smith Enterprises Vortex G6A2 5.56 flash hider.
Interestingly, the barrel is chambered in .223 Wylde, which bears some explaining. The .223 Rem. and 5.56 NATO rounds are not identical, with the former having slightly smaller dimensions. The tighter chamber of a true .223 Rem. rifle provides greater accuracy, but should not be used with 5.56 NATO ammo because of safety concerns. The .223 Wylde chamber splits the difference between the two and provides better accuracy than a standard 5.56 NATO-chambered gun without sacrificing reliability when using military ammunition. Combined with the faster twist rate, this barrel is especially well suited for using heavier bullets.

The bolt-carrier group also stands out on the ST Vanguard, with its bright, nickel-boron coating. With this coating's self-lubricating properties, the bolt can run almost lube free. All parts of the bolt are nickel-boron coated inside and out, and the results are a significant improvement over phosphate or even hard-chrome coatings. Its gas rings are ion bonded for added strength. The bolt carrier itself is machined from 8620 tool steel, with a shrouded firing pin and a forged and properly staked mil-spec carrier key.
As expected, the fit and finish on Spike's tactical ST Vanguard rifle was excellent and no malfunctions were encountered on the range, and the rifle was able to achieve sub-moa accuracy. Not too shabby for a rifle designed for defensive use.
| | |
| --- | --- |
| Specifications | ST Vanguard AR Carbine |
|   |   |
| Manufacturer: | Spike's Tactical; (407) 928-2666, www.spikestactical.com/ |
| Action Type: | Direct gas impingement, semi-automatic |
| Caliber: | .223 Wylde |
| Capacity: | 30 + 1 |
| Barrel Length: | 16 inches |
| Rifling: | Polygonal; 6-grooves; 1:8-inch RH twist |
| Trigger Pull Weight: | 6 pounds |
| Finish: | Black type-III hard-coat anodized |
| Stock: | Magpul FDE |
| Sights: | Adjustable; Troy Industries MBUIS |
| Length: | 36.5 inches (extended), 33.2 inches (collapsed) |
| Weight: | 8 pounds, 10 ounces |
| Accessories: | MOLLE Case, manual, 30-round magazine |
| MSRP: | $1,800 |
Shooting Results
| | | | | |
| --- | --- | --- | --- | --- |
| Load | Velocity |   | Group Size |   |
|   |   | Smallest | Largest | Average |
| Black Hills 68-grain HP | 2,644 | 0.9 | 2.4 | 1.6 |
| DoubleTap 77-grain HP | 2,545 | 0.8 | 1.5 | 1.1 |
| Winchester 55-grain FMJ | 2,866 | 1.5 | 2.2 | 1.9 |
Velocity measured in fps 10 feet from the muzzle for 10 consecutive shots using a Shooting Chrony F1 chronograph. Temperature: 79 degrees Fahrenheit. Accuracy measured in inches for five consecutive, five-shot groups at 100 yards from a sandbag rest.