The sequel to the classic mini-series "Lonesome Dove" is "Streets of Laredo." Early in this story, an aging Woodrow Call refuses to accept a fancy custom pistol from a wealthy Easterner. In his less-than-eloquent rejection, Call grumbles things like "got no use for fancy guns."
For most of my adult life, I agreed with Call's sentiment for two reasons. First, guns that are too pretty make me hesitant about taking them to the range and extremely reluctant to take them on more serious pursuits. Second, luxury guns tend to carry a high price tag, which means purchasing one deprives me of at least two other pistols. But Call's rejection speech came across not so much as the reasonable conclusion of an experienced handgunner, but rather the grumpy reaction of a crotchety old man. Surely I have not reached that age where people view me as Mr. Grumpystump! As an objective gun writer, I decided to re-evaluate my position on fancy guns. Fortunately, Smith & Wesson has a few offerings that totally resolved my earlier concerns.
Smith & Wesson's Performance Center makes a number of special handguns with features not normally found on the company's production models. They are not merely extra-pretty guns as much as firearms that provide enhanced performance. Though priced slightly above normal production guns, the increase is commensurate with the improvements.
The Performance Center has long offered hand-engraved versions of production handguns, and while I'm quick to admit they are incredibly beautiful, they fit my definition of fancy (and therefore not really useful) guns. Now, Smith & Wesson offers four pistols that go directly from the production line to the Performance Center engraver for a beauty treatment via CNC machine. At press time, the guns available are the Model 29, 442 and 640 revolvers, plus the Walther PPK/S.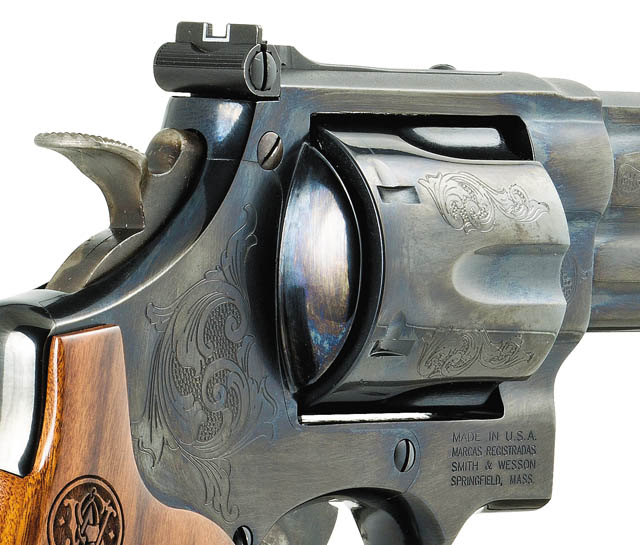 All four of these production guns are very popular sellers. The choice for me was easy; besides being a big-bore revolver fan, I figured a major purpose for buying an engraved handgun is to show it off, and showing off a .44 Mag. in a belt holster is much easier (and slightly more subtle) than digging out a highly decorated pocket pistol from concealment and showing it to my peers. This sentiment is sometimes called the barbecue-gun phenomenon, where shooters gather for a non-shooting man-event wearing their best firearms.
I can't tell the difference between a Smith & Wesson machine-engraved gun and one that's engraved by hand. In fact, the artwork on the machine-engraved guns is designed by the same master engraver who does the hand-engraved models. In this case, he programs the pattern into a CNC machine, and the engraving is exactly the same for all guns in each production run.
I'm especially pleased with the amount of engraving applied to the gun. There's scrollwork on the frame, cylinder and barrel that's noticeable without being too elaborate or overpowering. On the barrel, the engraving is just behind and in front of the words "Smith & Wesson" and ".44 Magnum." Nice touch. The only thing I didn't like was that the safety-lock hole in the frame next to the cylinder-release latch was separate from any engraving and very obvious. On a purely functional handgun, I'm not as critical of that hole as are some of my friends, but it would be nice were it worked into the engraving pattern so it's less noticeable.
What helps make you forget the hole are the custom, laser-etched wood grips from Altamont. Their grain pattern is absolutely gorgeous and the grip halves are perfectly matched, making the seam very difficult to see. The grips alone make a spectacular addition to any blued N-frame, with or without engraving.
The gun is a classic 4-inch-barreled Model 29 with a bright blued finish. A fully adjustable rear sight has a white outline around the notch. The front sight blade is a pinned ramp with the red-plastic insert I remember from my Model 29s back in the early 1970s. A classic, wide target hammer and serrated target trigger are present. Both are superb for single-action shooting, but not optimal for firing double action. The Altamont grips are rather narrow, almost racy looking, and plenty long enough to accommodate large hands. Standard-weight Model 29s with 4-inch barrels were never the most fun guns to shoot with magnum loads, but the Altamont grips make things much more pleasant than I remember with the original Smith & Wesson club-like wood grips. I found high-velocity 180-grain jacketed hollow points from Cor-Bon to be brisk, but manageable without wearing shooting gloves. Recoil tolerance is a personal issue, and you'll have to find your upper limits. If in doubt about where to start, try .44 Spl. loads first.
The CNC machines at Smith & Wesson demolished my other objection regarding engraved guns—the exorbitant price normally charged for such firearms. The company's website shows the MSRP for a 4-inch blued Model 29 at $989. MSRP for the machine-engraved Model 29 is $1,129. The extra $140 not only buys you an engraved handgun, it dresses the gun up with a set of spectacular wood grips. Most of us serious shooters have invested considerably larger sums of money customizing one of our favorite handguns. Prices on the other engraved guns vary, but the Model 442's price increase from plain, production gun to the engraved version is also $140.
Personally, I think it's easier to create handgun-envy among your buddies with a large handgun carried externally in plain view. Here, you should also plan to spend a few extra dollars to obtain a holster with a certain style of its own, while displaying the maximum amount of your Model 29. And while El Paso Saddlery makes some thoroughly modern rigs, the company is best known for its classy, classic holsters. I chose a Tom Threepersons-style rig with a retention strap and border stamping. Its retention strap didn't conceal much of the gun's beauty, yet it kept it safely on my hip, away from any straying hands that became envious enough to try to remove my engraved barbecue treasure. Similarly, the border stamping added a nice, independent touch to the holster's look without taking attention away from the gun. A Garrison belt, also with stamping, completed the rig. Those in the know instantly recognize the gun as a classic Smith & Wesson and the holster as an El Paso Saddlery creation of historic significance. On a visit to Gunsite, I received appreciative nods and compliments on both.
I must mention that a couple members of the fairer sex also expressed admiration for my engraved Model 29. When my wife offered her compliments, it reminded me of something Tony Miele, director of the Smith & Wesson Performance Center, said during a recent visit: "Engraved smaller guns make a great gift for a wife or girlfriend. In fact, all the engraved guns are shipped with a wood presentation case wearing the S&W logo. A highly decorated handgun might get your lady more interested in shooting."
I'll admit it took some teeth grinding and soul searching on my part to make myself shoot the engraved Model 29, and in truth, I put less than one box of ammo through it. However, I am planning to shoot it a great deal more with various loads to determine the gun's proper place in my life. It certainly demands a greater role than a mere barbecue gun. Mr. Grumpystump has seen the light.