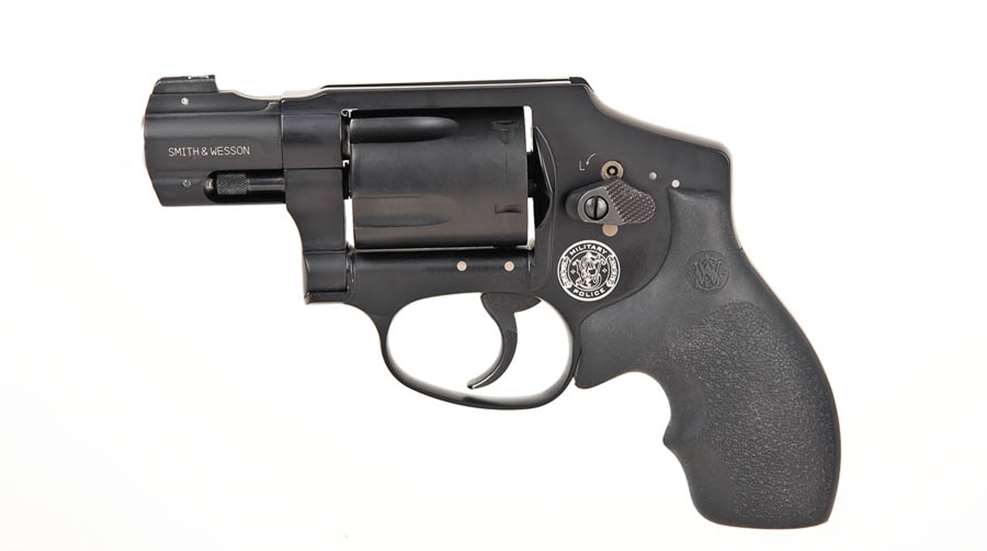 Commonly referred to as duty pistols, the M&P line was clearly intended for service use, but civilians concerned with personal protection still benefit. Smith & Wesson has successfully applied the M&P concept to a growing family of rifles and handguns, including backup revolvers. One of these, the M&P340, remains true to the line's more than 110 years, but combines modern, ergonomic features to make it one good "go-to" backup gun when the chips are down. (More photos here.)
Sporting the same frame size as the diminutive but coveted law enforcement companion, the Chiefs Special, the M&P340's matte-black frame is a blend of scandium alloy—a lightweight, highly shock-resistant metal commonly used in mountain bikes and baseball bats, but equally ideal for firearms. The use of scandium beefs up small-framed pistols like the Model 340 to accommodate high-pressure .357 Mag. loads without adding the extra weight of steel. The M&P340's blackened stainless steel cylinder is fluted and contains holes for five rounds.
During my initial inspection of the pistol, I hoped to find the cylinder's charge holes chamfered to aid speed loads and ease extraction, but no such luck. Given the reputation of the Smith & Wesson J-frame as a reliable service pistol for more than half a century, I bring this up as a suggestion to the manufacturer for enhanced reliability in the hope of making the quintessential self-defense snubbie even better.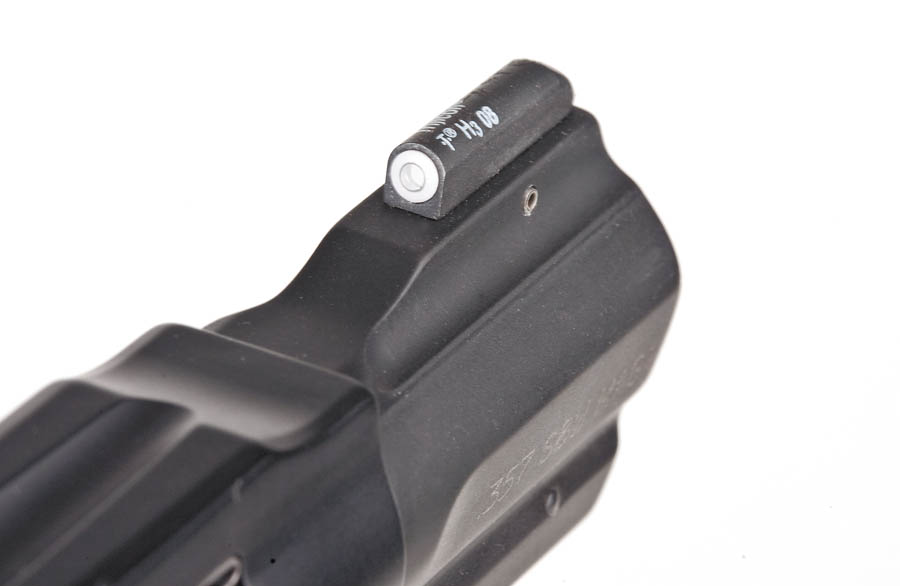 Measuring slightly less than 2 inches, the M&P340's stainless steel barrel contains an aluminum shroud complete with an underlug, providing conventional lockup points, while protecting the ejector rod from damage and debris. The pistol's short barrel requires a short ejector rod, and consequently a short "throw" when expelling brass.
A low-profile XS Sight Systems 24/7 tritium front sight tops the shroud, while an integral rear notch comprises the rear. Utilizing a larger reference point than other manufacturers, the large, standard-sized white dot appears prominently—either indoors or outside—and the tritium insert provides a quick reference point in low-light conditions. While this type of sight may not provide the same degree of accuracy as traditional handgun sights, the large dot makes for extremely fast target acquisition—at distances for which a pistol like the M&P340 was designed. What's more, the rounded contours found on both the front sight and aluminum shroud are welcome features on a wheelgun intended for a wide range of defensive use, including deep concealment.
The M&P340's Centennial design, coupled with its internal hammer and subsequent double-action-only (DAO) trigger, may look peculiar at first glance, but the snag-fee configuration is ideal for pocket carry—or even shooting from concealment. Moreover, the internal hammer keeps debris, such as dirt, dust, sand and dreaded pocket lint out of the action. As with all things, however, compromises exist, and the DAO trigger proves no exception. The tradeoff in this case is the lack of a single-action fire option in exchange for enhanced concealment, which leads to the need to negotiate a heavy double-action pull. Mastery of such shooting fundamentals as trigger control and follow-through are a must in order to shoot a DAO revolver accurately for self-defense, especially one with a barrel less than 2 inches long.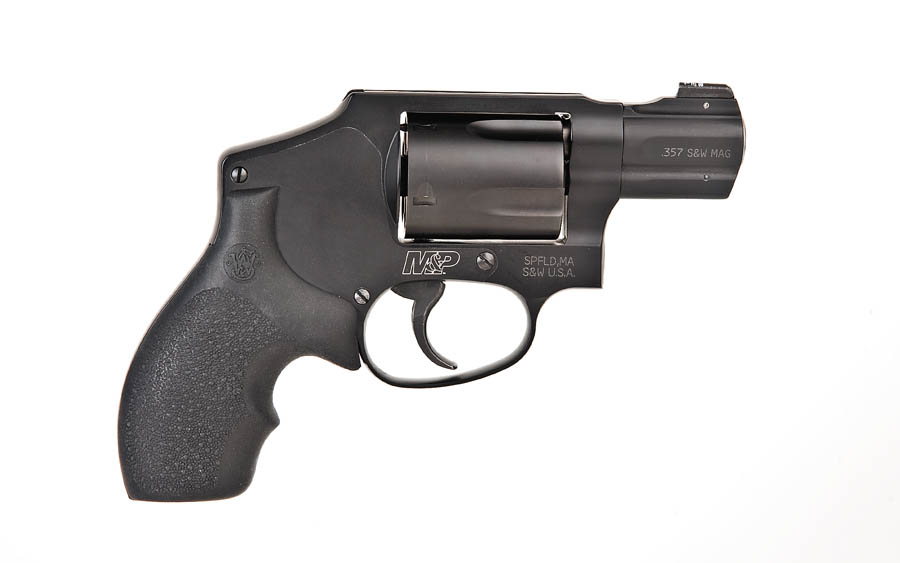 As part of the M&P340's modern features, the pistol has an internal key-lock safety, located just above the cylinder-release latch. For those firearm enthusiasts concerned by the concept of a handgun without a safety, the M&P340 can be rendered inoperable with a simple turn of a key. Such a feature may be desirable in households with children, but for revolver purists, the hole is a pockmark on an otherwise attractive handgun.
Despite the pistol's light weight, my range time with the M&P340 was enjoyable. Rugged and reliable, the lightweight snubbie digested cylinder after cylinder of .38 Spl. +P and .357 Mag. loads without a hiccup. The contemporary J-frame proved itself worthy of the venerable Smith & Wesson lineage. Being such a light pistol, recoil was quite stout, but tolerable—even when shooting full-house magnum ammunition—which I chalked up to its rubber grips.
The ultra-compact, boot-grip design provided room enough for two-fingers. Regardless, it performed more than adequately, giving just enough surface area for sufficient purchase while absorbing the harshness of recoil. If forced to nitpick, I'd prefer the grips be slightly bigger to accommodate my large hands. As much as I appreciate the benefits of rubber for added recoil management, it has a nasty habit of adhering to clothing, which could contribute to slow draws from concealment. Rubber's sticky properties can also lead to the grip clinging to fabric, and when that happens, simple body movement can cause clothing to ride up— inadvertently exposing thepistol.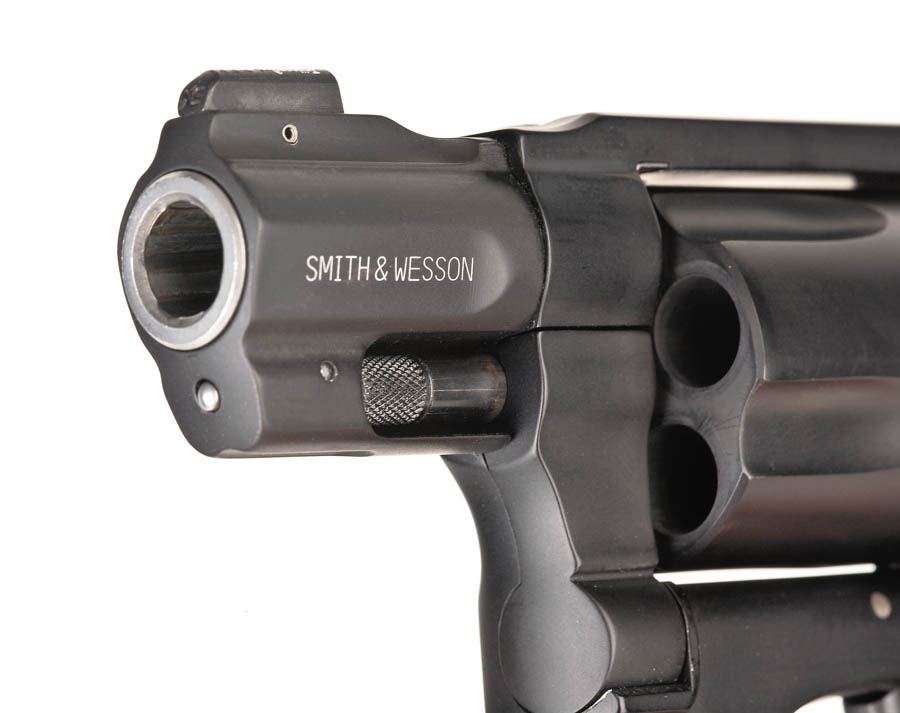 If forced to single out a negative feature of the M&P340, it would have to be its double-action pull. Despite being short and consistent, at more than 12 pounds the trigger pull quickly proved as endearing as a root canal without the luxury of novocaine. At first, my groups bore closer resemblance to a shotgun pattern—despite a distance of only 7 yards. Eventually, I found myself hyper-focused on trigger control and follow-through. Though a humbling experience, the extra effort led to considerably tighter groups. Interestingly, the M&P340 proved capable of 1.5-inch groups with both .38 Spl. +P and .357 Mag. ammunition despite a 20-grain difference in bullet weight.
While the wheelgun may have relinquished the throne to the semi-auto, the Smith & Wesson M&P340 balances classic J-frame compactness and reliability with modern technological innovation to form an ultra-rugged and reliable snub-nose revolver. It illustrates its lineage from the royal M&P bloodline—genetics that make revolvers like the M&P340 still a noble choice for self-defense.
Manufacturer: Smith & Wesson; (800) 331-0852
Type: DAO revolver
Caliber: .357 Mag./.38 Spl. +P
Capacity: 5 rounds
Frame: Centennial-style, scandium-alloy
Finish: Matte-black
Barrel: 1.87 inches
Rifling: 5 grooves; 1:18-inch RH twist
Grips: Black rubber, two-piece
Sights: XS Sight Systems 24/7 tritium front; integral U-notch rear
Trigger Pull Weight: 12 pounds, 5 ounces
Length: 6.31 inches
Width: 1.3 inches
Height: 4.3 inches
Weight: 13.3 ounces
MSRP: $980