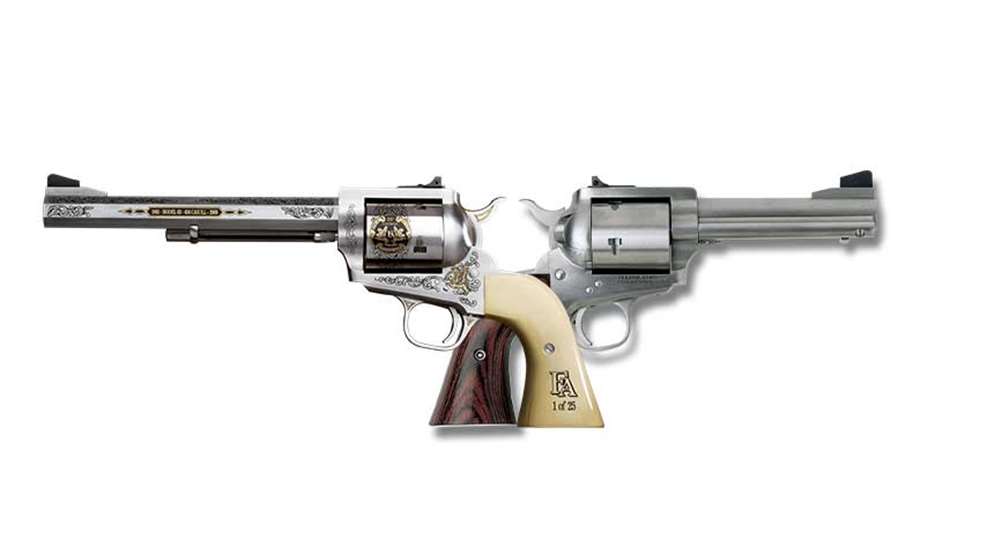 The single-action revolver is one of the most intriguing of firearms—at least to me. With the dawn of double-action revolvers, then the coming of semi-automatic pistols in the early 1900s, the single action became less and less desirable. Thankfully, there are shooters out there today who fully appreciate the single-action revolver, and there are some still in production, notably those from Freedom Arms.

The first gun I owned was a Colt New Frontier .22 single-action. It was a Christmas gift from my dad and came with a custom-made Garrett Allen holster. I carried that revolver for years, knocking around in the desert both on foot and on horseback. I still own that gun today, and it is just as reliable and beautiful as it was the day I got it.

I've been fortunate enough to have owned and handled a number of good single-actions since those days as a kid. Among some of the best single-actions I've ever handled are those produced by Freedom Arms out of Wyoming. The company has been around for several decades and originally made the heavy-framed revolver in .454 Casull, the brainchild of firearms genius Dick Casull. The company was later acquired by the Baker family, who have been making fine-quality revolvers since.

My first experience with a Freedom Arms revolver was decades ago. My dad had received one from the company for testing and evaluation. The .454 Casull, at that time, was in its early stages of existence. I immediately fell for that revolver and was fascinated by how it was beautifully made. We had received a batch of ammunition for the gun, and I found that I loved shooting it. Upon my dad's passing, I returned the gun to Freedom Arms, though I hated to.

Years later, I got my hands on another .454 Casull, and it was just as nicely made as the one the old man had. I later took this revolver on several excursions to Alaska, first on a brown-bear hunt. The revolvers are stout and, fully loaded, have a little weight to them. I carried the gun in a Thad Rybka crossdraw holster and found it to be extremely comfortable, even after a full day of hunting. Not only was the entire rig comfortable to carry, it was comforting, as the .454 Casull is great bear medicine.  After all, a 300-grain bullet moving at about 1,600 fps is nothing to take lightly.

Later, I got my hands on another Freedom Arms revolver, this time the Model 97 in .41 Mag. This is a medium-frame revolver but still heck-for-strong. I've shot a number of different loads in the Model 97. One standard factory loading of a 210-grain bullet moving at around 1,400 fps is quite pleasant and accurate to fire. I have shot handloads in the Model 97 that were much hotter, and the recoil was substantial. The Model 97 can handle heavy reloads, regardless. It's built like a vault, just like its big brother, the Model 83.

Freedom Arms has expanded its revolver line considerably since those early days. The Model 83 revolvers are offered in a Premier Grade, which features a fine, bright finish, and the Field Grade, which features a matte finish. The components, fit and finish are the same. The Model 97 is offered only in the Premier Grade. The company also offers rimfire models. The Model 97 can be had in .17 HMR, .22 LR, .224-32, .327 Mag, .357 Mag, .41 Mag, .44 Special and .45 Colt. The Model 83 is available in .357 Mag, .41 Mag, .44 Mag, .454 Casull, .475 Linebaugh and .500 Wyoming Express.

If you've never fired a Freedom Arms revolver, treat yourself to one of the most accurate and finely made handguns made.