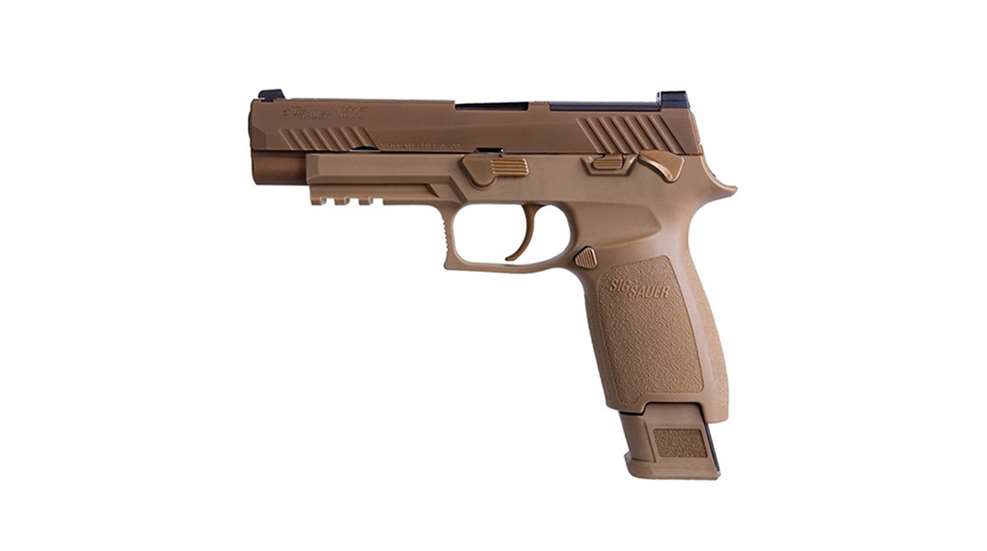 SIG Sauer has delivered the 100,000th M17/M18 for the Modular Handgun System to the U.S. Military, ahead of schedule and surpassing the performance standards and requirements since the official contract award in January 2017.
"In the month of October [2019], SIG Sauer exceeded our manufacturing requirements by 30 percent and delivered a record-setting 12,100 handguns to the U.S. Military to achieve this historic milestone for SIG Sauer and the MHS program," said Ron Cohen, president and CEO for SIG Sauer. "With the strict accuracy and acceptance specifications that the M17 and M18 are continuously exceeding, it's clear that the success of this program can be directly attributed to the reliability, durability and accuracy of the handgun, which has resulted in the high demand for both the M17 and M18 from every branch of the U.S. Military."
Results released earlier this year provide more detail on the government's quality-assurance of the M18—the compact variant of the U.S. Army's M17 duty sidearm—and its monitoring of consistency during the 10-year production of the 480,000-strong fleet of handguns. Three of the pistols ran through 12,000 rounds with no stoppages or malfunctions, despite the Material Reliability Testing protocol calling for only 5,000 rounds. Twelve stoppages are allowed to remain within acceptable limits. 
"From the very beginning, the MHS program has been a true partnership between SIG Sauer and the U.S. Army, which has resulted in the overwhelming success of the program, and ensuring that the M17 and M18 handguns are entering service, and in the field with our military," Cohen said.
The M17 and M18 handguns are 9 mm, striker-fired, P320-based pistols that feature coyote-tan PVD coated stainless steel slides with black controls. Both pistols can use 17- and 21-round magazines. A SIG Sauer P320-M17 version is also available to civilian enthusiasts.