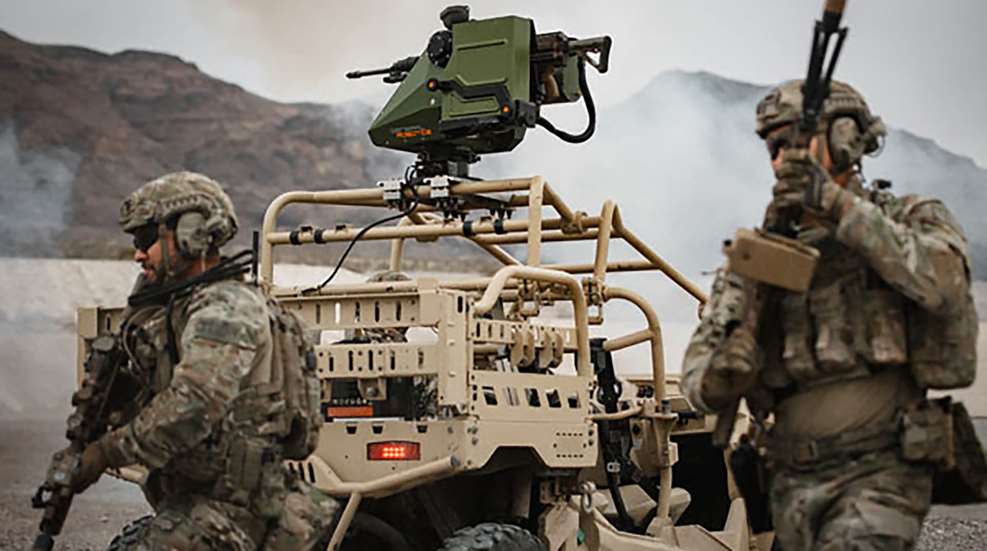 SIG Sauer announced late last week it has acquired General Robotics, one of the world's premier manufacturers of lightweight remote weapon stations and tactical robotics for manned and unmanned platforms as well as anti-drone applications. The companies have been working in concert for some time, a fact made obvious at January's SHOT Show when they debuted a Polaris ATV equipped with a General Robotics PitBull remote weapons station that aimed and fired the vehicle-mounted SIG MG 338 belt-fed machine gun remotely.
"This acquisition will greatly enhance SIG Sauer's growing portfolio of advanced weapon systems," said Ron Cohen, president and CEO of SIG Sauer. The team at General Robotics is leading the way in the development of intuitive, lightweight remote weapon stations with their battle-proven solution."
The system would allow troops to engage attacking forces while under cover or safely away from the battlefield. General Robotics, which is based south of Tel Aviv in Israel, was founded by Udi Gal in 2009. The company has already established itself as a global leader in the industry.
The performance of the firm's Dogo, versions I and II continues to earn high praise and is already in use by several NATO nations.  The lightweight robot—designed for SWAT and anti-terrorist team use and originally armed with an integral Glock G26—carries eight micro-video cameras for a 360-degree view, has an integral radio to establish verbal contact and is capable of delivering less-lethal options. It weighs roughly 27 pounds, runs on treads to easily navigate debris, climbs stairs, navigates tunnels or ducts, carries 14 rounds of 9 mm and continues to receive glowing reviews from military and law enforcement personnel.  
"General Robotics and all our employees are honored to join forces with global defense leader SIG Sauer to integrate our platforms into a single solution to support military units around the world," said Shahar Gal, General Robotics CEO and son of company founder, retired Israeli Col. Udi Gal.
"The combination of the General Robotics remote weapons station with SIG Sauer's lightweight squad weapons and high-pressure hybrid ammunition will revolutionize small arms for military forces worldwide," Cohen added. "This acquisition exponentially increases the capabilities of our lightweight weapon systems delivering transformative advancements in mobility, greater lethality and battle-tested force protection for today's warfighters."