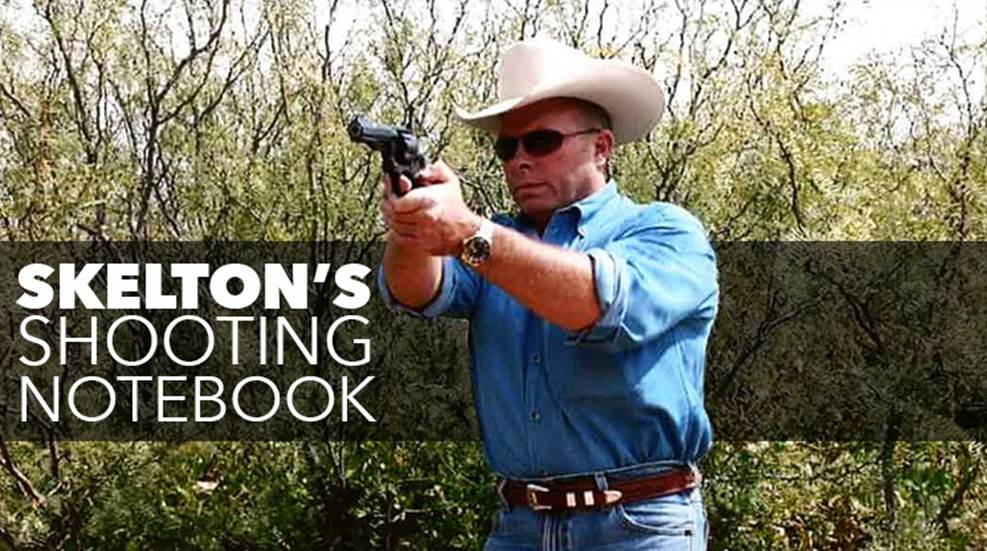 As far as I'm concerned. there's nothing better than a shotgun for personal protection, especially when it comes to home defense. This has been the case for many decades for people worldwide, and continues to be the case today. When it comes to choosing the right shotgun for any particular individual, the choices are endless. There are a lot of great home-defense shotguns available on the market today, but shooters need to remember that a home-defense gun doesn't necessarily have to be modern.

I was but a youngster when I got my first shotgun. My dad had obtained a pair of Remington 1100s – a 12 gauge and a 20 gauge. He asked me which one I liked best, and I found at the time I much preferred the 12 gauge. I loved the gun, which had the standard 28-inch barrel, a great hunting piece but not necessarily my idea of a home-defense gun. The old man came up with a short riot barrel that could be interchanged quickly with the 28-inch barrel. This made for an ideal little defense/riot gun. I never really used the gun in the riot configuration, but it made for a great little outfit. I somehow lost that barrel, but wish I still had it.

My next real defense shotgun came when I was an officer with the New Mexico State Police. I was issued a Smith & Wesson Model 3000 with a pistol grip. At first, I didn't care for the pistol grip configuration but came to love the gun. I shot it so well that I later became a shotgun instructor with the state police. The gun was fitted with rifle sights and shot slugs like a champion. Obviously, 00 buck or No. 4 buck shot perfectly as well.

I later became commissioned as a special agent with the U.S. Customs Service. We had the option of a long gun, being a Steyr AUG at the time, or a Remington 870. The 870s were fitted with 14-inch barrels. I found that I much preferred the 870 and wound up carrying it my entire career. At the end of 26 years of service, it was well worn but still functioned perfectly. After daily carry of the gun, I never experienced a problem. 

I found that the short 870 was light and easy to handle. Going through the front door of a bad guy's house with the short little scattergun was handy, as the gun could be easily maneuvered in tight situations – not cumbersome at all. Plus, suspects found the short shotgun quite intimidating. 

The only drawback at all to the short 870 was that it packed a wallop, which kept many agents from carrying them.

While I was growing up, my dad kept a couple of great defensive shotguns around the house, one of which was an Ithaca Model 37 Featherlight. He kept this shotgun by the front door until he died. I still have the gun today and use it for the same purpose. The Model 37 is an outstanding firearm, in my opinion. It was originally a Remington design released in 1917. The rights were later sold to Ithaca who began producing them under the Model 37 handle. I'm not sure when my dad obtained our gun, but it was used when he got it more than 40 years ago. It still functions perfectly, and I'm entirely comfortable with it as a primary house gun, though it's really a secondary gun now.

While I keep the Model 37 handy, my main home-defense shotgun these days is a Nighthawk Custom Remington 870. Mark Stone and Company at Nighthawk pulled no punches in outfitting this gun, including a Vang Comp system, night sights, rubberized pistol grip, recoil resistant, telescoping buttstock, SureFire flashlight and all the other bells and whistles. The gun has an extended magazine tube and is rigged to hold extra rounds on the left side of the receiver.

Of course, this shotgun functions and shoots superbly. The only complaint I have with it is the weight – a little hefty. Otherwise, a piece of shotgun perfection. Some folks are quite fond of just an old fashioned side-by-side for home defense. There's not a thing wrong with this conception. 

Regardless of make and model of shotgun, its age or gauge, these firearms will always be, for me, the epitome of home-defense tools.