Regardless of the user's intent, absolute dependability is the bedrock upon which a firearm platform should be built. Whether for defense, hunting or competition, a gun has to work each and every time it is employed.
For the hunter, a failure to feed means the loss of a trophy buck. For the competitive shooter, the failure to go into battery can become a championship lost. For the defensive gunner, whether professional or civilian, a failure to extract can lead to the loss of life.
So when one understands that escalation-of-need paradigm—the more serious the use, the more critical the function of the firearm—it's puzzling that defensive gunners often use less than the finest examples of any given platform.
Salient Arms International is addressing this issue in force with the release of its new customized Benelli M2. Taking a standard version of the M2, Salient completely overhauled the shotgun, transforming it into a true high-end custom machine.
"Salient Arms International is a division of Salient Security Services, which is a diversified corporation that has been providing executive and personal protection services to VIPs and celebrities all over the U.S. and abroad," said Tony Pignato, who runs Velocity Shooter, the primary distributor for Salient Arms. "Rob Melhorn and Fred Lindley are the key members of the Salient Arms International firearms production division and have over 30 years of combined experience in custom and competition firearms. Taran Butler is a professional consultant to Salient Arms international, specifically for the competition firearms production, with his numerous years of experience and product knowledge, he was a perfect choice for USPSA/IPSC and multi-gun product development."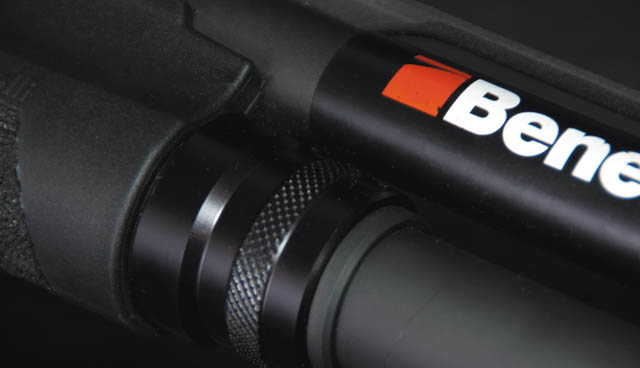 With the Benelli, Salient improved the popular platform—one Butler has ran in competition for years—by attacking every problem that inevitably develops when any gun is subjected to literally thousands of practice and competition rounds.
"The Salient Arms International Custom Benelli begins with a standard M2 with a 21-inch vent-ribbed barrel," Pignato said. "We begin with modifications that include internal operating system upgrades to the bolt carrier, extractor, chamber, recoil-reduction and trigger enhancements."
Aftermarket products are included in the upgrade. A Dave's Metal Works (DMW) magazine tube and magazine nut, built to Salient specifications, along with Wolff magazine springs, are solid choices. The safety button, also from DMW, is an oversized model that affords much greater purchase. An Arredondo carrier-release bar completes the exterior modifications and upgrades.
The bane of the competitive shotgun is, of course, loading it. Any 3-gun competitor worth his salt highly modifies the loading mechanisms of every shotgun platform he uses—from the carrier to the entire well area to specific areas around the opening of the magazine tube. "We produce the extended carrier that is designed to provide an increased ease of loading without potential damage to a shooter's finger during the process," Pignato said.Individual competitors and gunsmiths have been removing metal and polishing shotguns in this manner for decades. Salient takes those collective lessons and refines the art, transforming a standard shotgun into one that loads with remarkable smoothness.
Inside the receiver, the bolt carrier—which is ion-bonded for increased lubricity—and receiver walls are thoroughly worked over, and metal is removed from several key areas.
To help realize the full potential of custom upgrades, the Salient Benelli also features a trigger job, one that in operation feels more at home on a rifle than what most shooters are used to on a shotgun. A common threshold among top shooters is if they can "outrun the gun," meaning they have the ability to manipulate the trigger faster than the gun can complete the full cycle of operation. This feat should prove difficult on the Salient Benelli for even the fastest competitors. "The Salient Benelli M2 has a much better trigger pull—a match trigger. It's a faster loading gun, the ease of loading is like glass, and your thumb doesn't get caught on that half-moon cutout on the factory lift gate," added Butler.
It's championships that no doubt will soon be falling at the hands of the Salient. Butler is one of several big-time competitors who have already switched over, with more scheduled to follow.
The Salient Benelli M2 retails for $2,000 and is now in full production. The company's next move, however, is to develop a program where current Benelli M1/M2 owners can ship their shotguns to receive the custom work.
"We will take their current platform and do a complete Salient Performance Package," Pignato said. "The return product will have all of the performance upgrades that our brand-new Salient Custom Benellis have."
More information on Salient Arms products and services can be found at www.salientarmsinternational.com. To purchase the Salient Benelli M2, along with pretty much any other gun or piece of gear for tactical or practical shooting, visit Pignato's Velocity Shooter, the primary source for Salient product purchases, or call (859) 533-3612.