It's not a perfect marriage, especially when it comes to concealed-carry choices. I carry a Walther PPQ M2 in .40 S&W and my husband prefers a SIG Sauer P220. When I mentioned that I'd be testing a Walther PPQ M2 in .45 ACP (the PPQ 45), his ears perked.
Having carried the .40 S&W for three years now, I knew what to expect from the bigger cousin in the line of Walther Police Pistol Quick (PPQ) models, which includes .22 LR, 9 mm, the aforementioned .40 S&W and now, .45 ACP. In fact, I think it could be called the Walther OMG.
It may have taken years to "grow" one in this big caliber, but the PPQ 45 still exhibits family characteristics of being sleek and quite concealable. The first member of the PPQ family, chambered in 9 mm, appeared in 2011—begat from the P99QA variant of the P99. One of the major reasons I like the PPQ M2 line of striker-fired, polymer-frame centerfire pistols is because they all are streamlined and rather slim—not boxy like some competitors. Even with 12 rounds in the magazine, this PPQ still works as a concealable firearm to carry inside or outside of the waistband.
Another great feature is the Tenifer coating on the gun's metal parts, which helps prevent corrosion and damages from impact. I've always appreciated the front and rear slide serrations and the PPQ models' ambidextrous controls, too. Ifyou train to shoot with your right hand and left hand as shooting or strong hands, you'll know why these features are important. If you want to mount a laser or flashlight on this handgun, no problem—it has a Picatinny rail on the dustcover.
When it came time to shoot the PPQ, I invited my husband—the skeptic about non-SIG pistols—to shoot the gun, too. He is picky about triggers, and I call him a "SIG snob."
While dry-firing, I immediately recognized the standard Walther PPQ trigger pull. Talk about being able to get back on the target quickly—this model comes with a superior 5.6-pound trigger. In fact, the trigger bears the company's name: the "Carl Walther signature quick defense trigger." It was designed specifically for the PPQ and is different from other lines of Walther pistols. When you pull the trigger, the trigger system releases the fully pre-loaded striker assembly, firing the pistol. Pulling the trigger does not partially load the striker spring as with the Glock and many other striker-fired-pistol designs. Therefore, the PPQ trigger-pull is absent that springy, spongy feel of typical striker-fired handguns. The PPQ trigger pull weight is entirely due to the trigger and disconnector springs, and (according to Walther) has a trigger travel of approximately .4 inch with a relatively short trigger reset of .1 inch. The preset internal striker has a let-off point and trigger-pull weight that remain unchanged from the first shot to the last.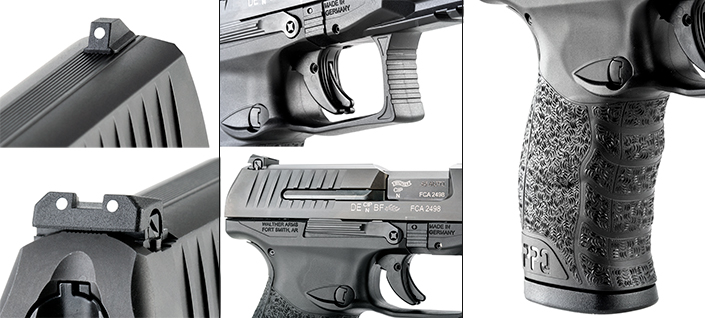 I like this gun. Because of my stature, I can't carry this gun concealed, though, and it's frankly too much weight for purse carry. I would, however, carry it openly and feel confident that I could shoot it accurately.
When it came time for my husband to shoot the gun, I could tell he liked it, too. He liked the groups he got at 25, 15 and 7 yards and he appreciated the grip—which has interchangeable standard and large backstraps. The two main reasons he liked it, as compared with his carry gun, are its sleeker profile and the added capacity the PPQ 45 offers.
We will be purchasing this pistol, and we both plan to carry it. I guess you could say it's a his-and-hers gun now.