by
posted on September 25, 2023
Support NRA Shooting Illustrated
DONATE
By now, you'd have to be living in a cave (digital or otherwise) to not know about the Taurus Judge revolver. Capable of firing both 2.5-inch, .410-bore shotshells and .45 Colt ammunition, it has been one of the best-selling firearms in Taurus' portfolio since its introduction in 2006. To most experts, it has been more of an afternoon plinking and "Hey, check this out" among friends (which, of course, is entirely acceptable) pistol, but sales don't lie. With the addition of Taurus' new Executive suite of upgrades, though, I believe there is a serious self-defense mission that can be admirably fulfilled with this latest entry to the manufacturer's popular line of versatile models of Judge wheelguns.
Rather than the black-oxide or matte-stainless finish of the standard Judge, the Executive model features a brushed-satin finish. Once you've adjusted to the extra-long cylinder, it's a quite handsome piece of hardware with all edges slightly rounded (or dehorned) to ensure you don't start bleeding in the course of a lengthy training session. The trigger is combat-style with no serrations on the front surface, making double-action shooting much easier. It is wide enough that your finger doesn't catch an edge during the long double-action trigger pull, but a bit narrower than the trigger guard to ensure it doesn't catch on the holster's edge when returning the gun to leather (or Kydex).


The front-sight blade offers one of the Executive upgrades in the form of a round brass rod mounted in the center of the dovetail-mounted blade. This stands in sharp contrast to the fiber-optic pipe in the pinned front sight of the standard Judge models. Since the brass rod's visibility is not improved by having the center section exposed to ambient light, the cut-out doesn't appear necessary, but this design works like a brass bead on the front of the sight blade preferred by many pistoleros using iron sights. The fixed rear sight is a square notch cut into the frame's topstrap surrounded by a larger half-moon cut at the very back of the topstrap.
Another Executive feature is the addition of handsome wooden grips rather than the usual rubber found on standard Judges, with a visual appeal like that of the old-style Magna grips used by Smith & Wesson. I accept the fact that wood is a more elegant choice than rubber, but I've always like the ergonomics of Taurus' rubber grips. More importantly, I have some difficulty in shooting a revolver double action when it is equipped with the Magna-style grips and a great deal of difficulty in shooting such a revolver with only one hand. Simple solution: I borrowed a set of Hogue rubber grips for the shooting sessions.
On the range, targets were standard full-size, "Option" paper-training targets used in all of Gunsite's classes; they were all full-size human silhouette targets with a mottled pattern and no precise aiming point. Distances were 15 yards for .45 Colt rounds and both 3 feet and 6 feet for shotshell rounds. I thought the velocity standard deviation of the DoubleTap and also Hornady rounds (16 and 18 fps, respectively) were quite impressive for a 3-inch-barreled revolver. Group sizes for solid bullets ranged from 2.5 to 4 inches using a variety of shooting positions (off-hand, leaning against post, arm resting on table.)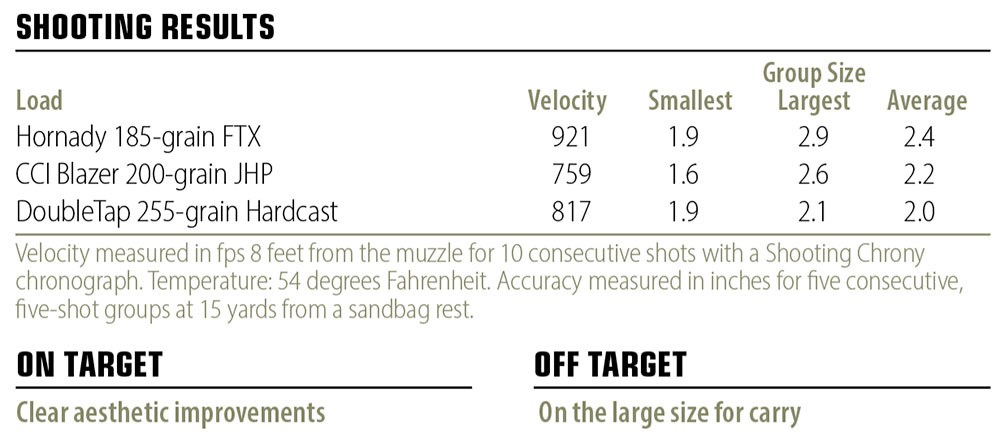 For a 3-inch-barreled wheelgun, the Judge tips the scales at a pretty hefty 36 ounces, considerably more than most of today's carry guns. As already mentioned, it's also considerably larger than other revolvers carried for self-defense. Having carried Magnum revolvers with 4-to 8-inch barrels on uncountable handgun hunts, I'm reasonably comfortable with a couple extra pounds strapped to my hip. I was joined at the range by Rob Leahy of Simply Rugged Holsters. His pancake holsters are both handsome and semi-indestructible, and since he offered to furnish one to use at the range, I decided to include some "official" carry tests. In terms of comfort, accessibility and rugged good looks, it was fantastic, though you'll need a loose outer garment. With the ability to carry .410 shotshells, buckshot or .45 Colt, you're prepared for any threat—whether it has two legs or four.