Support NRA Shooting Illustrated
DONATE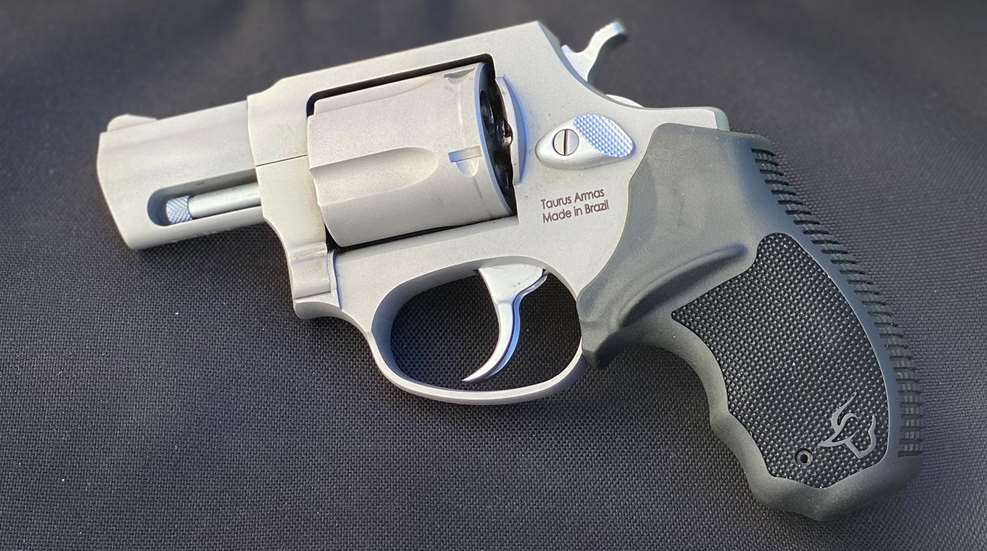 While the sun may have long set on the golden age of the duty-sized, double-action revolver, after wonder-nines and then striker-fired polymer pistols took center stage, one of the last vestiges of the revolver world still holding out are pocket revolvers. Pocket-size revolvers, often referred to as snubnose revolvers, usually have a five or six round cylinder with a fairly short barrel, most commonly measuring about 2 inches. In the concealed-carry space, carry revolvers are facing stiff competition from sub-compact striker-fired semi-automatic pistols, though many people still prefer to carry these small revolvers due to their portability, safety and convenience. Snubnose revolvers also possess certain advantages over compact semi-automatics, such as the ability to fire repeatedly in constricted spaces, like coat pockets. Snubnose revolvers are also useful for those who wish to carry a defensive firearm without running afoul of their state's firearms ammunition capacity restrictions. At its core, the Taurus 905 combines the best features of a classic snubnose revolver along with the versatility of shooting modern 9mm ammunition at an affordable cost.
Taurus 905 Overview
The Taurus 905 is an all stainless-steel revolver with a matte finish that weighs 22 ounces and has a 2-inch barrel and a five-round cylinder. It is chambered in 9mm, the world's most prolific handgun cartridge. Having a 9mm carry revolver means that those who shoot it can benefit from sourcing ammunition for training or carry that is less expensive and more available than other popular snubnose calibers these days. Another indirect benefit in carrying a 9mm defensive firearm today is being able to take advantage of the many advancements in 9mm projectiles and carry ammo. Several premium defensive loads currently available are optimized for use in firearms with three inch or shorter barrels, like snubnose revolvers. Like any other revolver that shoots a rimless cartridge, shooting the Taurus 905 with best results requires the use of moon clips. Five Taurus Stellar moon clips are included in the box with the Taurus 905 revolver.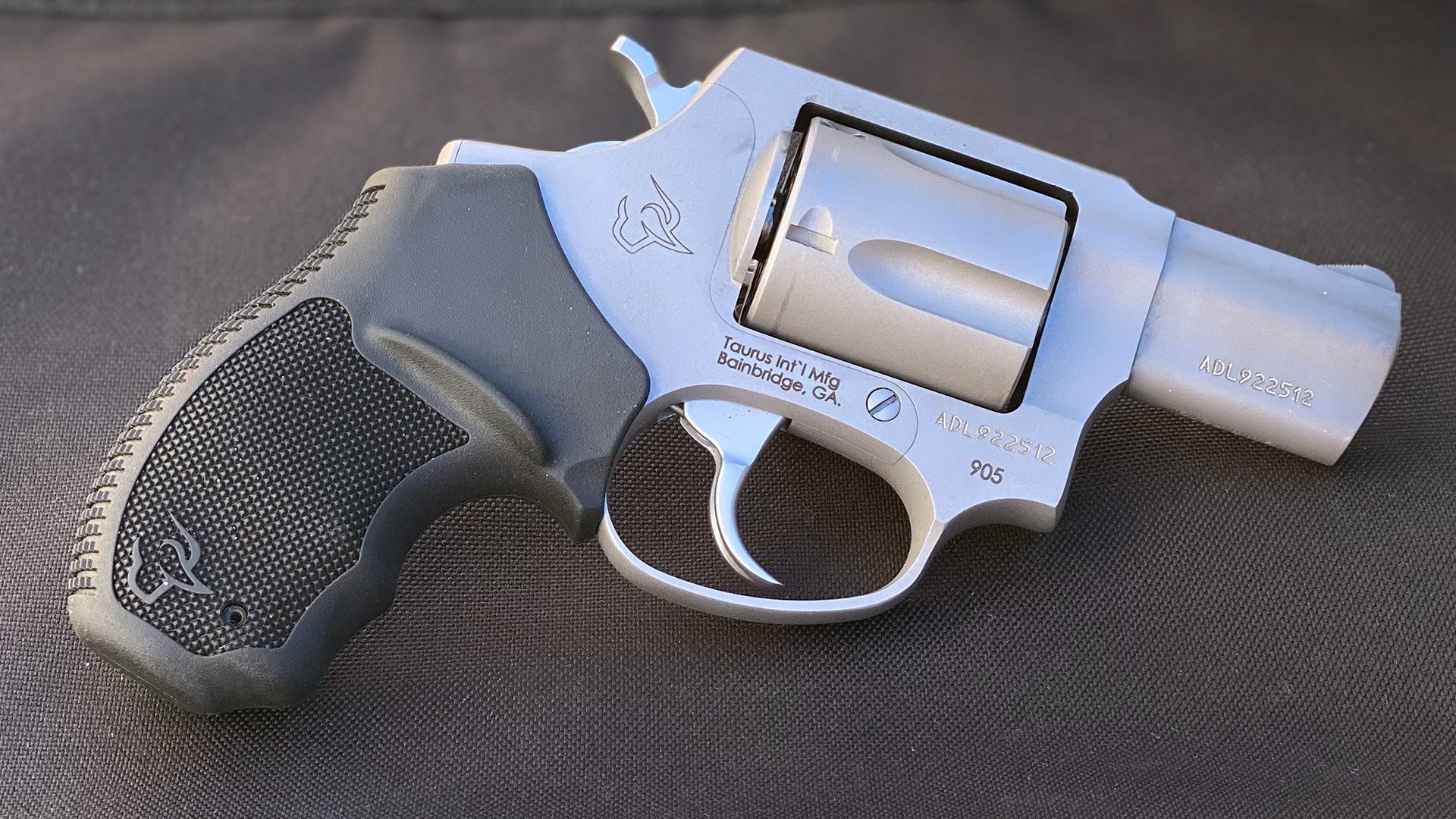 The Taurus 905 itself is a descendant of the Taurus Model 85, which was the Brazilian company's original snubnose revolver model first introduced in 1985. Like all double-action revolvers, the 905 does not have any manual safeties and instead relies on its heavy trigger pull. The Taurus has a transfer bar safety that works in conjunction with the flat-face hammer to strike a frame-mounted firing pin. As with all Taurus revolvers made after 1996, the back of the hammer also features the TSS (Taurus Security System) that prevents the hammer and action from actuating when the trigger is pulled. A pair of special keys are included to enable or disable the TSS.
The 905 is equipped with fixed sights. The groove on the top strap that forms the rear sight channel ends with a square notch at the rear of the frame. The ramped front sight is serrated. Its sight picture mostly resembles a mini Partridge sight, that is a thick front square blade ahead of a square rear notch. At seven yards or closer, I was able to shoot point of aim with CCI Blazer 115-grain 9mm rounds. On the other hand, the Federal HST 147-grain +P jacketed hollowpoint defensive rounds shot approximately 1 inch over point of aim at seven yards. Though the double action trigger is on the heavier side, it is quite reasonable out of the box for a revolver that has a retail price of $423.47. Snubnose revolvers are some of the most challenging types of handguns to shoot well, due to their small size and diminutive sights, but in the case of the Taurus 905, the double action trigger pull was no impediment. Since the 905 has an exposed hammer with a spur, shooters are able to manually thumb-cock the revolver and shoot it in single action, but this is pointless in any defensive scenario situation.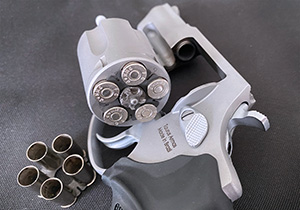 The 905 is built with a two-piece barrel. An outer shroud with a matching matte stainless finish contains not only the ramped front sight, but it holds both the revolver's ejector rod and the inner steel barrel. On any carry revolver, having the ejector rod protected against knocks, bumps, or any other issues is always a great idea for the gun's reliability. The black rubber boot grip included with the Taurus 905 from the factory is adequate and certainly fills the hand better than the diminutive wooden grips found on older snub-nosed revolvers. Instead of a screw, a roll pin is used to secure the grips to the frame, although perhaps using a screw instead of a roll pin might make it more convenient for owners to easily swap grips.
Shooting The Taurus 905
Though the perception of recoil depends on each person, in the case of this revolver, calling it "snappy" while shooting it would be fair. Smaller guns lack the extra mass and heft that aid in recoil absorption and the fact that revolvers are "analogs" means there is no reciprocating slide or mass to further mitigate recoil. Shooting carry ammo, in this case the Federal 147-grain HST +P certainly produced felt recoil. I had no reliability or ignition issues shooting 110 rounds for my evaluation of this pistol. The cylinder screw itself did not even budge on my example. I specifically included CCI Blazer 115-grain loads during my session. Not only is this a great range and training cartridge with decent accuracy across the board, but CCI Blazer is still fairly cost effective and easy to find. I shot Federal HST 147-grain +P defensive ammo as this is a load I would feel comfortable carrying in the Taurus 905. Accuracy-wise, this carry ammo shot well in my example, but once again the point of impact was slightly higher than Blazer at seven yards. It is always a good idea to shoot your carry ammo with any gun before relying on it for protection.
Pocket revolvers are competing closely against sub-compact semi-automatic striker pistols on America's CCW waistbands and pockets. In spite of some of the inherent challenges unique to these small revolvers, they still shine in their specific niche–mainly how easy they are to carry and extreme close quarters reliability. A modern snub like the Taurus 905 loaded with modern defensive ammunition is still something to consider.
Taurus 905 Stainless Steel Specifications
Manufacturer: Taurus International Manufacturing, taurususa.com
Caliber: 9mm
Height: 4.40 inches
Width: 1.40 inches
Length: 6.50 inches
Barrel Length: 2 inches
Twist Rate: 1:10-inch RH Twist
Weight: 22 ounces unloaded
Finish: Matte stainless steel
Moon Clips: Includes 5 Taurus Stellar moon clips
MSRP: $423.47
7 yard Accuracy Test Results
| | | | |
| --- | --- | --- | --- |
| Ammo: | Min Group: | Avg Group: | Max Group: |
| Blazer 115 grain FMJ | 2.25 inches | 2.5 inches | 3 inches |
| HST 147 gr +P JHP | 1.5 inches | 1.75 inches | 2.5 inches |