by
Evan Brune, Associate Editor, Shooting Illustrated
posted on December 1, 2017
Support NRA Shooting Illustrated
DONATE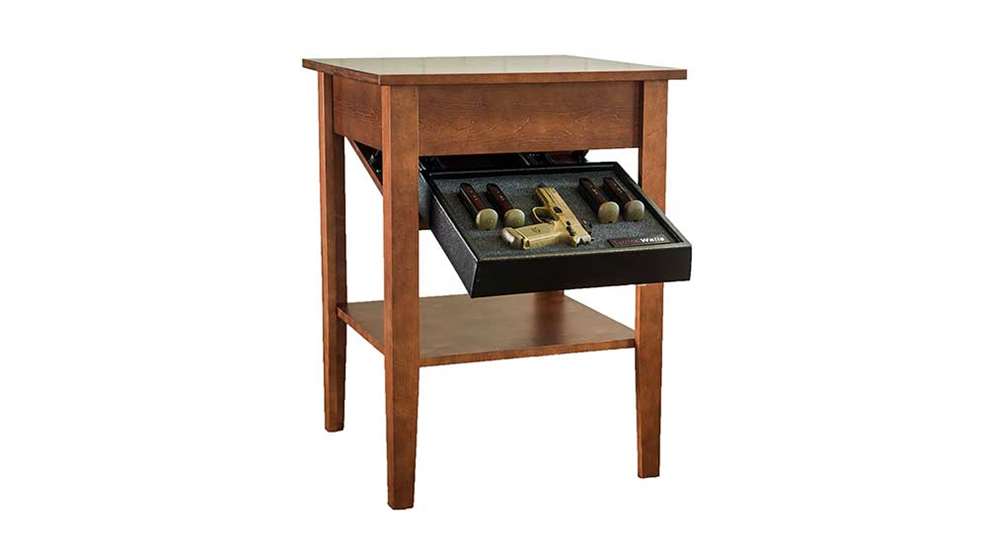 While it's undoubtedly a critical component of responsible firearm ownership, reading and writing about gun safety products doesn't exactly get anyone's engine running. Try as we might, gun safes just aren't sexy and trigger-lock reviews don't go viral. However, there are exceptions, and the Tactical Walls Concealment Night Stand is certainly a stand-out security product worthy of recognition.

Tactical Walls has always been a cool company with innovative products. There's something James Bond-like about sliding open one of the company's full-length Concealment Mirrors to reveal a ready-to-rock AR-15 or shotgun or tapping an RFID card on one of its Pistol Concealment Shelves to unveil a hidden handgun.

Unfortunately, until 2017, these hidden concealment products were largely limited to homeowners with the ability to slice into drywall and modify their living spaces at will. For renters (like me) or those lacking home-modification skills looking to discreetly keep a firearm at the ready, options were limited to smaller products, like the company's Issue Box. This is by no means an inferior product, but it doesn't offer the same level of discreet security as other products and can only conceal small firearms.

At the 2017 SHOT Show, Tactical Walls introduced a line of furniture that provided many of the same security and storage options as its wall-mounted products. One of the new products that jumped out was the company's Concealment Night Table.

Like all of the company's products, no expense was spared in terms of quality. The furniture is made from solid maple wood, sourced from the U.S. and handmade at the company's Virginia factory. Five different finishes are offered, including black, cherry, Dutch walnut, early American and clear coat.

The Tactical Walls Concealment Night Table measures 23x23-inches on top and stands 31 inches high. Midway between the bottom of the tabletop and the ground is an additional shelf that allows for extra storage without impeding the deployment of the hidden compartment.

The hidden compartment is located in a hollow space directly underneath the surface of the night stand. The night stand is RFID-enabled and ships with two RFID cards that must be swiped in the middle of the side panel below which a hidden compartment tray deploys, presenting owners with a ready-to-use firearm.

Once the RFID lock registers a card, a hinged false bottom secured by two dampers is released, opening just enough to allow the hidden tray to slide out. The speed at which the tray slides free can be easily customized by the end user. The space inside the tray measures 14 x 11.75 x 2 inches, giving home defenders plenty of room to store firearms, accessories and reloads. I was able to fit a 5-inch Smith & Wesson 686 Plus revolver and a large tactical flashlight in mine with plenty of extra space for speedloaders. A foam interior is included for users to slice away custom cutouts for their hidden materials.

Some assembly is required before using the unit, but it is far less than the drywall cutting and drilling needed for the installation of some of the company's other products. A screwdriver was all I needed to piece my particular Tactical Walls Concealment Night Stand together. One unfortunate occurrence with this particular table was the inclusion of a defective RFID lock that refused to keep the hinged compartment door secured shut, rendering the entire unit useless. I contacted the company about the issue and received a quick, prompt reply and replacement.

In fact, the issue with this particular unit was so troubling to them that Chris Wood, vice president of Tactical Walls, reached out to me and requested that I send the lock back to them for further examination and troubleshooting. It's worth noting that the replacement lock sent my way has worked without issue in the hundreds of times I've opened the compartment in the months since, and I have full confidence in the capability of this lock to work when needed.

While not as secure as a bona-fide gun safe, the Tactical Walls Concealment Night Stand absolutely qualifies as a firearm-security product, since it keeps guns safely squirreled away from would-be thieves and other unauthorized users. Sure, most standard gun safes use solid-steel deadbolts, but that kind of locking mechanism is less critical when the safe is disguised as something innocuous. Most thieves aren't going to look at a table and say, "You know, I bet there's a gun hidden somewhere in there."

In addition, unlike a gun safe, the Tactical Walls Concealment Night Stand can be placed where needed for quick and easy access to a defensive firearm in the home. Just because it's called a nightstand doesn't mean it needs to be by a bed, although that's certainly a popular choice. I chose to put mine in an entryway near my apartment's front door, allowing me to have a firearm within reach at all times when answering unexpected knocks.

At $519 per night stand, the price might seem premium at best, but consider that a good-quality RFID-enabled pistol safe alone will cost almost $200. Finding a hand-finished, solid-wood nightstand that's made in America will easily cost another $200-300. With the Tactical Walls Concealment Night Stand, you get the best of both worlds and have a well-hidden, easily accessible firearm for home defense.