by
Evan Brune, Associate Editor, Shooting Illustrated
posted on March 9, 2018
Support NRA Shooting Illustrated
DONATE
One of the cornerstone components of a solid everyday-carry kit is a good pocket flashlight, and there are many available on the market, several of which are covered in Shooting Illustrated's own
"I Carry" video series.
However, certain situations arise that might require a great deal more area lighting and hands-free operation, such as broken-down car or a significant power outage. For these scenarios, a solid option is the
Streamlight
Stinger Switchblade LED light.
Designed as a "multi-function work light," the Stinger Switchblade is built with a double-sided light bar machined from aluminum that offers several different illumination options, giving users added versatility in an emergency situation. With a simple push of the button, one side of the bar gradually warms up to a maximum output of 800 lumens through white LEDs, projecting a bright, wide-reaching light for immediate area illumination.
A second illumination option through the Streamlight Stinger Switchblade light can be found on the opposite side of the light bar, which is loaded with the company's 90 CRI LEDs and incorporate Streamlight's unique Color-Rite Technology. With the 600-lumen output from this light bar, users can better pick out nuances in the color spectrum that might otherwise be washed out by the bright light from the company's white LEDs.
Finally, for close-up detail work on vehicles or other mechanical devices, the unit has a unique 500mW UV LED that enables users to quickly highlight fluid leaks or other residue that might otherwise not be visible from a standard white LED flashlight.
Additionally, the light has a number of options for hands-free illumination. The light can be propped up on any flat surface, and the bar features seven different positioning points separated by friction detents. For additional mounting options, the base is magnetized and can be secured to any ferrous metal surface. The light can also be hung, thanks to a built-in hook that retracts from the base.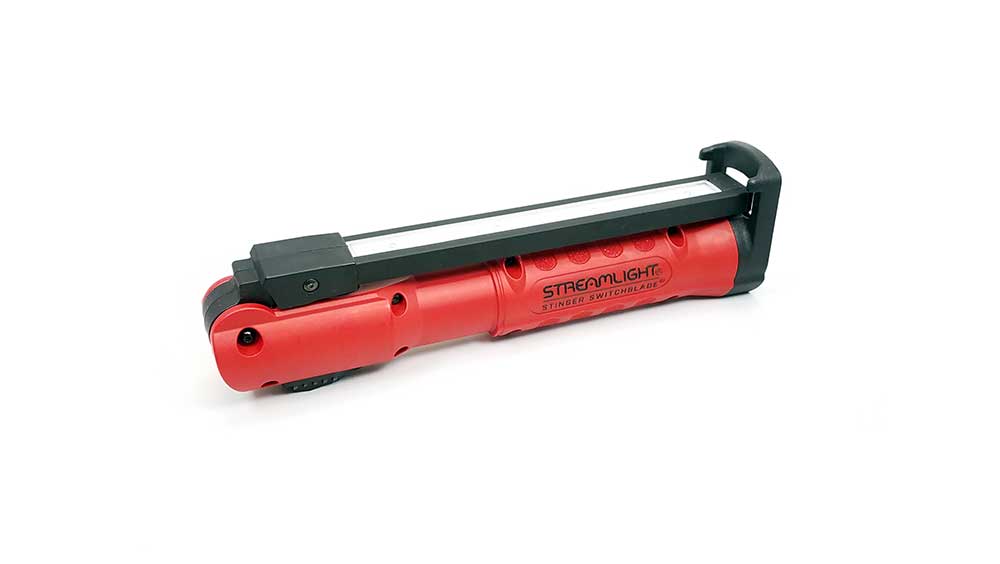 In addition to its potential use as a work light, the Stinger Switchblade can also be used as a powerful, handheld area light, thanks to its textured housing. The light is designed for use in rugged conditions, thanks to its durable polymer body construction and a scratch-resistant lens made from polycarbonate. The light runs off a built-in lithium-ion battery charged through a USB input located opposite of the push-button switch on the light body. Charging is also possible through two metal nodes included on the built-in Stinger Smart charging clamp, which can be mounted to a wall or other flat surface.
Once fully charged, which takes about 5 hours with a standard 12V input or 8 hours with a USB connection, the light provides 3.75 hours of continuous run time with either bank of LEDs or 15 hours of runtime with the single UV LED.
Combined with its generous battery life is its compact, foldable design, which collapses into a package measuring less than 10 inches long. The light is also IPX-4-rated for water resistance and is drop-tested from 2 meters, making it a durable addition to any emergency kit where hands-free illumination is paramount.
One downside we noted is the light has no programmable mechanism that allows both banks of LEDs to run simultaneously. This would have been a nice feature for a true area illumination tool, like an emergency lamp, but a single-side bank of lights does provide enough illumination for completing tasks in darkness with ease.
The suggested retail price on the Streamlight Stinger Switchblade LED light, along with an included Stinger charging base, wall-outlet charger and USB charging cord, is $170.