A couple years ago, I fell in love with the 10 mm cartridge and the 1911s in that caliber, including the Para Ordnance Elite Hunter Long Slide. These guns provide near-magnum handgun power in a workhorse 1911 and are accurate, powerful and dependable. They're also great for home defense, hunting and banging the heck out of steel out to 100 yards.
However, the capacity of eight-to-nine rounds I found in these 1911 platforms had me looking for a little more firepower. A friend mentioned STI International, a fixture on the pistol-competition circuit, so I gave the company a look online. Its relatively-new Tactical DS 2011 appeared perfect, minus one large hitch: the Tactical DS was offered in 9 mm, .40 S&W and .45 ACP, according to the company's website. No 10 mm.
So, operating on the theory that you never know what's possible until you ask, I contacted STI at its facility in Georgetown, TX. Could the company produce a 2011 Tactical DS in 10 mm, with a five-inch bull barrel and a threaded muzzle for a suppressor I was thinking of buying? Of course, the folks at the company said that wasn't a problem.
What I ended up receiving was a heck of a pistol that was both tough and accurate. The STI Tactical DS 2011 is a high-capacity 10 mm, Cerakoted and tricked-out gun with a full-length accessory rail beneath the barrel. This is a solid steel-framed handgun, and while it is heavier than most semi-auto 9 mms and .40 S&Ws available today, the weight also helps tame the 10 mm recoil. 
The Tactical DS comes standard with a fixed rear sight and a ramped front sight. The magwell is flared to more easily accept magazines, especially when you need to load up in a hurry. It also has an ambidextrous safety. It looked like a keeper, and after some shooting time, I realized it was.   
A word about the 2011 models made by STI International. They look a lot like 1911s, because they are essentially STI's "next gen" 1911s and are designed to take higher capacity magazines than standard 1911s. 
One change STI made for the 2011's higher capacity was to manufacture glass-filled polymer-and-modular grips to better absorb recoil, despite being extremely lightweight. Since the grips are injection-molded with steel inserts, they are much stronger and thinner than all-steel grips. Both a 2011 and a standard-width 1911 are 1.30 inches wide and both have a 17-degree grip angle. In total, the grip diameter of the 2011 is only about 0.25 inch larger than a traditional 1911.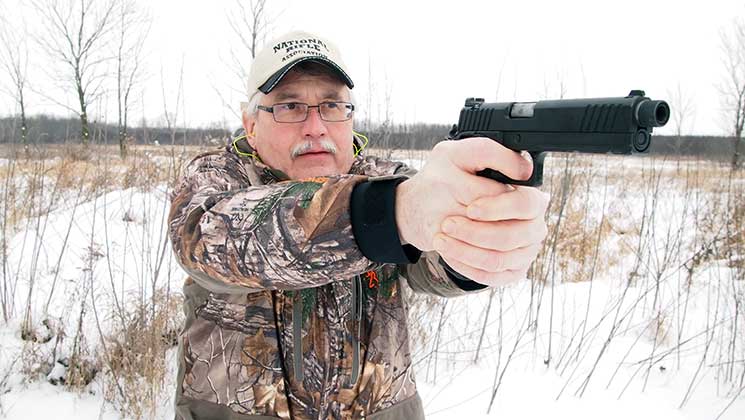 The "DS" in the model name stands for Double Stack, and my STI came with two 5.5-inch long double-stack magazines, each capable of holding an impressive 17 rounds of 10 mm. With one in the chamber, that's 18 rounds of 10 mm power.
I gave my Tactical DS several range sessions using four different brands of ammunition: Remington UMC with a 180-grain FMJ bullet, Team Never Quit 125-grain frangible, SIG Sauer Elite Performance 180-grain FMJ and SIG Sauer Elite Performance 180-grain V-Crown JHP.  For my accuracy testing, I fired standing off-hand from 10 yards and from a rest at 25-yard targets. I was impressed from the first shot to the last. 
At 25 yards, firing from a sand-bagged rest at Birchwood Casey Shoot-N-C targets, the best accuracy I achieved was five-round groups at 1.55-inches with the Team Never Quit frangible loads.  The Remington UMC came in second with a five-round group at 1.99 inches. 
For the 10-yard offhand test, my best accuracy was a five-shot group with the SIG V-Crown that measured 1.22 inches. If you take away one flier, the four-shot group came in at .722 inches. 
The rear sight on the Tactical DS is a Trijicon Heinie Ledge sight, while the front is a Trijicon ramped blade with a tritium dot.  They are easy to pick up and quick to align while shooting. 
The trigger is skeletonized, and my Lyman electronic Trigger Pull Gauge measured it at 3 pounds, 13 ounces of pull. The trigger has a short pull and a very quick reset.  The beavertail grip safety doesn't require undue pressure to release, and the beavertail protects the web between thumb and forefinger nicely.  The pistol also has an ambidextrous manual safety that pushes up into the SAFE position.  Extended wings on each side make for easy manipulation.    
The operation of the slide is a little tighter than other 10 mms I have used. It is not objectionable, but it does take some strength to rack the slide. I assume part of the reason for that tightness is that STI makes this pistol with a stronger spring to take up the 10 mm recoil. My one minor wish about this pistol is that the front area of the slide had several more cocking serrations in the direction of the rear—three or four more—which would be a help with racking the slide.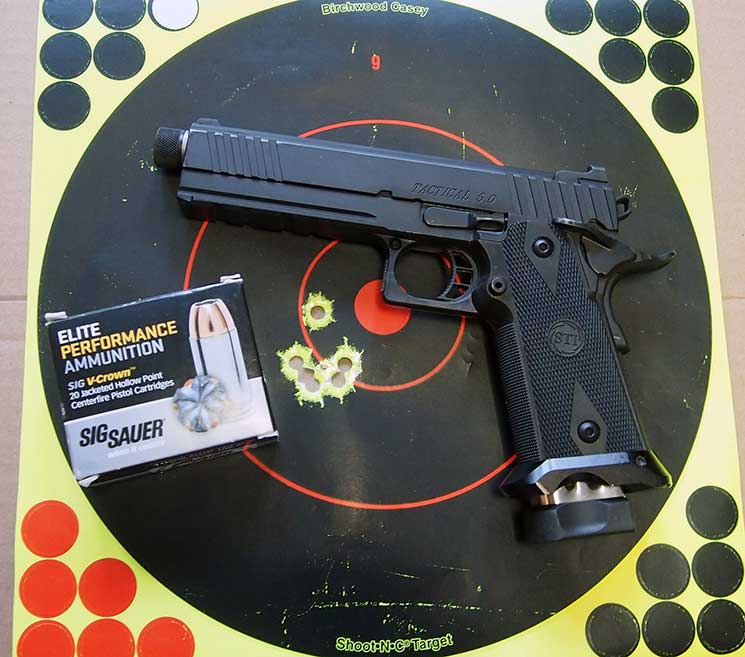 Recoil? Well, this is a 10 mm handgun, and even with the 42 ounces of pistol and a full magazine, the Tactical DS doesn't have the sappy recoil of a 9 mm or .40 S&W. It's also not the solid push back into your hand and wrist that I associate with .45 ACP.  The 10 mm pushes back and up hard with souped-up ammo. While it's not a .44 Mag., the recoil is significant. 
There are probably people who'd consider the Tactical DS for concealed carry. I'm not one of them. The pistol's size and weight are not what I can comfortably tote under clothes. Open carry, home defense and hunting are absolutely within the realm of this pistol, though.
I'm not a competitive shooter, so I can't speak to what sort of inroads 10 mms may or may not be making on the pro shooter tours. I suspect the recoil is a bit much for competition, though I could be wrong.
The Tactical DS is not inexpensive.  The 9 mm and .40 S&W models start at $2,100, and the 10 mm I have is $2,699. However, it's a performer, and one that I believe will provide a shooter with years and years of hard use.