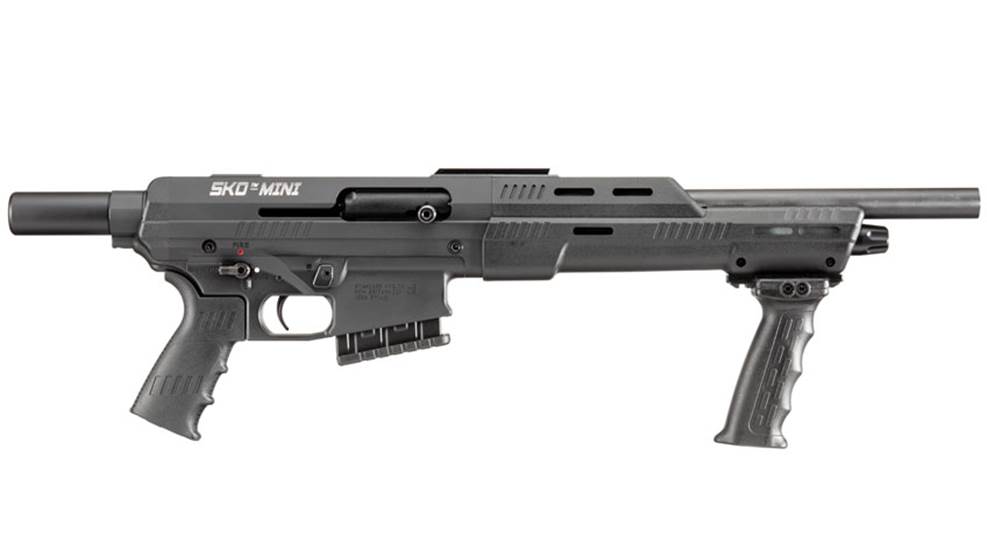 Though the AR-15 has supplanted the shotgun for many personal- protection applications, defensive shotguns are hardly obsolete. Those classified as "Firearms" by ATF are a major part of new-gun releases, including the SKO Mini from Standard Manufacturing of New Britain, CT. The Mini is Standard's third rendition of its SKO shotgun.
A semi-automatic 12 gauge, the SKO Mini feeds 2¾-inch or 3-inch shells from a detachable-box magazine. It has a 14.75-inch barrel that is less than the statutory shotgun minimum of 18 inches, but is classified as a "firearm" and not an NFA-regulated "Short Barreled Shotgun" because it lacks a shoulder stock. Moreover, its overall length of 27 inches, slightly more than the 26-inch minimum, keeps it clear of another NFA classification as an "Any Other Weapon." 
The SKO Mini has similar controls to an AR-15 except for a reciprocating, right-side charging handle attached to the bolt and no forward assist. Its left-side bolt catch automatically holds the action open after the last round is fired, and the magazine-release button and bilateral-safety levers are in AR-familiar places. AR pistol grips fit the SKO Mini and also share the standard AR-15 trigger. The tested sample has a similar feel and a pull weight that measured 6 pounds.


This firearm weighs a substantial 7.14 pounds, mainly from the necessary mechanics of a gas-operated, semi-automatic system. A robust build, the SKO Mini starts with upper and lower receivers made from 7075-T6 aluminum forgings joined with two H&K-style push pins. The barrel is made from a solid 4140 chrome-molly steel rod and has an internal Trulock choke. 
A two-round magazine is included with the SKO Mini, an oddity for sure, but five- and 10-round versions are available, and a 25-round drum magazine is expected this year. The polymer furniture includes a pistol grip with storage compartment, a vertical foregrip and a fore-end. Accessory rails for mounting lights or lasers can be attached to the fore-end, while sockets at the rear of the receiver tube and front of the fore-end accept quick-detach sling swivels. There are no sights, but the receiver is drilled and tapped to accept a proprietary, full-length rail (used for testing, but not included) that extends almost to the muzzle.
Materials, workmanship and fit of the gun are excellent and much better than many in its peer group. Its action cycles smoothly without any grittiness or bolt wobble and the receivers fit together tightly. Most internal steel parts as well as the barrel are nitrided for surface hardness and rust resistance, and the receivers are hard-coat anodized.
Testing employed Winchester Super-X nine-pellet 00 buckshot, Hornady Black eight-pellet 00 buckshot, Fiocchi High Velocity 1¼-ounce No. 7 shot and Federal Field and Target 1 1/8-ounce No. 7 shot. 
Standard Manufacturing recommends a break-in of 75 to 100 rounds using 1¼-ounce loads with a nominal muzzle velocity of at least 1,330 fps before using less-powerful loads. This load duplicates the Fiocchi High Velocity shells used to test each SKO before it leaves the factory. 
Out of the box, the SKO Mini functioned reliably with the Fiocchi and Hornady loads, but failed to eject one in five Winchester shells (despite a published velocity of 1,325 fps) and all of the Federal shells. After firing 80 rounds of various high-brass shells, the Winchester load performed at 100 percent, but the less-powerful Federal load still did not cycle.
Magazines are made outside of Standard Manufacturing and are a common design used in the UTAS XTR-12, EAA MKA1919 and others.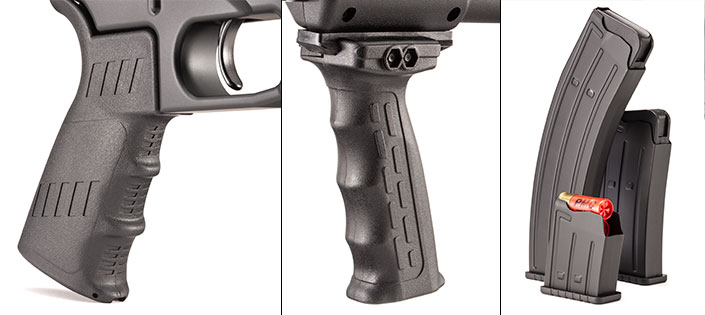 The SKO Mini handles recoil exceptionally well—far better than any firearm within its genre I have tested—thanks to its semi- automatic action, forward vertical grip and loaded weight of 7.5 pounds. Muzzle rise is minimal and, held firmly, the Mini can be fired from eye level without fear of injury to your face from recoil. Point shooting can also be effective due to the forward grip.
The SKO Mini has a few functional, albeit manageable, idiosyncrasies. First, is a safety lever that abrades your trigger finger on every shot with 100-percent certainty. Wearing a glove or shortening the lever solves this problem. Next are the magazines, some of which can be slightly over-inserted leading to malfunctions if slammed forcefully into place. Insert the magazine firmly, then tug downward to ensure correct seating. Lastly, the bolt catch can lock the bolt rearward at two positions of travel: fully rearward at the point of maximum spring compression and 90-percent rearward. When locked fully rearward, the bolt face is positioned to pick up shells from the magazine when the bolt catch is depressed. When locked at 90 percent, however, the charging handle must be pulled rearward, then released to chamber a round. The Fiocchi and Hornady loads locked the bolt fully rearward as did the Winchester after the break-in. Storing the Mini with the bolt lock fully rearward may shorten the break-in period.
Overall, the SKO Mini is an appealing choice for self-defense for those who recognize the benefits of a discreetly stowed, minimally sized firearm coupled with the commanding power of a 12 gauge and the advantages that semi-automatic operation and detachable magazines offer over tube-fed pump actions. Well-made using quality materials and durable finishes, the Mini functions well with loads it prefers and patterns sufficiently at 25 yards using two common 00-buckshot loads.