I recently received samples of two new knife designs being offered by SOG, a leader in high-performance but moderately priced knives, tools and gear. The new SOG-TAC XR and the Trident AT are both part of SOG's welcome embracement of cryogenically treated D2 tool steel.

Though not some "super steel" like 3V, D2 is up a notch over most typical, affordable knife steels in terms of wear resistance and hardness while offering some corrosion resistance and decent toughness. It is fairly easy to produce and widely available. We like it because it's entirely adequate for day-to-day chores, holds an edge well and requires minimal attention.
I don't like dull knives nor high maintenance. D2 can be tricky to sharpen and hard on the sharpener, but it tends to stay sharp for a good, long while. Also, while it isn't a true stainless steel, it has enough available chromium content to resist corrosion with even the most casual maintenance regimen.

As D2 is difficult to polish, it is often given a surface treatment, in this case titanium nitride. That's fine by me. It looks good, is durable and means that the exposed edge is the only area of concern. After significant use, I simply wipe a minute amount of any nearby oil or grease (from Crisco to Vaseline to WD40) on the edge, then close it up, confident it will be fine until the next time.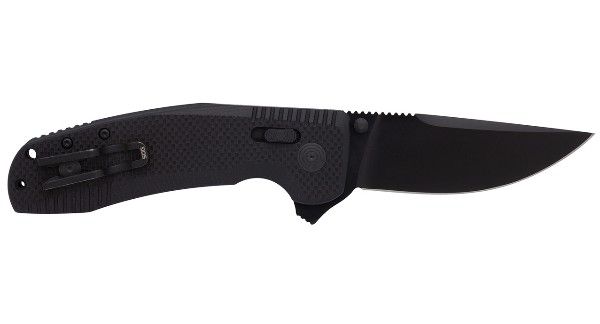 SOG-TAC XR
I wouldn't have expected the SOG-TAC XR moniker, looking at this knife. While it would clearly do for tactical applications, the partially serrated blade is fairly short and the knife looks to work well for a variety of applications. 
G10 scales provide good, but not aggressive purchase. They are lightweight and tough and, in any event, enclose a full-steel liner, so durability is assured. A reversible pocket clip allows the knife to be worn on either side.
To me, the most tactical aspect of the SOG-TAC XR is that it can be deployed one-handed three different ways: There's a thumb stud just below the spine, a kick opener at the base of the blade and a lock that can be held open while the blade is flipped out. Tactical? Probably. Just plain convenient? You bet.
There's much to like about the 3.3-inch, straight back blade. First off, its short length relative to the full-size handle makes it all kinds of maneuverable. Your hand just overwhelms it, giving you excellent control for fine cutting. Moreover, about an inch and a half of jimping along the spine means you can really exert some pressure, getting those serrations to bite and cut through seemingly anything. While the needle-sharp point offers effortless penetration, the blade also has darn-near as much belly as I do, making it an effective slasher. Futhermore, that belly would make it a capable big-game skinner, with the point available for the detail work.
Light weight, toughness, versatility and low maintenance combine to make SOG TAC-XR an ideal everyday carry knife you'll have little reason to swap out.
Specifications
Model: SOG-TAC XR
Type: Folder
Blade Style: Straight Back
Blade Material: Cryogenically Treated D2 Steel
Blade Length: 3.3 inches
Blade Deployment: Three-Way (Thumb Stud, Kick Opener, Unlock & Flip)
Scales: G10
Overall Length: 8.03 inches
Weight: 5.3 ounces
MSRP: $79.95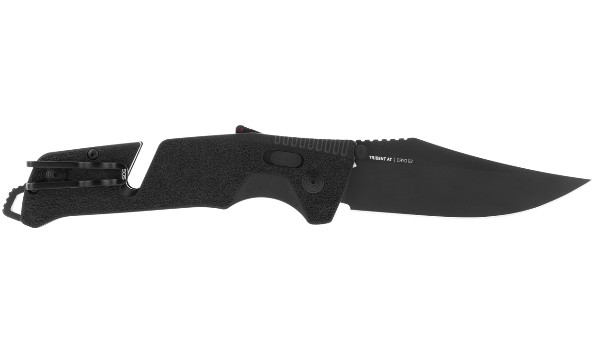 Trident AT
I'd have known the Trident AT anywhere. Some design studios just have a unique look that distinguishes all of their products. I'm no car guy, but I always recognize Aston Martin DBs. It's the same with SOG Tridents: sleek, sexy and sharp (in every sense).
The long, clip-point blade gives away the Trident heritage. In addition to that 3.7-inch, plain-edge blade, there is a slot in the handle accessing the edge of the folded blade to function as a line-cutter. Moreover, a tiny, hardened spike extends from the top of the handle and serves as a glass breaker when the knife is folded. Combine those features with an assisted-open AT-XR lock and you have the sort of knife "M" might supply to a "00" prior to a mission.
Assisted opening is accomplished by holding the finely stippled, glass-reinforced nylon scales and nudging out the blade's red thumb stud. Be ready, though. It doesn't take much of a nudge for the powerful "assist" to kick in with authority. This knife deploys virtually as fast as any fully automatic knife I've handled. However, the Trident AT includes an ambidextrous, spine-mounted safety for peace of mind.
This is a good-size knife for serious work. Though the blade is fairly long for a pocket knife, the handle is quite large, too, meaning it's easy to maintain control. Jimping along the curved spine further enhances both control and comfort. The aforementioned stippling provides excellent purchase, even when wet. The quick-deploying blade, line-cutter and glass-breaker sort of scream "automobile emergency kit," but you'll want to have it on you every day, if not for personal protection, then just because it's too much fun not to play with.
Several versions, which differ in details, are available. You can get variants with a partially serrated edge, a tanto-style blade or without the red accents, etc. Each is a lot of knife for the money.
Specifications
Model: Trident AT
Type: Folder
Blade Style: Clip-Point
Blade Material: Cryogenically Treated D2 Steel
Blade Length: 3.7 inches
Blade Deployment: Assisted
Scales: Glass-Reinforced Nylon
Overall Length: 9.09 inches
MSRP: $94.95

SOG Specialty Knives & Tools; (425) 771-6230, sogknives.com