At any second, I was expecting a bright light in my eyes and a rubber hose on my ribs.
I had been met by a stoic man and a tall blond woman who silently led me to a locked room. The door opened to a huge empty space with a table and a chair in the center. I was instructed to sit down and wait.
Anybody who has ever seen a Cold War-era spy movie knows what is coming next, right? Sure enough, a man with a gun came through a previously unnoticed side door. He walked to me, looked down and said "First, we need to ensure your silence."
Actually, the gentleman was just a SIG engineer who wanted to keep the new gun under wraps until its big press introduction.
"This pistol incorporates our newest technology in handgun manufacturing," SIG Sauer's handler told me. "It's some very cutting-edge stuff," he explained. Once we completed all the nondisclosure nonsense that comes with today's lawyer-infused business world, we got down to brass tacks. The big reveal, when it came, was pretty impressive. "We are able to infuse tungsten into the polymer frame. This allows us to control the weight of the gun and to control where that weight is located. The result is that we can manipulate the effect of recoil to keep the gun on target and speed up the shooting sequence. … The new SIG Sauer P320 XFIVE Legion pistol is designed for competitive shooting: USPSA, IDPA, 3-gun, 2-gun or anyplace you need a fast-handling, accurate handgun. "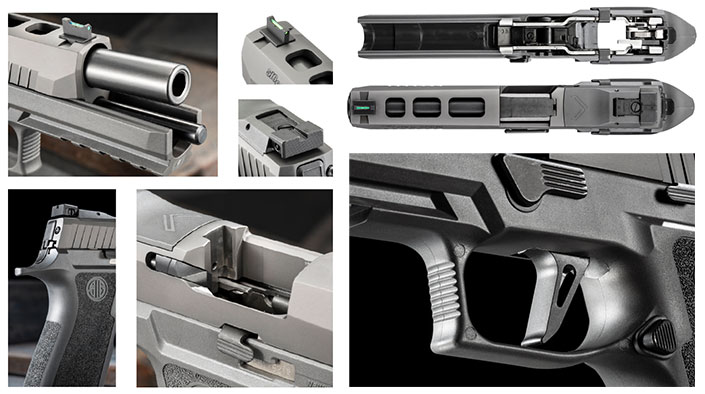 It's built for competition and marketed that way, but why set limits? All the features that make a handgun excel in competition can also aid in a defensive handgun. After all, as is often noted, "speed is tactical" and this gun is designed to shoot fast and accurate. Sure, it's a bit heavy, but that makes it feel like a steel-frame handgun, something a lot of very serious defensive shooters carry every day. I would never want to see a complete tally of all the days I have carried a full-size 1911 for self-defense as it would make me feel very old.
The XFIVE is also a great home-defense handgun and I would expect to see a lot of this technology carry over into SIG Sauer's defensive handguns in the future.
I shot a pair of SIG Sauer P226 X5 handguns in competition for several years. I loved those big handguns and shot them well enough in a lot of national-level matches that I was rarely laughed at by the top shooters. One thing I liked was the light, crisp, single-action triggers. So, I was a bit of a skeptic about shooting this new P320 XFIVE striker-fired handgun in a competition setting. That was needless; although just a bit heavy, this handgun has one of the better striker-fired triggers I have tried. It is smooth, predictable and clean with virtually no overtravel. The trigger breaks expectedly at 90 degrees. It's easy to stage and finish the press without influencing the sights. The measured pull weight is 4 pounds, 10 ounces on a new gun. No doubt that will lighten a few ounces as the gun settles in.
While I don't personally care, I know the reset is important to a lot of shooters. Measured at the center of the flat trigger, it travels .150 inch from rear to reset. I have lots of photos of top shooters like Bill Wilson and Jerry Miculek shooting and their finger comes completely off the trigger, so I don't understand this "reset" thing, but there it is, for those who think it's important. (OK, rant over.)
The skeletonized, flat trigger is easy to reach with my short Irish fingers, something I can't say about all striker-fired guns. That means most shooters—including women and youth—will probably find this gun a good fit.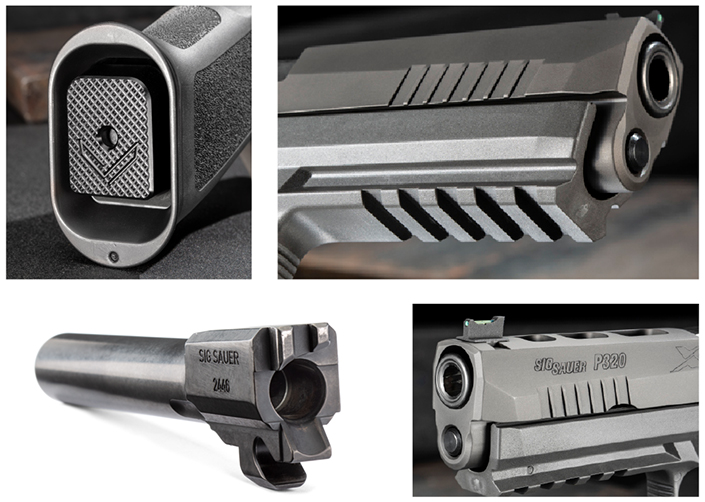 The P320 XFIVE weighs in at 43.5 ounces, thanks to the innovative TXG tungsten-infused grip module. The standard P320 full-size pistol weighs 29.5 ounces. In contrast, the SIG Sauer full-size, steel-frame 1911 handguns weigh 41.6 ounces, which is pretty much the same as the XFIVE. The difference here is that the distribution of the weight can be controlled when manufacturing. This in turn can be manipulated to control how the handgun reacts to recoil.
As SIG Sauer says, "This new product is the first of its kind in the firearm industry with the weight of steel and the flex of polymer, reducing muzzle flip by up to 50 percent." I am not sure what baseline it uses to measure muzzle flip, but I assume it's the standard P320. No matter, the gun is easy to control in recoil and I found that I could track the sights easily for target-to-target transition. The heavy design and high grip help to keep muzzle flip to a minimum and with good shooting techniques this gun stays well behaved, shot to shot.
The gun is shipped with a full-length steel guide rod that adds even more mass to the pistol and a 14-pound 1911-style recoil spring installed. There is also a 12-pound spring included.
I put a little lube on the gun, wiped out the bore and started shooting with some bargain-priced 115-grain ammunition. I had stovepipes the first four shots. After that, the gun settled in and I didn't have any more issues except with some subsonic ammo, probably because the lube had worked its way across the contact surfaces.
All the features that make a handgun excel in competition can also aid in a defensive handgun. After all, as is often noted, "speed is tactical" and this gun is designed to shoot fast and accurate.
I shot several hundred rounds with multiple ammo products through this handgun. Some of it was the bargain FMJ like most of us shoot in competition, but some of it was high-end ammo, including some self-defense loads. I even tried the Black Hills HoneyBadger Subsonic 125-grain load. Some of the shooting was from the bench during formal accuracy and velocity testing and a lot more of it was at steel plates during practice drills and my personal favorite, "just blasting."
Black Hills' load delivered good accuracy, but with a muzzle velocity of 990 fps it just wasn't hot enough to cycle the slide every time. I suspect that the lighter recoil spring would help that. Everything else ran well, but I think I would use the 12-pound spring for shooting competition. Hotter defensive ammo ran flawlessly with the 14-pound spring.
The finish on the handgun is the SIG Sauer signature Legion Gray, with a black barrel and hardware. There are Legion markings on the sight plate and on all of the Henning Group anodized-aluminum basepads on the three included 17-round magazines. There is a removable mag well and grip weight on the handgun. I wish the baseplates on the 17-round magazines shipped with the gun were a little longer, as they end up about flush with the magazine well. This makes seating a fully loaded magazine a bit tough. The first one I did in the heat of battle fell out. I made sure after that to slam them hard and experienced no more problems, but another quarter-inch of length would be better. The 21-round magazine would be a better choice for competition anyway (and would solve this problem). Some types of competition will require removing the mag well and using flush-mount magazines, so I expect that's why the mags are short.
The handgun can also be shipped with 10-round magazines for those poor souls (including me in recent times) who live in foolish states with foolish rules.
Magazines from the standard P320 will not interchange with the XFIVE or vice-versa without some modification, an issue I am told SIG Sauer plans to address in the future.
The Romeo1Pro slide is optic-ready, although removing the filler plate on top of the slide is a bit more complicated than it should be. It should be a couple of screws. Instead you need to remove internal parts, including the striker assembly. I am told SIG considers it an "armorer-level" project. Just check out YouTube; it will tell you what SIG won't. I have not done it on my gun, but I am told it's actually not all that complicated.
Dawson Precision fiber-optic, adjustable sights are standard on the XFIVE, which is what most competitors put on their guns as aftermarket upgrades. The front sight is a tall, square blade with a fiber-optic insert. It's green on my gun, but they are easily changed. Its square-front-sight profile is slightly undercut and is serrated to reduce reflected glare. The rear, adjustable sight is a black, square notch with striations, again to break up reflected glare that could potentially ruin a competitor's sight picture during a match.
The gun has a 5-inch bull barrel. The top of the slide has three lightning cuts in descending size that are attractive as you view the black barrel through them. These lightening cuts help increase slide speed for faster splits and reduce the moving mass for less felt recoil and pistol "jostling" during shooting. There are cocking serrations front and rear.
Rough panels adorn the grip on both sides, as well as front and back. They provide an aggressive gripping surface without being so abrasive that they remove DNA from your hands. These gripping surfaces are recessed and the raised section separating them is smooth. It works for my beefy hands where I tend to ooze in and fill the gaps, but some shooters may feel they need a little more stippling on the smooth areas to aid in gripping. There is a large beavertail at the top of the backstrap. This is positioned well to get your grip high, but large enough to keep your hand safe from the slide. Why high? Because the closer to the barrel your hand is positioned, the more control you have under recoil.
The front of the grip is undercut for your middle finger to fit better and to aid in that higher grip thing. The angle on the grip frame is a bit different than a straighter, standard P320, and is closer to the angle of a 1911. In my never-humble opinion, that's better for shooting and controlling the handgun. The front of the trigger guard is squared off and serrated. I know that shooting with your support-hand index finger on the trigger guard is out of fashion, but I see a surprising number of high-level shooters doing just that. A slightly oversize magazine release is on the left side. It's small enough that lefties like me can shoot the gun without it getting in the way. There is a sizable accessory rail beneath the dustcover.
Over the years I have tested several "out-of-the-box competition-ready handguns" (at least that's what the manufacturers' hype claimed) but none have come close to actually pulling it off, until this one. I know competitive shooters are DIY guys, so don't worry; you can still tinker, but not much. This gun comes pretty close to nailing it just as it is shipped.
Me? I might tweak the trigger to get a little poundage out of it and perhaps do a little stippling. Or, more likely, I would just shoot it as is and be happy.