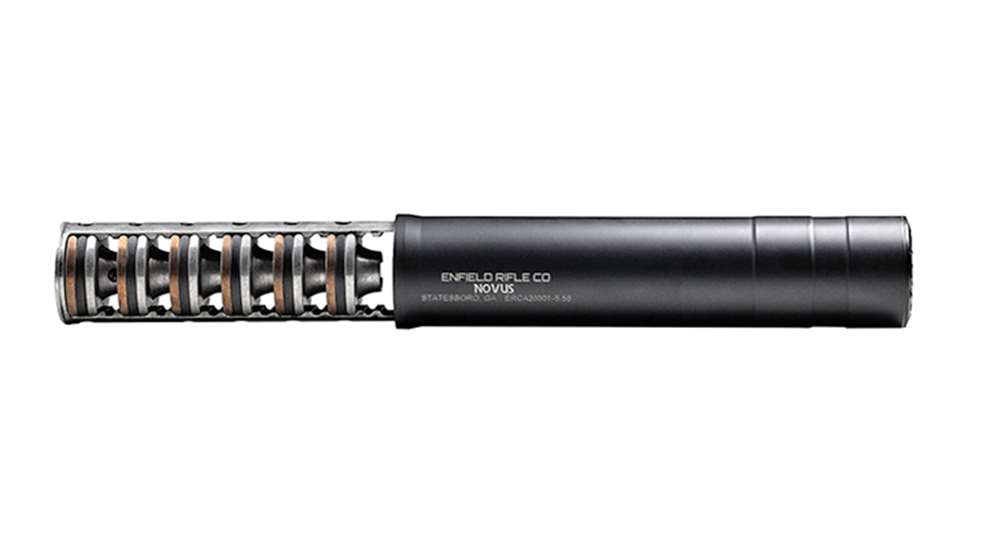 After first being exposed to suppressors over a decade ago, I've since found it hard to enjoy extended time at the range without one. The truth is, a good suppressor will limit noise pollution and recoil, which are two of the necessary but often unpleasant side effects of our much beloved trigger time. 
The biggest hurdle to more widespread suppressor use is of course the paperwork that must be filed and the waiting period that must be endured before you can take a gun muffler home. In other words, it's a hassle. While there's no changing that reality at the present moment, there is one solution that could significantly limit the number of times you have to endure all that red tape in your lifetime. 
That solution is the
Novus Suppressor
from Enfield Rifle Company, which is a patent-pending design that comes with three sets of removable baffles and is capable of handling everything from .17 HMR to .458 SOCOM, and handgun calibers up to .45 ACP. The modular suppressor comes with an MSRP of $1,049 and allows shooters to purchase and file paperwork for just one NFA item that covers a wide spectrum of firearms calibers.  
How It Works 
The Novus Suppressor features three sets of baffles, each of which is color coded for easy identification. The sets come in small, medium, and large sizes, and comprise the Modular Baffle Core technology. By unscrewing the end cap with the supplied tool, shooters can remove the cylindrical core and swap out baffles to accommodate the appropriate caliber. The core is designed so that all three sets of baffles can slide into place at the same time.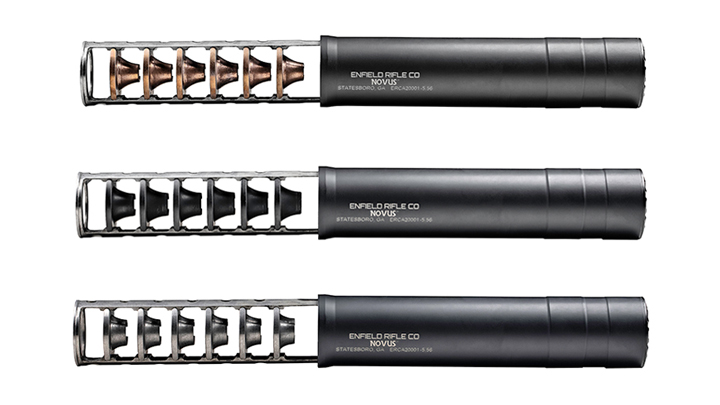 Unlike other multi-caliber suppressors, the net effect with the Novus is you get a more finely tuned shooting experience across a broader range of calibers. Imagine a .17-caliber bullet exiting a .30-caliber hole and the amount of gas that would escape in the excess space around the bullet's diameter. All of that amounts to a noisier experience. By supplying three interchangeable baffle sizes, the Novus baffle system allows for greater range of noise reduction across a broad range of calibers. It also delivers decibel reduction at levels you'd expect from caliber-specific suppressors. 
The small baffle set (copper color) works up to .224 caliber, the medium (black) to .357, and the large (silver) to .458. With all three sets are loaded in the core, the suppressor weighs roughly 14.2 ounces. 
The other main benefit of the Modular Baffle Core technology is it allows you to remove the baffles for the sake of cleaning, which in turn ensures a long lifespan without excessive carbon buildup. 
Is It Effective? 
While it can be used with pistols and rifles, I tested the Novus Suppressor solely with a Zion-15 rifle chambered in 5.56. It shot well, seems to reduce recoil and noise as expected, and, once properly zeroed, had no negative impact on overall accuracy of group sizes. It's relatively lightweight and balanced nicely at the end of my rifle. 
It does come with just one direct thread mount, which is 1/2x28. Perfect for my testing situation, just keep in mind you'll need to purchase another mount for each of the other caliber ranges you want to use the can with.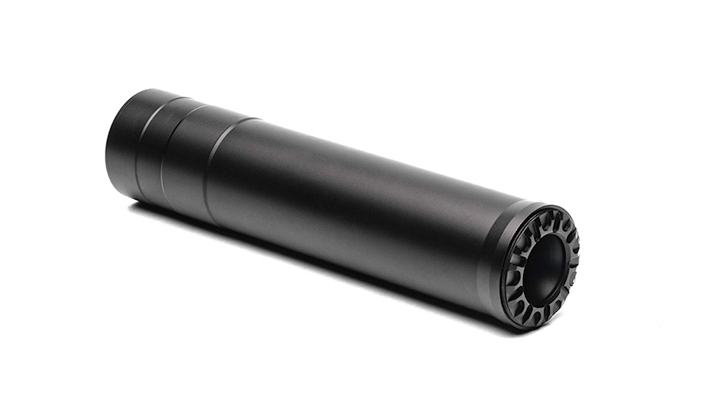 The other thing to note is that while swapping out baffles isn't difficult, there is a real potential that you screw things up pretty badly. For instance, say you forget that you have the small baffles installed—which you can't tell from the outside—and you fire a .458 SOCOM round through the suppressor. That's no bueno. This is definitely a can for which you'll want to do a bit of extra double and triple checking (that's good policy for all firearms, suppressors, and ammunition, too). 
Less serious than a potential baffle strike, there's also the slightly tedious nature of loading the core with the appropriate baffles and not tipping it at all, lest your baffles become misaligned for insertion or, as happened once or twice to me, they go tumbling onto the floor. Get them all in the right direction, don't tilt (or set on a table), and slide the core into place. Pretty simple after you get the hang of it. Again, slightly tedious and requires careful attention, but nothing like the paperwork you'd have to do—or the coin you'd have to shell out—for three caliber-specific cans.
Finally, the can does have a slight rattle to it when it arrives, which results from the necessary spacing left to insert the baffles and core with ease. It's not quite a negative, just a tradeoff. With all your baffles loaded (that's just how it shipped, not how I ever used it) it sounds like a piggy bank with coins in it; with just one set of baffles (which is how you'd actually use it) the rattle is not very noticeable.  
All told, the Novus Suppressor was great to shoot, reduced noise and recoil, and the Modular Baffle Core makes it easy to change baffles, thus giving you a true 3-in-1 suppressor option. It's an intelligent design that has the real potential to eliminate extra red tape from your life—something I'm always a fan of.