by
Evan Brune, Associate Editor, Shooting Illustrated
posted on February 19, 2018
Support NRA Shooting Illustrated
DONATE
At Shooting Illustrated, we sometimes take heat for reviewing guns that are "unobtainable," often out of reach of the average person's budget. While it is true that innovation often happens at the high end of the market, the reasonably priced revolution currently sweeping the firearm world cannot be ignored. Within the last decade, manufacturers have rolled out countless sub-MOA rifles, personal-defense pistols, field-ready shotguns and modular modern sporting rifles at easily affordable prices. The latest in this cost-savings coup is the Midland Arms Backpack.
The Backpack shotgun is the result of collaboration between Val Forgett, president of Midland Arms, and Khan Arms, a Turkish firearms manufacturer that already produces guns for the U.S. market for familiar brand names like Mossberg, Weatherby and TriStar.
"In 2017, I was approached by Khan Arms to work with them to develop such a gun," Forgett said. "At that time, there was, no doubt, a hole in the market for quality, single-barrel guns at an entry-level price point. There are many guns in this category, but they all seemed to follow the same path as each other with no innovative features on the guns. I felt that rather than try and produce the 'cheapest' gun, as many seem to do, I wanted to create the best-value gun that was inexpensive but had new and different features that shooters would benefit from."


Admittedly, the Backpack, on the surface, doesn't appear to be particularly eye-opening. In terms of a mechanism, it's about as simple as it gets. The hinged, break-action system allows the loading of a single shell. There is no magazine. A striker buried in the receiver is cocked with the same lever that opens the action. It features a crossbolt safety, brass-bead front sight and a synthetic stock.
Overall, it's a simple gun. There are many simple guns on the market. However, one of the principal features that sets the Backpack apart is the price: $149.95. For that, users get a factory-new shotgun loaded with additional features that belie its utilitarian appearance.


To some of the older shooters among us, that price may not seem astonishing. Let's put it into perspective. A single-shot Beretta shotgun, factory new in a configuration similar to the Backpack, sold for $41.95 in a 1962 Field & Stream ad. Adjusted for inflation, that's the equivalent of nearly $350 today.
Contrary to popular belief, most factory firearm prices have, in fact, decreased through the years (when adjusted for inflation), providing consumers with well-made, reliable, trustworthy options at increasingly affordable prices. The Midland Arms Backpack is the rule, not the exception. It is exceptional, though, in that it represents a level of affordable quality and versatility rarely seen in the firearm world.


These are not guns built using mediocre materials. Rather, the Midland Arms Backpack is constructed using receivers made from forged steel, paired with barrels deep-hole drilled from solid-steel blanks. A blued finish and synthetic stock offer protection against the elements. As an added bonus, the stock ships with two spacers, enabling owners to customize the length-of-pull or resize the gun to fit growing youths. Midland also plans to offer replacement grip panels for further customization of the fore-end and stock.
"Midland Backpacks are designed and built to be economical, to be interchangeable and to last," Forgett said. "It's not another 'Me too!' single-barrel shotgun at a cheap price. We make a gun that is intended to pass down generation to generation, and to give a youth or beginning shooter, or one on a budget, the ability to participate in all aspects of hunting and shooting on one platform."
Operating the Midland Arms Backpack is simplicity embodied. Accessing the hinged action requires a simple rearward pull of the lever located in front of the trigger guard, which simultaneously cocks the internal striker and opens the action. If a spent shell is inside the chamber, an extractor pulls the case from the chamber walls, making it easy for the shooter to remove manually. The Backpack includes an intuitive crossbolt safety located at the rear of the trigger guard, and the left side of the receiver features a bright, tactile protrusion indicating a cocked striker.


The trigger is unpleasant, to be frank. That shouldn't surprise anyone, though, considering the price point. Realistically, there are guns that cost 10 times as much that don't have great triggers, either. Trigger pull averaged 8 pounds, 11 ounces, though that wasn't terribly consistent. However, it gets the job done, particularly since we're not testing a precision rifle.
A pair of 3-inch wood screws attach the buttpad and spacers to the stock and allow access to the storage space in the hollow interior, another extra on the Midland Arms Backpack. Two separate storage spaces are provided in the stock, one larger one that fits the company's compact survival kit and a smaller one sized to keep a spare choke tube. At press time, Midland was finalizing the contents of the survival kit (sold separately), but Forgett said it would contain a number of useful elements, such as a compass, fire starter, basic medical items and more. The company aims to have the kit ready for market by June 2018.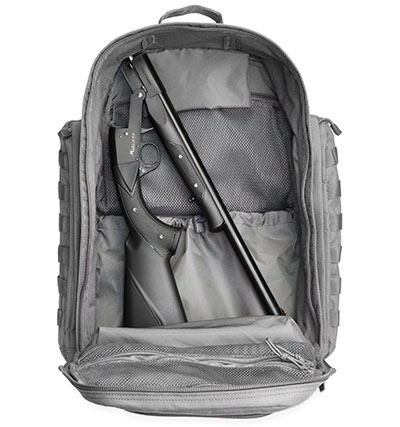 For $149.95, it wouldn't be hard to justify a cylinder-bore barrel, but the Midland Arms Backpack exceeds expectations, having been threaded for Beretta-style choke tubes, which are readily available online or at any sporting-goods retailer. The gun ships with a single Modified choke. In addition to the choke-ready design, the Backpack also provides consumers with an additional benefit, hinted at in its name: it's packable. It manages this ability by taking the simple hinge design to the extreme, allowing the barrel and fore-end to swing freely until it nearly contacts the heel of the stock. The travel is stopped by a cutout in the bottom of the forearm, which enables the unlocking lever to nestle inside of the forearm when folded. This allows the gun to collapse into a compact package sized to fit into a standard backpack. Without stock spacers, the overall folded length measures 20 inches.
Versatility is also enhanced in the Backpack, thanks to another aspect of the gun's simple design. The fore-end assembly, complete with forearm and barrel, is attached to the receiver through a simple pin held in place with a setscrew. This particular model is equipped with a 12-gauge barrel measuring 18.5 inches long, but users can simply loosen the screw, drive out the pin and replace the barrel assembly. Options range from other 12-gauge barrel lengths (24- and 26-inch barrels are also available), as well as models in 20-gauge and .410-bore. Midland also promises that rimfire and centerfire barrels will be available in mid-2018 for $109.95 each, allowing consumers to turn their Backpack receiver into a one-size-fits-all platform for nearly any scenario.


Shooting the 12-gauge Midland Arms Backpack was an exercise in endurance. For those who missed it in the spec box, this shotgun weighs a paltry 4.25 pounds, making it a contender for the lightest shotgun on the market. Add in a few boxes of 3-inch magnum buckshot, and you're in for a ride on the pain train. Midland is aware and is developing methods to mitigate the excessive recoil. Shooters can also minimize the effect by selecting low-recoil options, of which there are many on the market. One issue encountered during testing was several light primer strikes when using Aguila Minishells. Other tested brands ignited with no trouble.


Who's the Midland Arms Backpack for? The company's marketing material considers it a great option for "young shooters who want a gun they can target-shoot, plink, hunt, camp and hike with." I'm sure it would make a great firearm for a first-time shooter, thanks to its ease of use, customization options and versatility. I might recommend the .410-bore model for first-timers, though, due to the stout recoil of the 12-gauge variant.
At $149.95, though, anyone can afford this gun for any purpose. At $149.95, there's no excuse for not having a gun, whether it be for home defense, hunting, camping, plinking or training. At $149.95, it could almost be sold as an impulse buy, sealed in blister packs and lined up at the check-out counter.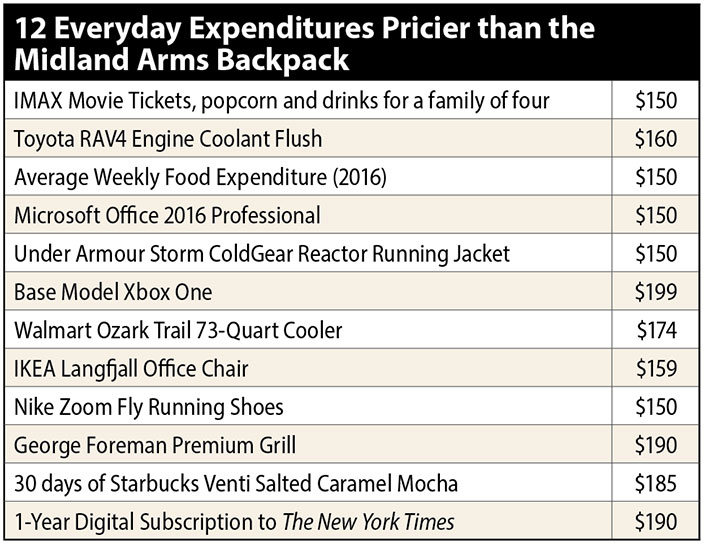 Cost is a roadblock for many gun buyers. It's easy to say that something like a Benelli M4 Tactical is the ideal shotgun for home defense, and the minority dedicated to the discipline of personal defense can consider a $2,000 shotgun to be a justifiable purchase. Many can't. The Midland Arms Backpack gives the majority an opportunity to have a do-it-all, general-purpose firearm ready to tackle any task. After all, one shot is better than none.