Support NRA Shooting Illustrated
DONATE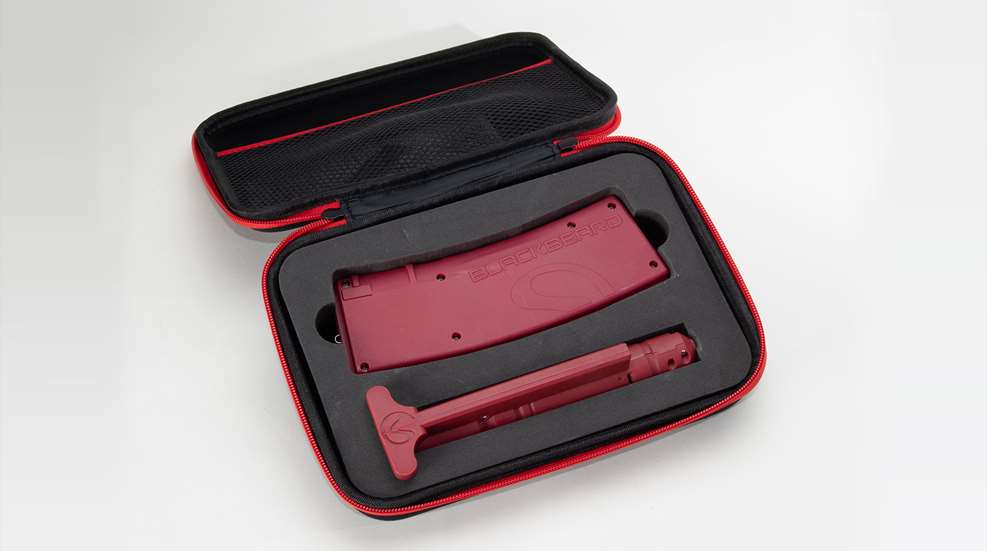 Hours and hours of dry-fire practice are most likely in your future if you're looking to master your defensive firearm of choice. Dry-fire practice lets you get used to the feel of the gun in your hand and how to combine a trigger press with your grip so the sights are moving as you pull the trigger to the rear. Dry-fire practice also helps you practice reloads, target transitions and many other critical defensive firearm skills. 
However, dry-fire practice lacks the thrill of live fire practice. This is a good thing, because having live rounds go off inside your house is a very bad thing indeed. But because it doesn't have all the fun practicing with live ammo, it can get a little tedious at times. This is where the Mantis X training system comes in. The Mantis X is a sophisticated motion sensor that attaches to your gun and tracks the movement of your firearm as you work the trigger and perform other gun manipulations. This turns dry-fire into an enjoyable pursuit of better and better results in the Mantis app, which records your performance and tracks your improvement (or lack thereof…). 
Currently, there are two different versions of the Mantis system. I reviewed the Mantis X10 Elite in 2022, which attaches to a firearm via a Picatinny rail. It's a great addition to your dry fire routine and makes things a lot of fun and because it uses a Picatinny rail, it can, in theory, be used with an AR-15-pattern firearm. 
However, if you do use it with an AR, you'll soon find out that you'll need to run the charging handle between each shot in order to reset the trigger on your gun, and that can get a little tiresome. This is why Mantis has come out with the Blackbeard X training system, which is specifically designed with the AR-15 in mind. 
What's Inside The Box
The Mantis Blackbeard X has three parts. The first part replaces the bolt carrier group and charging handle in a standard AR-15. In some models has a red or green laser that shoots out the barrel which shows where your (virtual) bullet landed. There is also a motorized lever that interacts with the hammer of your AR, resetting the trigger after each shot. The power to reset that lever comes from a battery/Bluetooth connection module that looks, acts and feels like a standard 5.56mm 30 round magazine. Unsurprisingly, this module slides into the magazine of your AR in order to power the first module and connect it to your smartphone. This brings us to the third part of the Blackbeard X system, the Mantis X app.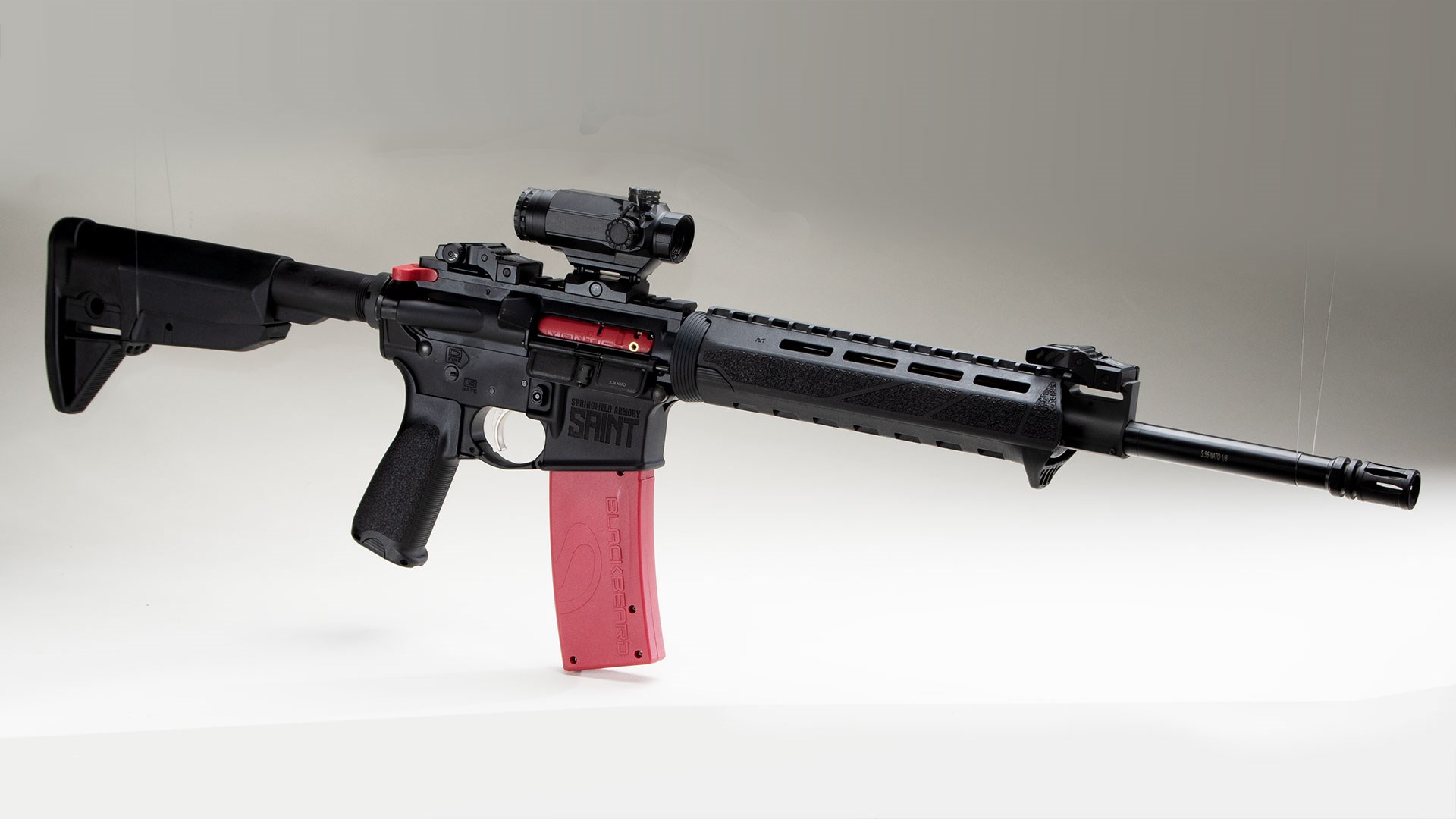 The app takes the information from the sensors inside the other two modules and turns it into usable data that helps you improve your rifle-shooting skills via dry fire. As with any dry fire practice, though, it's important to do all of this with an unloaded and empty firearm. Because the Blackbeard X replaces your bolt carrier group and charging handle, it can't chamber a live (or even a dummy) round. In addition to this, an standard AR-15 magazine won't lock into place with the Blackbeard X installed, providing an additional layer of safety.
Just like the pistol-centric version, the real beauty of the Mantis Blackbeard X is how it tracks the movement of your gun as you pull the trigger and perform other firearms manipulations. This means you can measure how much you move your rifle during a trigger press and adjust accordingly, and do the same with other essential parts of making the shot. The app keeps a record of each shot, allowing you to spot where you need improvement and train accordingly. 
Does the Blackbeard X Actually Help?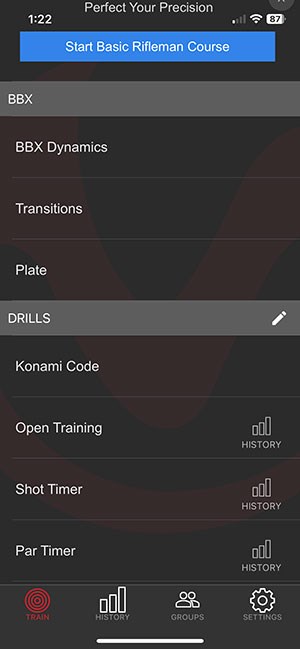 But why do dry-fire practice with an AR-15, anyways? I mean, it's a rifle, how much dry-fire practice do you need, compared to practicing with a pistol? 
Well, as it turns out, quite a lot. For starters, the Mantis app comes preloaded with a bunch of drills that are designed to cover a variety of essential rifle skills. There are a number of drills designed to help you speed up your transitions from target to target in a close-quarters environment. In addition to this, you can mimic a reloading drill by ejecting the power/Bluetooth module and swinging it down to your hip as if you were reloading a fresh magazine. 
The Blackbeard X helps out with more than just transitions. The app comes preloaded with the course of fire for the Marine rifle qualification course, meaning you can hone your long-range skills without firing a shot. Best of all, the Blackbeard X I tested had a green laser built into the bolt carrier module which fires out the barrel of your rifle. This allows you to see where your (real) shots would have landed on your (real) target, but it also allows you to use the system with the Mantis Laser Academy app to give you even more ways to make dry fire practice more enjoyable. I found that after just a few short practice sessions with this system, my target transitions were faster and more precise. I gained a lot of confidence in my ability to run an AR, and I'm looking forward to shooting the (virtual) Marine Corps Rifle Marksmanship drill that's installed on the app.
No matter what firearm you're using, marksmanship is a learned skill, and learning that skill takes time and effort. With the Mantis Blackbeard X, you can hone that skill in your own home, without shelling out a penny for ammo or range time, and have a lot of fun while doing so. Sounds like a win-win-win to me. 
The MSRP for the Mantis Blackbeard X without a laser is $299. The MSRP for the model I tested with the green laser is $349. More information on this product and other gear from Mantis X is available at mantisx.com.