The Leupold D-EVO, pictured above, is a great optic for a modern sporting rifle, thanks to its capability to enable rapid transition from close-range to extended-range sighting.

One of the most overused clichés is, "You can't have your cake and eat it too." This never made much sense to me; what else would you want to do with cake? What the proverb really means is you cannot both possess your cake and eat it. It's generally used when someone wants the best of both worlds, which is another idiom often invoked to express one's desire to have it all.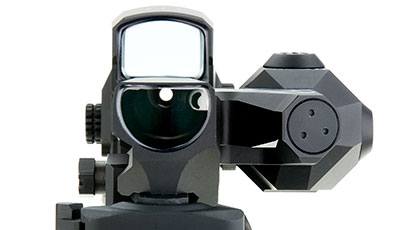 With tactical/combat shooting, there's an undeniable need to efficiently shoot at long and short distances with the same weapon system. This "have-it-all" approach has been traditionally—but feebly—accomplished with a variable-power riflescope. The shooter fiddles between high magnification for long range and low magnification for short range, consuming precious seconds when you might not have milliseconds to spare. To circumvent this fiddling, shooters started installing a compact reflex sight in conjunction with their magnified optic. Mounted at an angle, they rotate the rifle about 30 to 45 degrees, line up the dot in the reflex sight and hammer the trigger. This works, but is mechanically and physically cumbersome and only moderately faster.
Quint Crispin is an engineer in Leupold's R&D department. He is a coyote hunter. Coyote hunting differs from most hunting pursuits—when calling coyotes, they tend to respond like an aggressive enemy, popping up at long range or materializing within spitting distance. Often, they give you little time to fiddle with anything. In short, they frequently need to be shot as soon as you see them. Crispin tried a variety of optical sights with less-than-stellar results, so he conceptualized his own, Leupold refined it and then brought it to market as the Leupold D-EVO.


The Leupold D-EVO (Dual-Enhanced View Optic) is designed to work with the Leupold LCO (Leupold Carbine Optic) or other red-dot sights. The goal is to deliver the ability to engage targets from the muzzle out to 600 yards by shifting only where your dominant eye looks by a few degrees. It's kind of like using bifocals, except you look high for short distances and low for long. The concept seems ideal for coyote hunting, but law enforcement, military and defensive applications should be apparent.

The Leupold D-EVO works by using an offset objective positioned about 2 inches to the right of the ocular lens, which is mounted in line with the rifle's bore. Through a series of prisms within the one-piece, aircraft-grade aluminum housing, the image is flipped and flopped so it appears, magnified six times, in front of a unique ballistic reticle. The complete unit weighs only 13.8 ounces and extends only 1.4 inches above the mounting rail. This allows for a very low and solid cheek weld on an AR.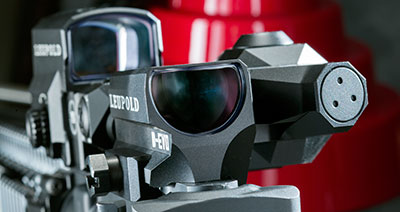 The D-EVO's ballistic reticle is calibrated to match the nominal trajectories of both 5.56 NATO/.223 Rem. and 7.62 NATO/.308 Win. loads. If you look at it closely, you will notice the lower—longer range—aiming points shade to the right as distance increases. This compensates for the horizontal offset of the Leupold D-EVO. The reticle has a combination of mil and MOA indicators, tactfully positioned to allow for trajectory compensation, wind correction and range estimation.
The D-EVO has an integral mount and is intended for use on a flattop upper receiver. Alone, it is not the perfect magnified optical sight; uncharacteristic of Leupold optics, it has a small eye box and no way to focus the eyepiece. But, when paired with a zero-magnification, red-dot-style sight, it is either very close to perfect, or will at least change your perception of what perfect is. With a Leupold Carbine Optic (LCO) mounted in front of the D-EVO, this zero-magnification, variable-illumination red-dot sight allows for rapid target acquisition and engagement at distances as close as the muzzle out to as far as you're comfortable shooting with a 1-MOA red dot. It also serves as a target-alignment tool to bring your Leupold D-EVO on target in a hurry.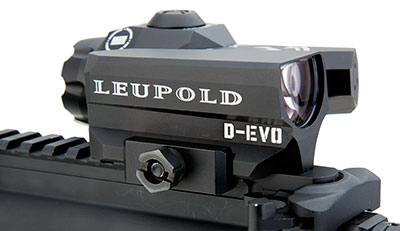 It's a system designed to allow for unmatched engagement speed, regardless of target distance. With the same cheek weld and head positioning, you can utilize the LCO and the D-EVO. All you need do is shift your eye—not your head—up or down a few degrees. To test this system, I mounted it on one of my favorite carbines, zeroed the D-EVO at 200 yards and the LCO at 50. Adjust-ments on both sights were as advertised and tracked perfectly, but the real test was how this optical system would perform when shifting be-tween targets near and far.
It took some getting used to. Out of habit, I wanted to shift my head—not my eye—when changing my look between the LCO and the D-EVO. It's just human nature and it was hard for me to get my brain in line with the technology and employ the bifocal concept for shooting a rifle. Maybe someone who uses bifocals on a daily basis would adapt more quickly. After two days and about 400 rounds, however, I got the hang of it. I also realized how fast and revolutionary the system is. Target at 10 feet, LCO red dot center mass, bang, hit. Next target at 175 yards, D-EVO reticle center mass, bang, hit. Engagement time: 3 seconds.
I also put the Leupold D-EVO's CMR-W reticle to work out to 600 meters and it made compensation for bullet drop and wind very easy.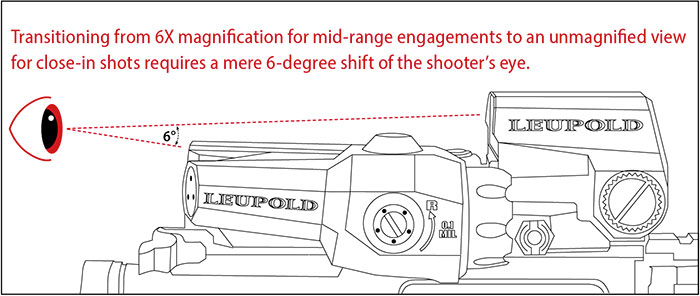 The D-EVO takes up minimal mounting space, is submersible to 66 feet and, most importantly, it adds an element of compactness and ruggedness to the magnified carbine battle sight. My major complaint is that it cannot be focused. If you have perfect vision, no worries, but I, like many over-40 shooters, suffer from presbyopia, which is the inability to focus on objects within arm's reach. To properly employ the D-EVO at distance, I had to wear prescription glasses to see the range-indicating numbers and graduations crisply.
"Aesthetically challenged" might be the best way to describe the Leupold D-EVO. Its futuristic, oddly shaped profile might make some wonder what it actually is. Its cool factor will undoubtedly have it starring in action films and it will no doubt draw confused looks on the firing line. Yes, it does increase the width of your rifle platform, but unlike more traditional magnified optics, it does not interfere with charging-handle operation. However, with the D-EVO you must be concerned with both vertical and horizontal offset when working around barriers, and when shooting left handed you'll need to expose a bit more of your important parts. Since it was designed to be used with a red-dot-style sight, that's where the LCO comes in.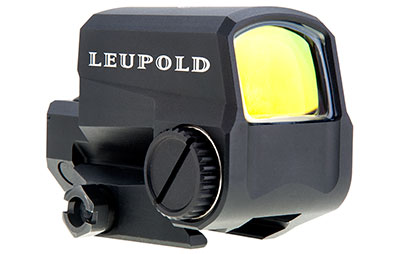 At almost 10 ounces, the LCO—the Leupold D-EVO's partner in speed and precision—might be considered big in this day and age of mini reflex sights. However, it offers the benefit of an integral mount, self-containment and a five-year run time on one battery. With its optical center about 1.5 inches high, the LCO is a true carbine optic, specifically designed for Picatinny rail mounting. It's fully waterproof, has 16 brightness settings, a push-button on/off switch and easy-to-access windage and elevation adjustments. Unlike the D-EVO, the LCO is a stand-alone sight.
For those who want to possess their cake and eat it—those who want to shoot long and short—the D-EVO/LCO combination is a viable, though different, option. The main detractor is price: the combination will set you back about $2,900. Unless you bought Apple stock in 1996, that's likely outside your budget. The good news is the D-EVO will work with any red-dot-style sight, even one you might already own, as long as the mounting base places its optical center about 1.5 inches above the rail. The Leupold D-EVO is still pricey, but it is indeed a cliché-busting, rule-breaking optical sight like no other.
---
The D-EVO CMR-W Reticle
We've reached the point where ballistic reticles are a mandatory optical feature. There are lots of ballistic reticles from which to choose and their styles and application range from super simple to confusingly complicated. Leupold's CMR-W reticle is a good compromise of simplification and complication, and it's a great match for the D-EVO.
The reticle is built around a .5-MOA dot intended to be zeroed at 200 meters. An upside down, 7.5-MOA horseshoe that's 2.5-MOA thick surrounds the dot. This horseshoe makes fast engagements at close to moderate range easy—out to 200 yards just paste the horseshoe center mass and squeeze. Below the aiming point are additional holdover marks in 50-meter increments out to 600 meters. At the 100-meter intervals, these points are centered in horizontal bars subtending to 18 inches, or about the width of a man or the length of a coyote, at each distance. To the right and left are 10 mph and 20 mph wind holds. 
For ballistic correction, it's straightforward and simple, but there's more. A horizontal bar marked in 1-mil increments extends right and left of center. On the left, topside of the reticle there's a vertical, 5-mil bar marked in .5-mil increments. These can be used to estimate range or assist with spotting when calling shots. The reticle provides everything you need and nothing you don't. It's a perfect option for tactical application, where terrorists take the place of coyotes. And, you don't need a calculator or a Ph.D. in ballistic math to apply the darn thing.