If you're like many people, you are constantly losing or breaking your sunglasses. While nobody (yet) has invented sunglasses with a built-in homing device with a tracking app – I want a piece of the action when they do – there are ways of protecting your sunglasses from damage. With better design and hardened materials, eyewear has become stronger without getting heavier. One such product is the Leupold Becnara performance eyewear.
Long known as a top-notch optic producer for America's gun owners, Leupold has augmented its line of fine optical hardware with a complete line of performance eyewear for hunters and non-hunters alike. So regardless of why you wear sunglasses, Leupold likely has a selection for you.
Because I'm a gun guy and instructor, I wanted to try a pair that would withstand the rigors of outdoor shooting and adventures. Plus, I have a wide face, so I needed a pair that wouldn't look squinched over my eyes and offered some wrap-around protection, a feature missing on eyewear that's too narrow. The rep pointed me to Leupold's virtual try-on feature on their mobile site that lets you try on whatever pair you want by placing a virtual image of it on your face while you move your face around to see how they look from all angles. We decided on the Becnara.
When I decide how well eyewear works, I break the criteria down into three categories:
Lenses
Frames
Fit
Lenses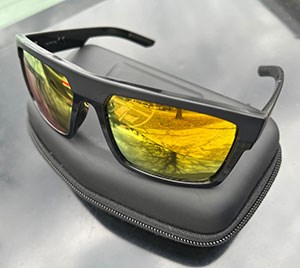 The Becnara features wider, larger lenses that cover more of the face than its narrower brethren. They are made from a double polycarbonate layer in what Leupold calls it In-Fused technology that slides the polarization between the polycarbonate layers to prevent it from scratching or fading over time. They are also ballistic-rated.
I'm not a graceful person, so during my four months of testing these sunglasses, they got dropped more than a few times, including on asphalt and concrete, with nary a scratch. Granted, I didn't try to scratch them on purpose, because who would do that in real life? But I also didn't baby them. They lived everyday life with me in my car and whenever I needed a pair of sunglasses anywhere outdoors.
As for glare resistance, these lenses are top-notch. They sliced through even the brightest snow glare this winter and sunlight streaming through the windshield. I also wore them when I was zeroing a rifle optic, knowing they were ballistic rated, so I didn't have to worry about shrapnel should something bad happen.
One outstanding feature of the Becnara you will not find on cheaper sunglasses is the hydrophobic coating that sheds water. So, if you get caught in a flash storm and forget to remove your eyewear, the rain won't smear or ruin the lenses.
Frames
As I said, I have a wide head, so sunglasses get stretched when I wear them. These were no different. However, they are built to take it. I didn't measure the earpiece spread the first day, but they don't feel any wider after four months of constant wear.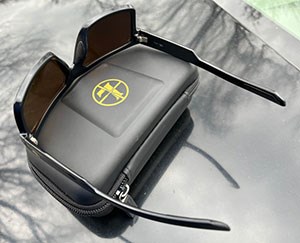 Not only did the lenses not scratch when dropped, but neither did the frames. They look as smooth as when I unboxed them.
The frames are tough as nails, too. I accidentally sat on them and thought I'd stand up and find a tangled mess of earpieces and lenses. But, nope. They looked just as good as before.
Fit
Have I mentioned I have a wide face? Yes, I think I did. Unfortunately, the extra frontal real estate means most sunglasses – even wide ones – don't hang onto my face very well. Because of this, I'm always poking them back up onto my nose. Not so with these frames. Thanks to "sticky" pads on both the bridge and earpieces, the Becnara stayed put so well that I almost forgot to take them off a couple of times because they were so comfortable.
The hinges are still as strong as when they met my oddly shaped face.
Overall Impressions
While $159.99 may seem steep for a pair of sunglasses, the Leupold Becnara is far more than a simple pair of sunglasses. Calling them "performance eyewear" is more than a marketing ploy. These spectacles are far more than just sunglasses. They are some of the most comfortable and effective glare blockers you will ever slide onto your face.