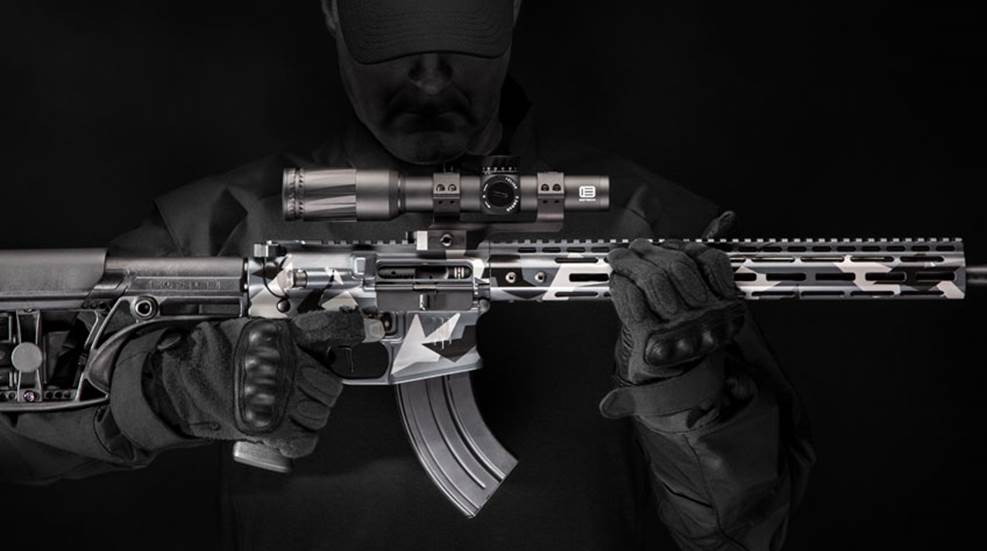 Head Down Firearms is a relative newcomer to the AR-15-style rifle market. The company was licensed with its own FFL in early 2018 and launched the brand at SHOT Show 2019 with an eye-catching booth filled with rifles and custom-painted firearms. With the AR-15 market already pretty well-saturated, it's a bold move trying to break into the business now, but Adam Williams, the company's vice president of business development, feels confident that Head Down Firearms offers plenty for both the novice and the seasoned aficionado.

Williams explained the interest in breaking into this mature market, "Head Down Firearms was founded by a partnership of firearms enthusiasts with a passion for modern sporting rifles. We believe that our place in the market is exampled in our accuracy, consistency and attention to the details that go into rifle production."
Head Down Firearms offers three basic trim levels for its rifles: There's the entry-level Cornerstone series, with an upgraded mil-spec trigger, furniture by Mission First Tactical, freefloat M-Lok handguard and ambidextrous controls as standard equipment. Next up is the Craftsmen level, which improves the trigger even further, offers Cerakote finishes and includes a SureFire 3P Eliminator flash hider. At the top of the scale is the tier that is the subject of this review: the Master series. This trim level offers billet aluminum upper and lower receivers, an upgraded M-Lok handguard and an 18-inch-barrel version with a Luth-AR MBA-1 adjustable stock.


There are variants, such as the OTG Patrol versions, which come with optics, lights, backup sights and slings already installed. It's obviously aimed at the Law Enforcement market, but certainly applies to the home-defense arena for those who want a fully kitted option out of the box. These carbines tend to be purpose-built for specific tasks and have been outfitted with quality options in conjunction with OTG Tactical.
It's the Cerakote offerings, though, that really help Head Down rifles stand out. Both the Craftsmen and Master series of rifles can be ordered in a variety of Cerakote finishes at no additional cost, while the Cornerstone series comes as a standard black—but with Cerakote available at an upcharge. Stopping by the Head Down booth at SHOT Show 2019, it was evident the company is quite proficient in its Cerakoting operation. Not only did Head Down display its own complete rifles in a wide variety of colors and prints, but it also showcased custom paint jobs on Smith & Wesson Shields, Glock G19s and other pistols. It's clear the company knows a thing or two about prettying up a firearm.


But, Head Down Firearms doesn't just produce attractive rifles. These are solid, well-thought-out carbines and rifles built with quality components and thoroughly tested for absolute reliability and accuracy. Head Down Firearms assembles its rifles at the Dallas, GA, location—but is quickly outgrowing its current factory and is in the process of expanding. Components are sourced from well-known industry stalwarts like Faxon Firearms, HiperFire, Tactical Kinetics, ALG Defense, Radian Weapons and other quality brands. Upper and lower receivers—both forged and billet—come from Stubborn Mule Manufacturing, as does the upscale handguard found on the Master Series rifles.
As someone who has built a fair number of AR-15-style rifles, I'm conversant with the various levels of components that go into a build. Everything I've seen from Head Down indicates a thorough understanding of what's needed to build a solid, reliable rifle without incurring top-tier-level costs, and the price list reflects that: The entry-level carbines are priced squarely in the middle of the "next-level" tier. Yes, its carbines are more than a bargain-basement offering from a mega-brand, but that's not a fair comparison. The Cornerstone series offers a freefloat Samson Manufacturing handguard with M-Lok attachments, ALG Defense improved mil-spec ACT trigger, Mission First Tactical furniture and other enhanced components that are more in line with mid-range rifles like the Springfield Armory Saint, Bushmaster SD Minimalist or the new Resolute series from CMMG. Moving up to the Craftsmen series of rifles adds a few hundred dollars more to the price, but brings in upgraded equipment like the HiperFire trigger, Radian Raptor charging handle and SureFire flash hider. The Craftsmen series also comes with a Cerakote finish, which alone more than covers the increase in cost.


Since we're reviewing one of the Master Series rifles, I want to circle back and take a closer look. This top-end rifle retails at just about two Gs, which puts it pretty squarely in either the upper end of the middle tier or the lower end of high-end, depending on how you look at it. It falls somewhere between rifle-length options from FN America or Daniel Defense and custom rifles from Wilson Combat or JP Enterprises. For the extra cost over the Craftsmen series, you get billet upper and lower receivers, magazine-well flares, a contoured trigger guard and other refinements in addition to the Radian Raptor charging handle, HiperFire trigger and SureFire flash hider standard on the Craftsmen series. The Master series Long Range variant, shown in this review, comes with a Luth-AR MBA-1 stock adjustable for length-of-pull and cheek height, as well as a sub-MOA guarantee (more on that later). The handguard on the Master series comes from Stubborn Mule and blends right into the billet upper.


I'm a big fan of "doing the math," so I wanted to run a quick cost-analysis list of the Master series. Billet upper and lower receivers tend to run anywhere from $300 to $500 for a matched set. A match-grade barrel will run at least a couple hundred dollars, and triggers can run $100 to $200 (and up). Toss in a freefloat, M-Lok-compatible handguard, a nitrided bolt-carrier group and an ambidextrous charging handle and you're easily looking at anywhere between $1,000 to $1,200 just in major components. Now add furniture, parts kits and all the other components that go into a build, and you could easily be close to $1,500 when all is said and done, and that's without having the whole thing Cerakoted once the rifle is built. With that in mind, the price of the Master Series line is quite reasonable.
Now, yes, if you're someone who has the tools, workshop and skills to put together an AR-style rifle (and skills are minimal; heck, I can do it…) you can most likely put together a rifle similar to the Master Series line for similar money. Not everyone wants to build their own, though, and for a shooter who might have gotten bit by the AR-15 bug with an entry-level carbine, pretty much anything in the Head Down Firearms lineup is a solid next step. The Craftsmen and Master series, coming with Cerakote options, even add in a splash of color for those who so desire. Plus, Head Down Firearms warrants every rifle the company sells for life—if there are any problems (and all indications are that this won't be needed), Head Down will fix it—or replace it—to make it right. That's a pretty strong belief in the products the company is selling, and good to know for a new manufacturer.


Of course, the real proof is in the performance, right? All the cool paint jobs and upgraded furniture don't mean much if the rifle can't stay running or keep a consistent, tight group. Given that this particular rifle is in 224 Valkyrie, a round that has shown amazing promise, but not without some, well, teething issues as it hit the market, I was genuinely curious how the rifle was going to perform at the range. Functionally, I wasn't terribly concerned, but when it came to the accuracy portion, well… This is the part in the story where the narrator breaks in and tells the audience, "He didn't need to worry." Even using the Federal Premium American Eagle-branded "plinking" ammo, the HD-15 turned in solid results, with several groups less than an inch at 100 yards. I didn't get an opportunity to run the HD-15 at longer distances, which is really too bad, as that's where the 224 Valkyrie is designed to excel. How-ever, it's a pretty sure bet I'd have had excellent results out as far as I can see.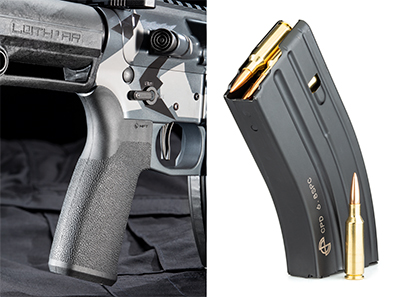 What I found most interesting from the accuracy testing is the consistency among the groups. All three loads tested had sub-MOA results; all had results that were not. In fact, only .11 inch separated the best average from the worst; and even more impressive, the best groups were achieved using the least-expensive ammunition. One of the points we've made over the years with "next-level" firearms—whether a pistol, rifle or shotgun—is that often the increase in price over an entry-level variant buys a level of consistency. While, yes, there are some aesthetic and functional upgrades, the more-important feature is the ability of the firearm to perform exactly as expected each and every time. Our experience with this Head Down rifle certainly confirms the repeatability in action.
Functionally, I did not observe a single malfunction of any sort throughout multiple hundreds of rounds of testing. Soft-point, full-metal-jacket, open-tip-match and other ammunition types were tested to make sure the rifle fed and ejected a variety of cartridges (well, as many as we could find in 224 Valkyrie; obviously there's a wider range in .223 Rem. or .300 BLK). At no point did I observe any stoppages, malfunctions or even erratic ejection patterns. I've got to hand it to the folks at Head Down Firearms—the company makes sure its rifles work 100 percent. While the rifle ships with a 20-round C-Products magazine, I tested Duramag 10-round and CPD 28-round variants with no ill effects (obviously, these are the 6.8 SPC magazines that also work for 224 Valkyrie). One thing I did notice, and this really isn't specific to this rifle, is that the medium-profile barrel heats up pretty quickly running bullets at 3,000 fps. After a couple dozen rounds, it really needed to cool a bit, which may explain some of the larger groups in testing (patience is not one of my virtues). Again, not a knock on the rifle at all, just an observation; if you're planning extended range sessions, plan in some breaks in the shooting.
In the end, there's a lot to like about Head Down Firearms and the company's line of rifles and carbines. For those looking for the "next level" in a carbine or simply for someone looking for a rifle that stands out in the crowd, Head Down offers a trim level and a custom paint job that'll work just fine. Whether it's a casual day at the range, a carbine training course or even a long-range outing, there's a Head Down Firearms rifle for the task. While our crystal ball isn't functioning up to 100 percent right now, it's not hard to imagine that other configurations and receiver options might be available down the road—although the company was tight-lipped about larger receivers. Keep a sharp eye out and your Head Down, as this is definitely a company to watch.