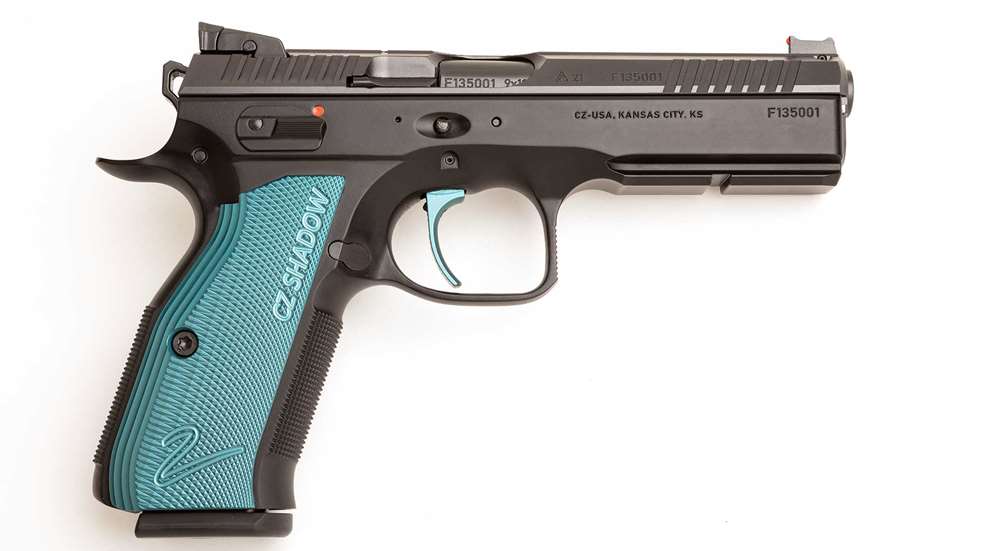 These days, anyone who makes their way to an action-pistol match practically anywhere in the world is likely to find a CZ Shadow 2. The CZ Shadow 2 is derived from the venerable CZ-75, a cult-classic 9mm pistol. Metal-framed CZs stand out from most other handguns because they are hammer-fired guns whose slides ride inside frames rather than over them. Shooters get a relatively low bore axis, and this design synergy leads to guns which are very accurate and extremely shootable.
CZ Shadow 2 Origins And Overview
The Shadow 2 is the direct descendant of the CZ SP-01 Shadow, which itself is a sport variant of the CZ SP-01 but with fiber-optic sights and the omission of a firing pin block in order to improve the trigger pull. While the original Shadow closely resembles an SP-01 or standard CZ-75, the Shadow 2 does not. Other than sharing the same action, operating system and magazines, the Shadow 2 is a distinctly different handgun. Originally launched in 2016, the Shadow 2 has been offered with different trims, including the now discontinued single-action only versions. Currently, the Shadow 2 can be had as standard/optics-ready "Black and Blue" (other colors too) or the more deluxe "Orange" model which is hand-fitted at the factory and includes a 1911-esque barrel bushing.
Trim aside, both are steel-framed full-size 9mm handguns with 4.9-inch barrels and a traditional double action/single action trigger. The Shadow 2 is probably one of the most ergonomic metal pistols ever made. The grip itself is thinner than other handguns' grips that use similar double-stack magazines. Adding to this, a generously undercut trigger guard also enables a sure shooting grip. On the frontstrap, there is aggressive checkering and because the large, squared-off trigger guard is undercut, the frontstrap does not feel crowded and provides plenty of space for the strong-hand's fingers. The shape of the trigger guard works in tandem with the grip, as the trigger guard provides a parallel horizontal surface for the index finger of the support-hand to push up against. The backstrap is generously radiused to better conform to the web of the strong hand. Its upswept beavertail which is profiled similarly to a 191l to brace the firing hand and protect against slide/hammer bite. The Shadow 2 ships with thin, textured aluminum stocks. Because this gun is so popular in the action shooting sports, there is a wide selection of aftermarket stocks to suit all tastes making the gun ever more ergonomic and customizable for anyone. 
The slide itself rides inside of the gun's frame, so it is not very tall. Compared to other slides, there's less surface area to grab onto in order to manipulate it. However, there are generous serrations both on the front and rear of the slide. The topmost part of the slide is flattened and ribbed to cut down on glare. Both the front and rear sights are serrated, match grade units. The front takes a 1mm fiber optic insert, and the rear sight is adjustable for elevation only. Changing windage means using a punch or sight tool to drift the unit.
Shooter Ready? Stand By… Beep!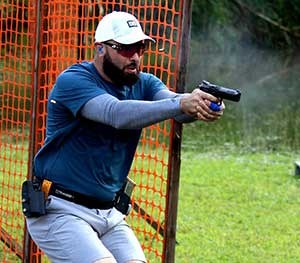 The CZ Shadow 2 is eminently shootable for two main reasons: Its weight (46.5 ounces) and its inside-the-frame slide design. Both of these aspects help the entire gun keep flat while shooting. Not only does this slide configuration provide a lower bore axis, but the dust cover area has a considerable amount of metal which acts as a counterweight against muzzle flip. This makes it easier for the sights to return to zero during shooting, which is quite noticeable with the CZ Shadow 2 compared to other pistol designs. Combined with an easy shooting trigger, the Shadow 2 lends itself well to shooting very accurately, very consistently and very quickly.
While shooting this gun on the square range, I was able to shoot one of my best 25 yard NRA B-8 groups to date, using Federal's Syntech 124-grain rounds. With the exception of three flyers, I approached the vaunted 2-inch group at 25 yards with iron sights. So far, I've taken my Shadow 2 to only one club level USPSA match and shot it in the Limited Minor division. Shooting this match's paper targets led me to notice the inherent mechanical advantages of its weight, lower bore axis and fast return to zero. This led to having a match pistol that instilled a high level of confidence in my shooting and it's very easy to see why so many in the competition world love the Shadow 2. Between shooting it at the square range for this review and taking it to the match, the gun easily went through about 300 rounds of 9mm. This not only includes my own 115/124-grain handloads, but factory ammo like Federal Syntech's 115/124/147-grain rounds, Winchester White Box 115-grain FMJ rounds and Hornady's Critical Defense 115-grain rounds.
The Takeaway
There's a reason why the CZ Shadow 2 continues to be one of the best represented handguns in action pistol matches, nearly seven years after its original introduction. On the plus side the gun is capable of great accuracy and its weight reduces recoil. Its ergonomics allow shooters to really get a grip on the gun while its slide design mitigates muzzle flip. Due to its popularity, there's a wide selection of aftermarket upgrades, customizations and holsters. Because this gun is fielded by very serious and high level competitors, all of its strengths and weaknesses are well-known. While I wouldn't personally consider this a downside, the gun's weight does put off some shooters. Extractors and slide-stops are both critical components that CZ Shadow 2 owners need to keep an eye on as they are prone to failure, especially when subjected to high, 20,000+ round counts. Maintaining and replacing these should be big items on any CZ owner's maintenance checklist. It's also important to keep in mind that with a current basic MSRP of $1,099, the CZ Shadow 2 offers an excellent price to performance ratio and easily keeps up with guns that cost twice or triple its own cost. Just go to any action pistol match on the weekend and see for yourself.
CZ Shadow 2 Specifications:
Caliber: 9mm
Action: TDA
Safety: Ambi Manual Safety
Height: 5.75 inches
Width: 1.41 inches
Length: 8.53 inches
Barrel Length: 4.89 inches
Weight: 46.5 ounces unloaded
Finish: Black Nitride with polycoat
Magazine Capacity: 17 rounds
MSRP: $1,099
25-yd Accuracy Evaluation:
| | | | |
| --- | --- | --- | --- |
| Ammo | Avg. Group (Inches) | Smallest Group (Inches) | Largest Group (Inches) |
| 115 grain Hornady Critical Defense JHP | 1.68 | 1.25 | 2.50 |
| 147 grain Federal Syntech FMJ | 1.90 | 1.50 | 2.50 |