Sometimes carrying on-body isn't possible or might not be the best option for the conditions. Sure, it's less than ideal, because nothing beats the immediate accessibility of having your firearm attached to you, whether appendix or strongside hip. However, sometimes you don't have a choice. When that's the case, carrying your gun in a good-quality holster is still important.
CrossBreed has specialized in off-body carry solutions for years with their Modular Holster System. The idea behind the system is to offer interchangeable carry options that require little to no movement of the holster between modules. Each holster works with all carry systems for easy access and safer movement between backers.
The LDS 2.0 Ohai Modular Holster continues that tradition with a hook-field-backed Kydex holster that affixes to any of the system's various backers, such as the PacMat or the Bedside Backup. The "LDS" stands for "Light Defender Series," CrossBreed's series of weapon-mounted light-compatible holsters.
As mentioned, the Ohai starts with a Kydex shell available for seven major gun manufacturers, including Glock, Smith & Wesson, Springfield, and four others. Even SCCY made the list. A host of popular models within those manufacturers are available, so chances are you'll find a holster that fits your gun if you have one of those brands.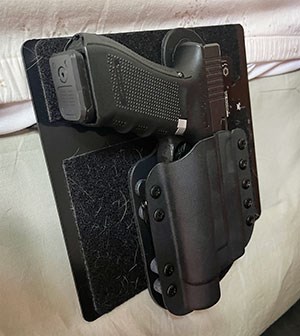 CrossBreed sent me one for my Glock 17, which has a Streamlight TLR-9 on the end. This is my home defense setup that typically lives in my under-bed safe. I have a Bedside Backup affixed between my mattress and box spring but can't use the old holster unless I remove the light. This problem required me to keep a separate light on the nightstand because I need to see my potential target if anything deadly goes bump in the night. Now I don't have to worry about that because this new LDS version attaches the same way the original does. The LDS Ohai is also red dot cut, so my Vortex Venom can stay on the gun. The Ohai can also be carried in a backpack or other bag with the CrossBreed PacMat.
First impressions of the Ohai were good—solid construction, good quality craftsmanship, and terrific fit, with the gun sliding securely inside with an audible click. Retention is adjustable but was perfect out of the box. Extracting the gun was clean and easy. The hook field backer held firmly against the loop field on draw and reholster. In fact, removing the holster was a bit of a challenge when I tried to move it to my PacMat, but this is a good thing. It needs to hold under harsh use, which it did.
A word of caution: like any other holster, it is not a safe. Anyone can get to it, so be sure you're only using it when there is no danger of anyone accessing your gun who shouldn't. This is not a knock on the product, just a bit of awareness for the user, especially if used in a pack carried off-body.
The CrossBreed LDS 2.0 Ohai Modular Holster retails on the company's website for $64.95 and is a great option for those times when on-body carry isn't an option. Overall performance was exactly as promised and expected.