Paying it forward pays off. In the midst of the COVID-19 shutdown, a good friend of mine was having trouble finding ammo for his 9 mm handgun. I told him I could easily spare a couple hundred rounds, and he could come by to pick them up. He insisted on bartering something for the ammo, but I told him not to worry, friends help friends in uncertain times.

He picked up the ammo in my driveway, all while maintaining 6 feet of separation from me. A few hours went by, and he texted me to say he had a gift for my boys to thank me for the 9 mm, and that I should expect a package.
About a week later, it arrived, in the form of two Baofeng UV-5R radios. Now these are great fun for kids to play with around the house, but they are so very much more than mere toys. The UV-5R is a legit ham radio that comes with everything you need to get started in that hobby save the FCC license required to broadcast over it.

Ham-radio operators play an important role in emergency preparedness, as they are often the only functioning means of long-distance communication when phone lines and cell towers go out. Having the ability to monitor those and other bands can help you survive a disaster.
First, let me address the elephants in the room. Yes, the radios, like COVID-19, originated in the People's Republic of China (but not Wuhan). It does feel odd talking up the actual awesomeness for emergency preparedness of a product made in the source nation of our current emergency, but the truth is these radios are probably the best available combination of utility and value for what they provide. I've discovered they have a cult-like following among preppers and ham-radio enthusiasts alike, which is a good sign of their quality and utility.
The other elephant in the room is the availability and legality of the UV-5R model specifically. Apparently, this radio is a bit too capable for the FCC's liking, so certain models of Baofeng radios are no longer being imported. Plenty still exist in the market, though, and given that I can see the UV-5R for sale at a number of legitimate retailers online, they are clearly still available—for now. As to ownership, it is absolutely 100-percent legal to own a UV-5R.
I'm not a ham-radio guy, so a lot of the features (particularly those for broadcasting) are lost on me. But I've read quite a bit about the UV-5R, and it receives almost universal praise from those who understand and need such things.
Among the many features that make the UV-5R so popular with preppers is its ability to store 128 memory channels, which means you can quickly change between the National Weather Service frequencies in your area, scan emergency service bands (where legal) and maintain channels to talk to nearby family, friends and neighbors if caught in an emergency.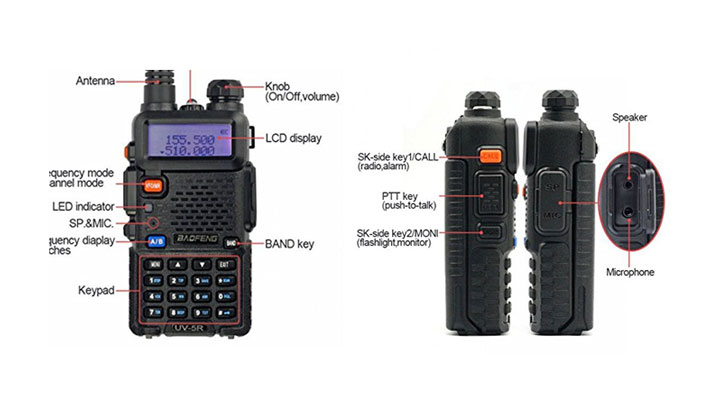 You can also find and listen to other ham-radio operators for fun or for updates in a crisis. The UV-5R can be programmed via your computer by via a USB cable that plugs into the radio's headphone/mic jack (the cable is sold separately). It can also tune into FM radio, which is nice in a non-emergency situation when the commercial radio stations are broadcasting. The transceiver has a built-in LED flashlight at the top of the transceiver, which can come in handy at night or when the power goes out.
Basically, unless you are a hardcore ham-radio enthusiast, the UV-5R has way more capability than you will need, but it's nice to know such features are present in case you decide to take up the hobby or need them in a disaster situation. As far as the broadcasting capabilities of these little radios, you do need a ham license from the FCC to transmit.
The FCC requires two-way radios to meet certain specifications for certification, including—and not limited to—maximum power, bandwidth, interference with nearby electronic devices, etc. Operational frequencies for transmission, with the exception of some ham gear, is limited to keep critical communications clear for public safety, military or other critical infrastructure operations. The ability to listen to those frequencies is an endearing quality on Baofeng UV-5Rs and fully legal. They're a lot less expensive than the once-popular scanners, and a lot more versatile, too.
If you inadvertently squeeze that push-to-talk button while listening to a local SWAT Team, expect a knock on the door with the possibility of hefty fines and even prison time to follow, so don't do that. No one in their right mind wants to slow the arrival of help, but the radios have gained a cult following for several reasons. In a dire emergency, for example, the handheld, battery-powered radio will punch through a signal long after the power is out and cell towers have gone dark. If you're saving life and limb, the FCC will not hunt you down in the hospital or drag you into court later.
There's also the dark secret that you can turn power output down, or not, and operate on the same frequencies as the FRS and GMRS radios found in every garage and toy box on your block. You should not do this, except during a disaster. The keypad up front makes programming fast and easy, effectively granting communication with most of the neighborhood in a dire situation (assuming you've decided on a channel beforehand, which is something you should do).
Most people who buy a set of GMRS radios from a sporting goods store don't realize a license is required. Preppers and survivalists apparently count on the "clutter" there to cover their two-way practice. Add the ability to work on the FRS channels, MURS, business bands and an incredible range throughout the very-high frequency (VHF) and ultra-high frequency (UHF) spectrums in an emergency and the little UV-5R is a powerful tool—even if only used for monitoring weather and emergency communications. Again, ownership and listening in is completely legal. RadioReference.com has a constantly updated and fairly exhaustive list of frequencies to monitor in every region across the country.  
Consult the FCC website for full details on regulations, and don't hit that push-to-talk button on the side until you do so. The UV-5R also has a programmable voice-activation feature for use with the included earpiece/mic, making it possible to use it as a hands-free device, but don't use that, either, until you understand the governing regulations.
Each Baofeng UV-5R ships with the handheld transceiver, a rechargeable lithium-ion battery, a charging cradle, a semi-flexible antenna, a plug-in earpiece/microphone, a belt clip and a wrist lanyard. They retail for around $25 per unit. Other, newer Baofeng radios also receive positive feedback from the ham community, but the UV-5R seems to be the king. Get one while you can—it could be a lifesaving tool.