Whether you're looking to protect yourself against long-toothed predators or the kind of nefarious characters you so often meet in the in the wide open spaces of the outdoors, it's imperative to find a handgun carry solution that is suitable to your situation, surroundings, and other gear requirements. 
One of the dilemmas when out in the field — whether hiking, hunting, or working around your property — is how to keep your handgun readily accessible and comfortably on your person when you may or may not have a backpack with waist belt secured. If you have a holster on your go-bag waist belt, say on MOLLE webbing, the moment you take the backpack off you've now got to come up with a different solution. 
Likewise, I've seen too many people keep a handgun in the holster, buried somewhere in their pack. The problem with this, as numerous unfortunate souls have discovered, is that predator or criminal attacks rarely afford you the time to take your pack off, find your handgun, and then adequately defend yourself. 
While it's not for every application,
Alien Gear Holsters' Cloak Chest Holster
is one viable way to keep your handgun at the ready regardless of whether or not you've got a go-bag on your back. This includes while hiking trails or, with pack on the ground, field dressing animals in bear country.  
For this review, I paired the Cloak Chest Holster with a
CZ P-10C chambered in 9 mm
 which is also frequently my EDC gun. With a 15+1 load capacity, a chest holster has to be sturdy enough to carry the weight securely and comfortably. As I found, the Cloak Chest Holster is an adequate solution, with two straps that runs around your torso and connects in a triangular piece of neoprene/plastic material in the back with a single shoulder strap.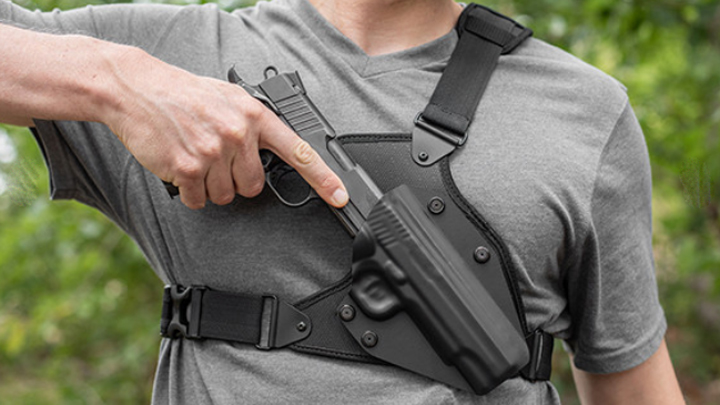 Each of the straps is highly adjustable, allowing for a comfortable, secure fit across a number of chest sizes. The holster comes in two different sizes — regular and large — and offers coverage from 33-43 inches or 43-60 inches, respectively. Likewise, the Cloak Chest Holster is available in right- or lefthanded versions for models including the 1911, most major revolvers, or semi-auto pistols with smaller frame sizes. 
Retention is also a key factor; when bending over you don't want the handgun to drop out of the holster, and you need a tight-to-the-body fit when hiking, climbing, or doing chores around the homestead. The Cloak Chest Holster provided great retention, locking the P-10C in place with no concern for discomfort or lack of security. At the same time, the holster provided an easy draw without the need for excess force when extracting the firearm. Reholstering was also a smooth process.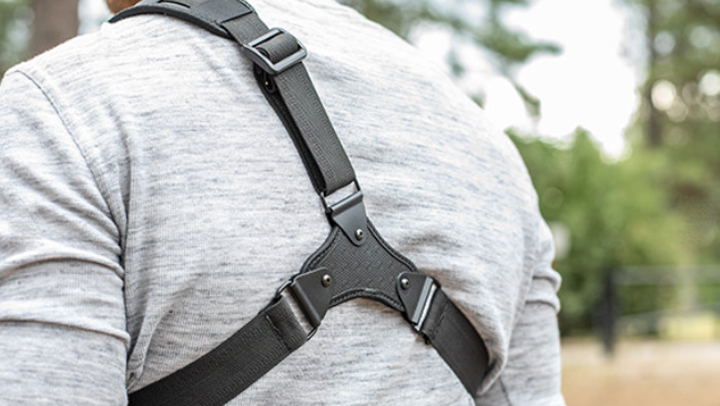 As testing revealed, the rig is plenty stable for heavier handguns and comfortable when working or pounding out miles in the backcountry. In terms of downsides, the holster can't be worn with other chest gear like a bino harness, and it does require local laws that allow for open carry. When drawing the handgun, you have to be extremely careful not to cover your offhand with the muzzle — one solution I found is grabbing the rearward portion of the chest strap with my offhand during extraction. Something to be aware of, in any case, and an issue you should address with proper training and dry practice. 
With an MSRP of $89.88, the Alien Gear Holsters Cloak Chest Holster is a comfortable carry option for a variety of situations and can be paired with a wide variety of handguns. The three-way strap system is highly adjustable and incredibly robust. Likewise, CoolVent neoprene backing on the chest and back plates keeps you cool and dry, preventing sweat from building up.