by
Evan Brune, Associate Editor, Shooting Illustrated
posted on June 16, 2017
Support NRA Shooting Illustrated
DONATE
Alien Gear recently added to its popular line of affordable concealed-carry gear by giving consumers a way to carry backup magazines for their personal-defense gun through the use of the Double Cloak Mag Carrier.

Regardless of any one person's opinion on whether reloads are an essential part of an every-day carry kit for an armed citizen, magazine-related malfunctions can and will happen, so it behooves the concealed carrier to carry at least one spare magazine to keep a firearm functioning and fed in the event of a gunfight.

However, magazine carriers are one of those things, much like holsters, that can start piling up. Shooters can end up with a double-mag carrier for range practice, a single OWB mag carrier for open carry, another IWB single-mag carrier for concealed carry and still others with paddles, belt slides and other options.

The Alien Gear Double Cloak Mag Carrier solves the issue of mag-carrier overpopulation by combining all of these products into one. The novel design uses a gear-shaped attachment system that allows end users to customize their particular mag carrier to whatever specification is needed for their practice, carry or competition. Once the ideal configuration is selected, a simple twist lock ensures that magazine buckets won't be removed easily from their chosen location.

Want to carry openly with two backup mags? The Double Cloak allows for two magazines to be carried in a single, solid paddle rig that secures both magazine buckets. Just want one magazine? Attach the included belt-slide hook to the bucket, and you're ready to carry. Carrying inside the waistband? Snap the magazine buckets to the neoprene-backed holder and use the same belt-slide hook to secure the mag carrier to the belt.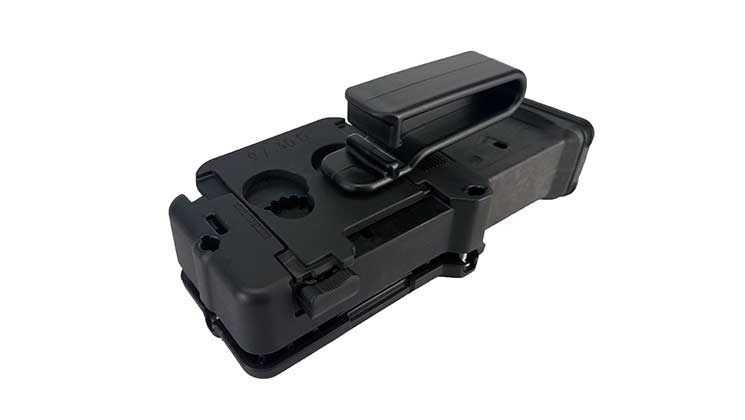 The gear-shaped attachment system even allows users to adjust the angle at which their magazine is presented. For competitors who find an edge in having mag carriers canted slightly forward, the Double Cloak Mag Carrier allows for that level of customization. An advantage of this particular rig over others is the fact that users can experiment with different degrees of cant. Other mag carriers have a specific cant built into their design that cannot be changed after construction.

The Double Cloak Mag Carrier from Alien Gear also allows for custom adjustments on magazine retention. Using an included Allen key that is securely stored on the outside of the magazine body, three separate points on the bucket can be fine-tuned to provide the exact level and style of retention offered by the mag carrier.

The retention adjustments go beyond those offered on other holsters and magazine buckets and offer a unique range of adjustments. For example, those looking for quick-detach retention can adjust the retention plate with a slight angle that locks it in once fully seated but allows for resistance-free travel once pulled. Adjusting the top two screws provides a constant level of security that provides the same resistance until the magazine is fully removed from the bucket.

For competition and range use, the Double Cloak Mag Carrier features a slightly widened opening that facilitates easy reseating of magazines inside the holder, providing a secure and trouble-free retention option for partially full magazines during a tactical reload.

I used the Alien Gear Double Mag Carrier for several weeks, incorporating it into my daily carry kit for a Glock G19. Alien Gear offers mag buckets in sizes for both single-stack and double-stack guns, and a helpful purchase guide when selecting magazine buckets.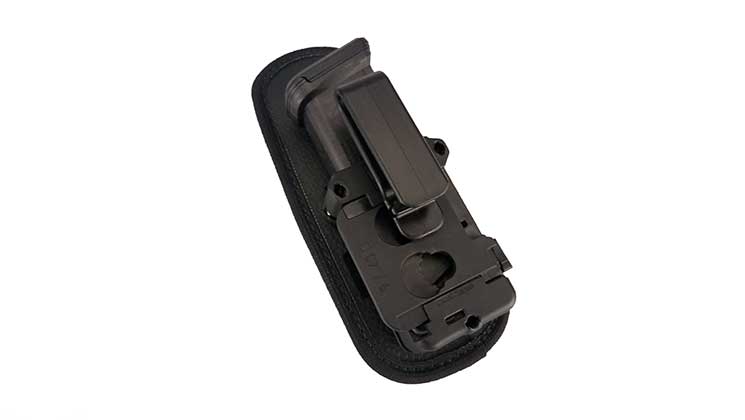 Living in Virginia, I'm fortunate to be in a state that generally supports our right to carry, and I feel comfortable carrying openly when it better suits me. This allowed me to experiment with several OWB options with the Double Mag Carrier, and I found the two-bucket paddle rig to be the most secure.

However, I have also carried with a single bucket combined with a belt-slide hook, and this has proved to be comfortable as well. One minor annoyance that I have noticed is that the gear-like attachment system doesn't completely lock in the bucket to the point that it's immobile, leading to a small amount of play. Also, the magazine can lean away from the body a bit, due to the flexible belt-slide attachment. But it's a small price to pay for the modularity of the system.

The one configuration that I have not gotten used to is the IWB setup. The buckets themselves are polymer construction and feature a sliding lock on the rear of the buckets that increases their thickness. That, combined with the neoprene-padded backing, means the carrier measures 1.5 inches in overall thickness. I haven't found a good way to incorporate them into my IWB kit, but I imagine that the single-stack configuration would be much more comfortable. Other users might have more luck with their setups.

Overall, I look at the Alien Gear Double Cloak Mag Carrier as a great option for a personal-defense-minded citizen who wants flexibility and the ability to experiment with their gear. For range work, the setup has a number of great features, and owners can use their experiences with the mag carrier to determine if they want to invest more in a dedicated IWB or OWB setup in a single- or double-magazine capacity. Plus, at a price of $49.88, it's hard to go wrong.