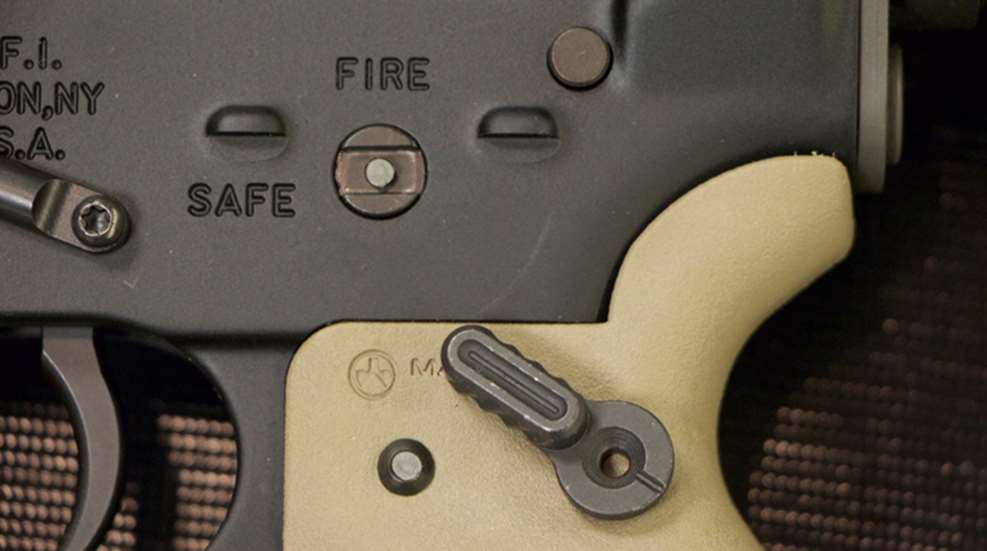 I'm not going to re-invent the wheel, here. My colleague Bob Boyd has done a fantastic job of detailing the steps one takes to install a safety selector in an AR-15-style rifle, so I'll direct you to his write-up for the specifics. However, recently I had cause to replace a safety selector in one of my AR-15-style rifles that was out-of-the-ordinary.
It started one afternoon as I prepared for a range trip with one of my favorite carbines. I put this carbine together a couple years ago as a back-up to another carbine, and it wound up being more durable than the original. It's got a Bushmaster lower, a Rise Armament trigger, Magpul pistol grip and Mission First Tactical stock on it, and it has worked very well in this configuration.
The upper is a Palmetto State Armory "Black Friday" special, a standard A2-front-sight-equipped, 1:7-inch twist mid-length upper that I finished with a Magpul M-LOK fore-end, American Built Arms bolt-carrier group, Bravo Company USA Gunfighter charging handle and a Trijicon MRO red-dot sight. The carbine just runs and runs, so you can imagine my surprise when I pulled it from the safe to see a small piece fall off.

"Self," I thought, "that's odd," and proceeded to retrieve the safety selector from the floor. I assumed that the most recent range trip had loosened the screw that attaches the selector, and thought my suspicion confirmed when I saw what looked like a screw on the rug. Except it wasn't the screw. Well, it was *part* of the screw...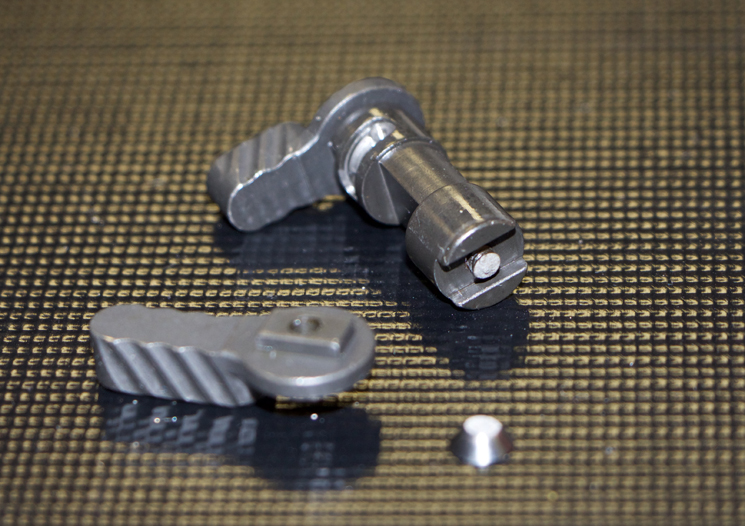 I'm guessing metal fatigue or perhaps some sort of glitch in the MIM process led to a less-than-perfect screw winding up in this kit, resulting in a broken screw and a non-functional safety selector. Now, fortunately, it's an ambidextrous safety, so the option to simply use the left-handed switch was still open. If this had been a standard right-handed-only selector, I'd have had a rather difficult time getting my rifle ready to fire.
It drove home the importance of both checking my gear but also for redundant systems. Had this been a catastrophic failure under dynamic circumstances, I would not have been out of the fight thanks to the ambidextrous switch. Checking the rifle over before heading out allowed me to choose a functioning rifle for range time, too; which isn't as high-speed-low-drag as swapping out a selector mid-fire-fight, but it's also several orders of magnitude more likely to be needed. I'd rather pick a different rifle for a trip to the range (or training) than try to limp a broken model through a course-of-fire.
And a side note when replacing a safety selector or pistol grip: Be careful of the dang spring. This time I was cautious and didn't lose the spring to the ages; plenty of other times I've watched it roll off the bench into parts unknown. Having a dedicated work area with a place to put small parts is a major plus.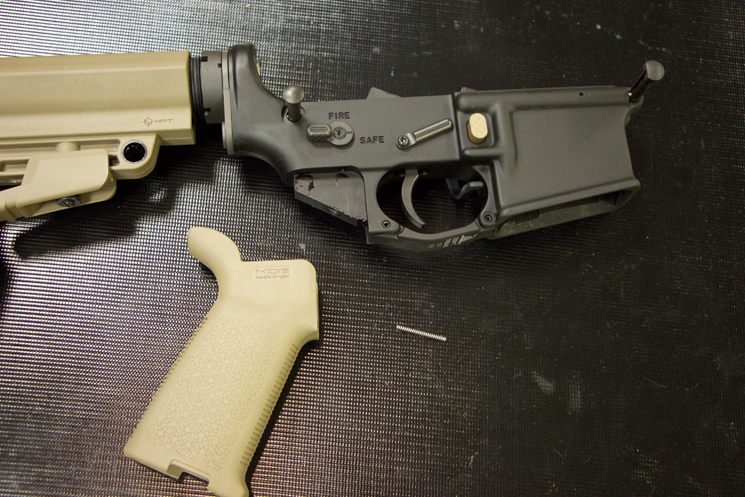 For the replacement, I chose a Seekins Precision ambidextrous safety selector. I've used Seekins parts in other builds and the company's offerings are well-built and affordable. The safety selector can be configured as a standard 90-degree throw, or, as I chose, with a shorter 60-degree throw. Installation took minutes (even including having to take out the KNS Precision anti-rotation pins for the Rise Armament trigger) and we were quickly back in business.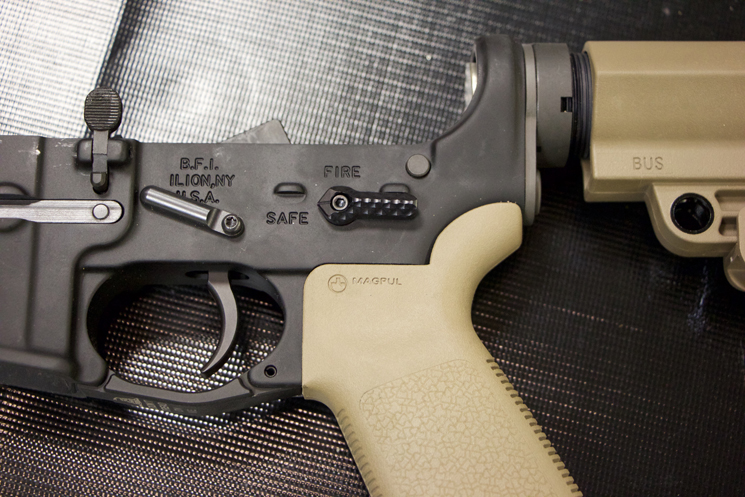 Again, while replacing a safety selector isn't exactly rocket science nor earth shattering, sometimes the smallest things can disrupt your plans. Take time to make sure your gear is fully functional, replace any component that is no longer working up to 100 percent and have replacement parts available and you can minimize down time.