by
Evan Brune, Associate Editor, Shooting Illustrated
posted on July 14, 2017
Support NRA Shooting Illustrated
DONATE
The Kimber Ultra Covert 1911 is carried in a Galco Gunleather Avenger holster, secured by a Magpul Tejas gun belt. Lead photo taken by Straight 8 Photography.

Kimber America hosted an event at Gunsite Academy in 2017, bringing a number of compact, concealed-carry handguns for writers to run through the wringer during Gunsite's high-round count drills and courses of fire. One of the guns used thoroughly at the event was the new Kimber Ultra Covert 1911 in .45 ACP.

Until this event, I had little experience with Kimber handguns. Without a great deal of hands-on knowledge, I considered Kimber pistols to be great-looking examples of 1911 style that were probably best suited for open-carry at barbecues or jealous looks at the range. When it comes to personal-defense, the 1911 has had its day, and it's time for Glocks and Smith & Wesson M&Ps to take over, right?

However, a closer look at the features on the Kimber Ultra Covert 1911 quickly turned that argument on its head. This isn't grandpa's M1911A1. The Ultra Covert is built for concealed carry, featuring a 3-inch barrel set in a slide that barely protrudes from the end of the frame. The frame itself is shortened up from a standard 1911, giving users a gun that measures just 4.75 inches in height, meaning that gun owners can have a 1911 chambered in .45 ACP with a standard magazine capacity of seven rounds in a package that can be carried easily inside the waistband.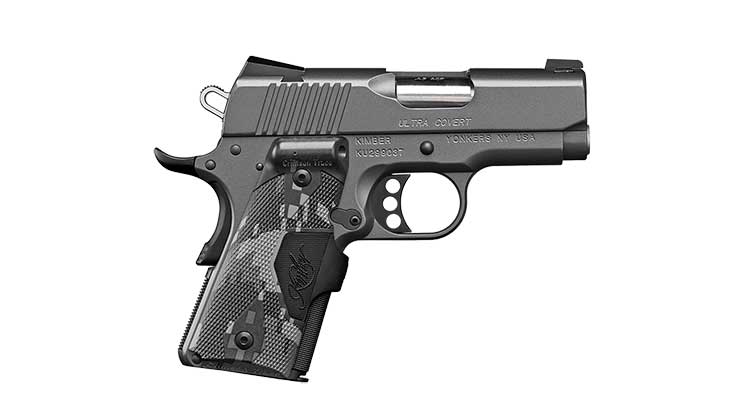 Kimber improved the package with the inclusion of its Carry Melt treatment. Landing somewhere in between a bobbed frame and a standard frame, the treatment rounds the sharp corners around the bottom of the magazine well, minimizing the chance that any sharp edges will easily print. In fact, there are no sharp edges on the gun, which makes it an easy-to-carry package that will sit comfortably against the body.

Other features on the Ultra Covert 1911 include checkering on both the front strap and the back strap of the pistol. This made for a handgun that stayed in the hand easily, even during one-handed firing drills. The pistol is equipped with attractive Crimson Trace Lasergrips that use the instinctive pressure-pad activation on the front strap and feature a neat urban-camo finish.

The gun's place as a solid contender for concealed carry is further reinforced with a look at its construction. Built on an aluminum frame with a stainless-steel barrel and slide, this gun is light for a 1911. With an empty magazine, the gun's overall weight comes in at 25 ounces, only 5 ounces more than a Glock G19. For that, you get a match-grade trigger, a bigger caliber and a more-durable metal frame. In addition, the gun is finished with the company's attractive charcoal-gray KimPro II finish, which helps to protect against wear and corrosion.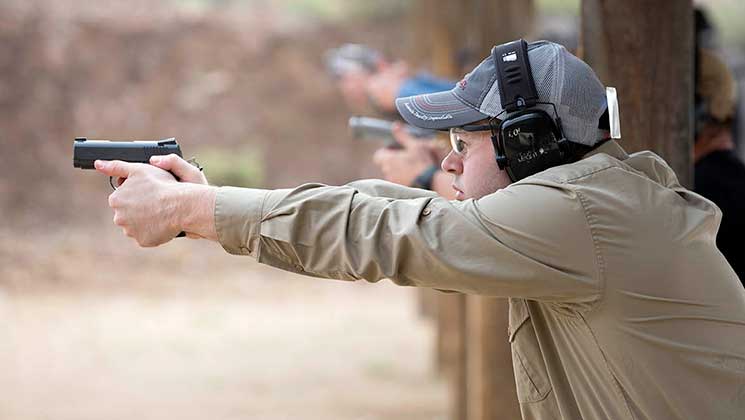 Spec-wise, everything looks good. However, good looks don't win gunfights. Performance is the key. The Ultra Covert I used at Gunsite came straight from the box, unfired, unused and uncleaned. I cut off tags, removed warning stickers, walked right out to the range and started shooting.

In all fairness, this isn't really recommended practice with a 1911. Often, new-in-box 1911s may require some sort of break-in period in order to run with utmost reliability. It's just the nature of having an all-metal firearm with tight tolerances. In addition, all 1911s (and all firearms in general, frankly) perform best with quality, routine maintenance. If you treat a 1911 like a torture-test Glock, you're likely going to have problems.

However, that being said, we treated the Kimber Ultra Covert pretty roughly. We shot thousands of rounds over three days and didn't clean, lube or otherwise treat the gun gently. Despite the rough treatment, I never had a single issue with the Ultra Covert that couldn't be traced back to my bungling shooting skills.

It takes a great deal of confidence for a company to hand over newly unboxed guns to writers and editors for use in a high-round-count Gunsite experience. Kimber's Ultra Covert 1911 proved it was definitely up to the task. In a firearms world overrun by "plastic" pistols, snubbie wheelguns and micro .380s, Kimber's Ultra Covert 1911 shows that, after more than a century of use, the big-bore, all-metal, 1911-style handgun still has a big role to play in the future of personal defense.