There's a reason that I collect guns and not something like stamps. While those intricate pieces of paper are certainty pretty and interesting, if you use them as intended, you can kiss your investment goodbye! Guns, in my opinion, are more fun to collect because you can actually use them! Nothing breaks my heart more than when someone shows me a fine firearm and then exhibits a terrified expression when I suggest firing it. These tools were meant to be used!

This brings us to Cabot Guns and the company's new-for-2019 pistol: the Drako Garra 2.0. This revered custom-1911 maker from the heart of Pennsylvania has a reputation for making handguns that are out-of-this-world and usually never seen on the firing line...because they spend most of their life in a safe. However, if you are fortunate enough to get your hands on one, you really need to shoot it. I was lucky enough to procure a sample of this fine pistol and take it through its paces. When I say lucky, I really do mean lucky, as fewer than 50 of these handguns are made every year.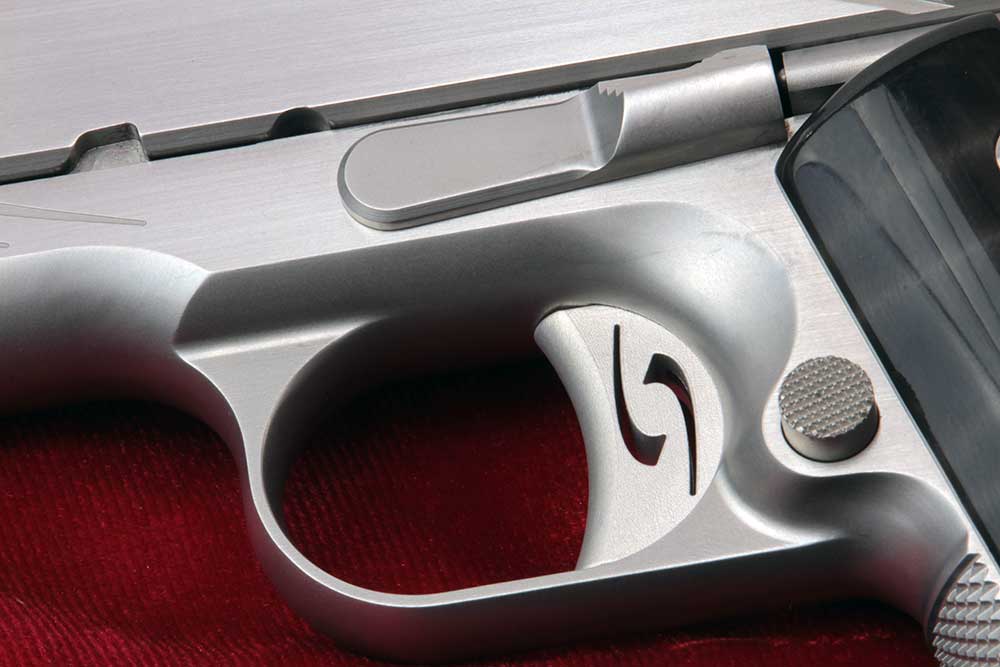 The Drako Garra series of pistols incarnate the spirit of a dragon into a 1911. This theme is exemplified with sleek "claw marks" that run down the slide and frame of the pistol. The fine machining also allows for better handling. Purchase is further enhanced with rough stippling on both the front strap and back strap. Slick, carbon-fiber grip panels complete the package and are finished with an inlaid Cabot logo. The entire pistol is constructed of billet stainless steel that is finished with a fine matte hue to cut down on reflection.

The first time I picked up the Drako Garra 2.0, I noticed that the grip was slightly reduced and I was easily able to get my hand around it. The removal of extra material really made it feel different than any other 1911 that I've ever picked up. It pointed very naturally as one would expect from this venerable platform and had a nice heft about it that is lost in today's crowd of polymer-framed pistols. Racking the slide was smooth as glass and exposed the full-length guide rod. The installation of this upgrade aids in recoil recovery and reliability. I examined the finely detailed trigger and weighed it with a Lyman Digital Trigger Pull Gauge, which measured a consistent break at just 4 pounds, 4 ounces.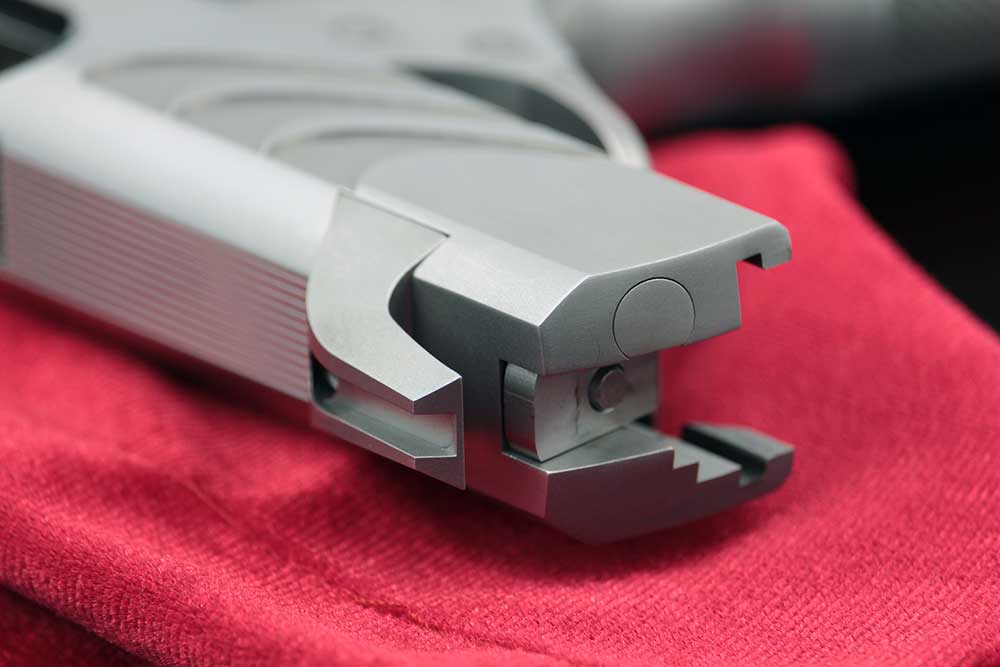 Well, just like hopping in a friend's Ferrari, you can only sit in the driver's seat for so long until you choke up the courage to ask to drive it, so I selected some rounds and hit the range. Cabot sends this pistol out with a guarantee that it'll shoot at least a 1.5-inch group at 25 yards, and the company includes a test target with each gun as well. The one that came with this Drako Garra 2.0 measured just inside HALF that at 0.7-inch on the nose. Of course, this was done with a mechanical Ransom Rest that is essentially a robot. Nonetheless, I had my work cut out for me, so I set out to try to produce at least one group that would tie the machine. Cabot was kind enough to include some of the ASYM 185-grain National Match ammo that was used to produce that group, and I supplemented it with some 230-grain Black Hills rounds.

Peering down the slide, I got to put the signature "dragon-claw" sights to use. Although a novelty, I found they fit together very nicely and produced a sharp sight picture. I broke in the gun with the Black Hills rounds and rested on a drum as a makeshift rest to conduct my group testing at the same 25 yards. Like most match-quality firearms, the Cabot is very particular in what it shoots best. While it cycled the Black Hills ammo reliably, I wasn't able to get many groups inside of 2 inches. With most pistols that would still be outstanding, but for one that carries such a stringent guarantee, it wasn't satisfying. Using the ASYM rounds, I was able to get closer to that 1.5-inch guarantee from my makeshift rest, with my best group coming in at 1.62 inches and my 5-group average (5 shots per group) ending up at 1.87 inches.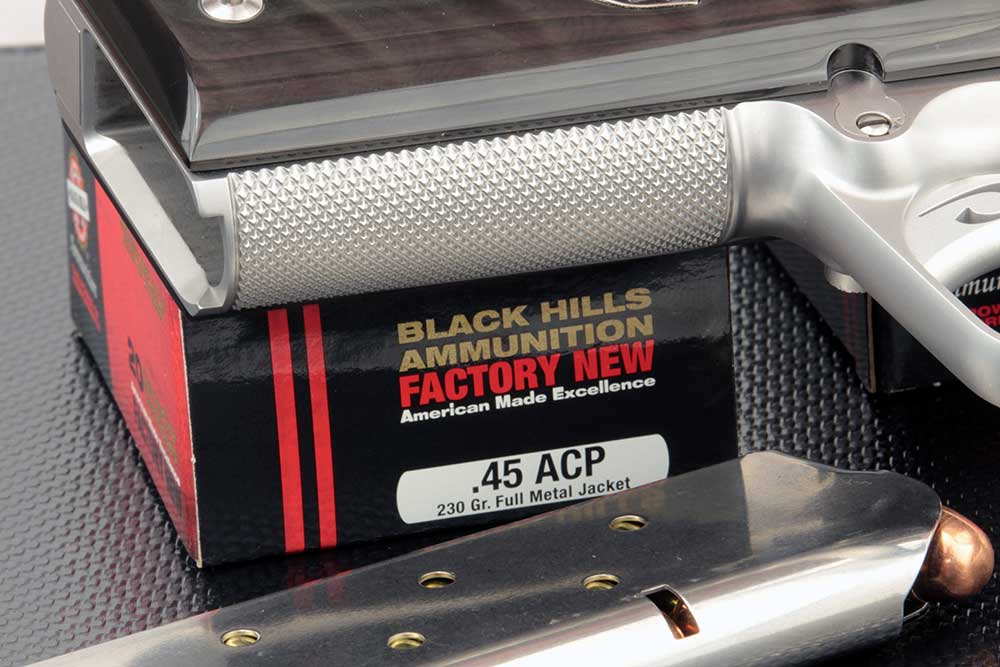 With results like this, it is easy to believe that 0.7-inch target. I reveled at the thought of knowing that here is a handgun that can shoot far better than I can with the right load. Throughout my testing, I noticed smooth cycling and 100-percent reliability with both types of ammo. I skipped testing with hollow points, because the likelihood of a gun like this being used for personal-defense is slim. Who in their right mind is going to put this in a holster and cover that beautiful finishing all day long? Sure, you can use it for home-defense, but would you really want it to be placed into evidence if, God forbid, you had to use it?

Getting your own Drako Garra involves a bit of a wait, but you do get to build it exactly as you wish at the Cabot Guns website. The Drako is available in not only .45 ACP but also 9 mm as well, for those looking to take recoil down even further. You can also select one of three different grip sets and add an adjustable sight, if you so wish. At the time of this writing, the wait time is estimated at 2-4 months, but it sure is worth it for this level of artistic precision. Price? Well, I'd say if you have to ask, then you can't afford it. However, to satisfy the curious among you, the base price on this pistol is $5,595. If you are financially fortunate to pick one up, please promise me you'll take it out and shoot it. That's what guns are made to do, even high-end, finely finished options like this awesome handgun.