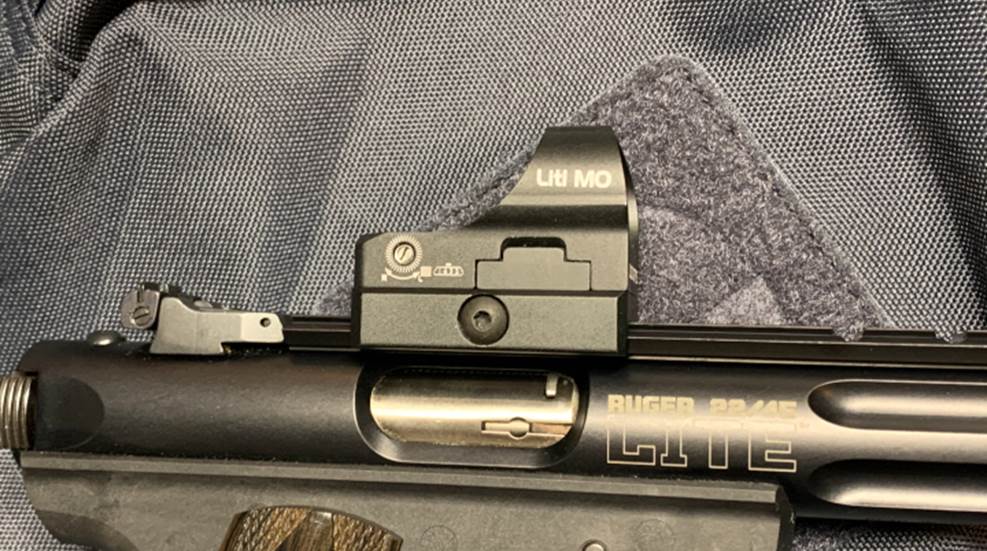 When you're looking for a mini-red-dot sight to put on a handgun, there's a good number of options. One you might not have otherwise considered is the Litl Mo from Lucid Optics, a small business located in Wyoming that makes a robust line of magnified riflescopes and red-dot sights. We've reviewed optics from Lucid before: the company's HD7 red-dot sight for carbines was featured in our affordable red dot article a few years back. The HD7 proved to be tough, durable and reliable, so when we were putting together mini-red-dot sights for handguns, we wanted to include the new Litl Mo.
Recently released, the Litl Mo is an exercise in simplicity. The 3-MOA dot features brightness controls (standard up and down arrows) and adjustments for windage and elevation -- that's all. On the right side of the Litl Mo is the slide-out battery tray for a single CR1632 battery that is flush-mounted and requires a small edge to pull out, as well as the windage controls. On the left side are the brightness controls, which are ever-so-slightly relieved to keep the unit as trim as possible. A generous lens (19x29 mm) gives plenty of space for the extremely crisp dot, and the entire unit weighs 1 ounce. It fits the standard Docter/Burris footprint for mounting.
Additionally, the Litl Mo comes with a low-profile mount for carbines or pistols with a standard picatinny rail, which uses the same T10 torx as the two top-mount screws. It's a simple standardization that more companies could benefit from following, and is completely in line with the Lucid philosophy of making smart products that work. The Litl Mo is easy to mount on any firearm, whether on a pistol with the correct optics cut or on a shotgun's top rail.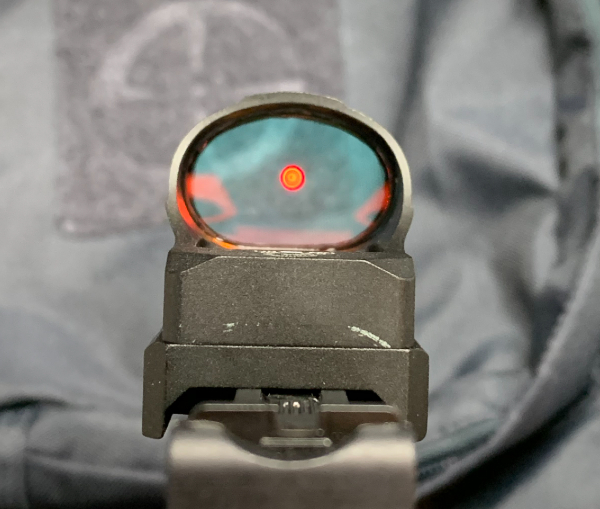 In use, the dot is easy to pick up and the brightness levels are distinct. The levels (I counted six, although it's quite possible there are more that my eyes just couldn't pick up) vary from a thin dot suitable for indoor use against a black target to a super-bright setting that shows up easily in direct sunlight or when used in conjunction with a bright weaponlight. Don't worry about how it stands up to recoil - the Litl Mo is rated for use up to .458 SOCOM. 
In the  "I Carry" episode featuring the Litl Mo, I mounted the optic to a Smith & Wesson M&P9 CORE handgun in 9 mm, and found the dot to be easy to acquire out of the holster when using proper presentation methods. In dry-fire practice this also proved true, and the clarity of both the lens and the crispness of the dot have not wavered over time. It continues to be a robust optic more than up to the task on a pistol, carbine or shotgun.
When I originally tested the Litl Mo, I noted that it shipped without a battery and questioned why the company would opt for such a small cost-savings measure. I had a chat with Jason Wilson, CEO and founder of Lucid, who explained it simply: It's a shipping savings, not the cost of the battery. It was an enlightening exchange that made a lot more sense once he related that shipping the unit without a battery saved far more money than just the cost of the battery. I'd rather have to order a battery online for a couple bucks and save far more than that on the optic, and I think most people are of the same mindset. Just know that you'll need to have a battery on hand and you'll be fine. 
If you've been looking for a mini-red-dot sight and developed sticker shock at some of the offerings, take a look at the Litl Mo. It's robust and reliable, and offers a precise, clear dot that's easy to acquire. It might just be the best mini-red-dot sight you've never heard of. MSRP: $349.99; visit lucidoptics.com for more details.