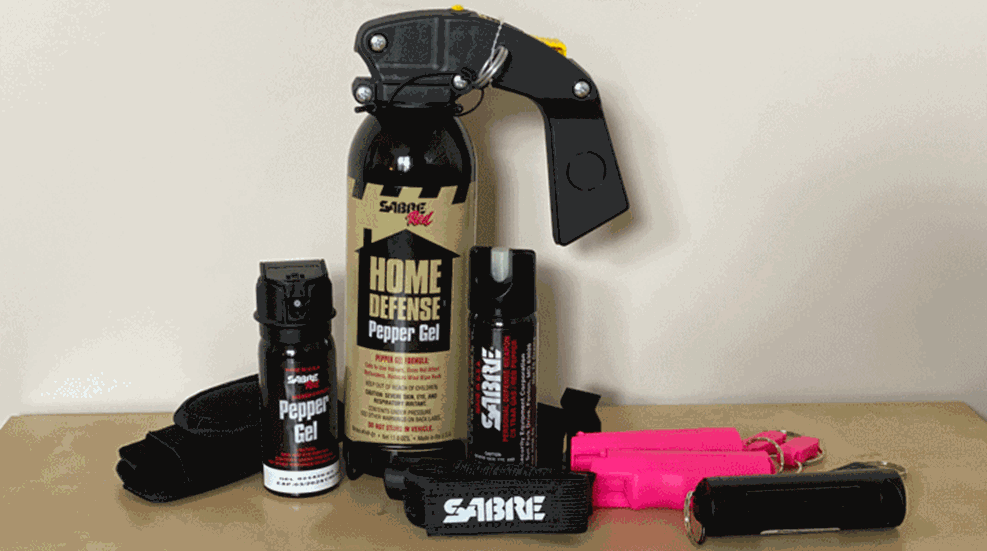 There are myriad of things a person can use for home and personal defense. Firearms might be the obvious answer that comes to mind, but they aren't the only option. Plus, having back-up items isn't such a bad idea. Pepper spray is one such item that might often be overlooked, but isn't one to rule out. Quite the contrary, a little canister of pepper spray can give the added comfort someone needs when at home, on a walk or run, or simply just going to the store.
I've never really thought about carrying pepper spray or even owning it for that matter. I've always thought about it as something only law enforcement uses. When I reviewed some products from Sabre, I was pleasantly surprised by the variety of devices available on the market a person can choose from.
Besides pepper spray, there is also another form called pepper gel. It is said to be safer than traditional pepper spray because it does not atomize, but instead eliminates wind blowback and only affects what it directly contacts—making it ideal for indoor use. They also claim that pepper gel has a 20 percent greater range than pepper spray. Additionally, the range of gadgets that pepper spray and pepper gel are contained in are vast as well.
Options from Sabre, the designated number one brand used by police worldwide, are simply mind-blowing. If you thought choosing from the Cheesecake Factory's menu was tough then you are in for a surprise. However, picking out a pepper spray or gel is somewhat similar to picking out a firearm. You have to know your intended purpose in order to choose the right one. For example, if you're looking for a concealed-carry gun you wouldn't choose a pistol that wouldn't fit on your person. Thus, it's important to know what your purpose is for the product you intend to purchase.
However, there isn't a need to feel overwhelmed like you do when looking at the Cheesecake Factory's menu. Once you know where and for what you will be using the product, then you can narrow your results. Such products include the following: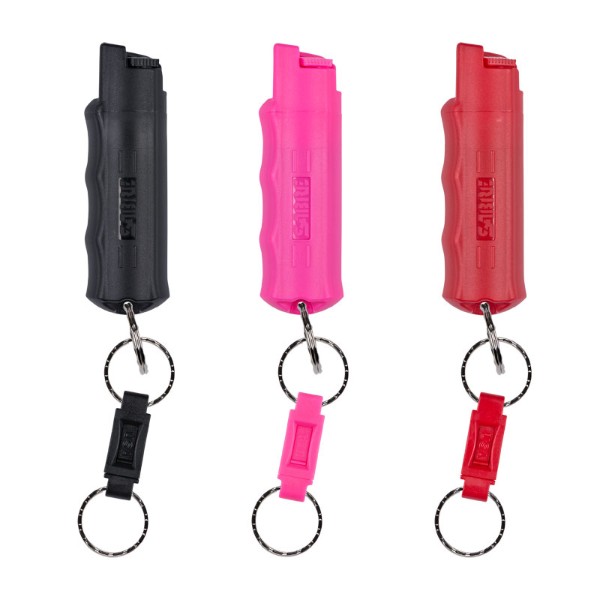 On Your Person
Whether going for a run, a walk or heading to the store (and hopefully many more places in our future), Sabre covers everything and in between. For starters, if you prefer to carry in a holster they have Pepper Gel in a Holster which is part of the company's tactical series. Slide it onto a belt and you're ready to go. The canister sits tightly inside the pouch without fear of it falling out and it can be quickly reached when needed. Additionally, it has a flip-top design for added security of accidental discharge, but also easily deployable. And not only that, but all of Sabre's products contain a UV marking dye which helps in suspect identification. Reaching up to 18 feet and containing 18 bursts, the pepper gel with holster is a viable option. MSRP: $19.99.
If you prefer a more unattached version, if you will, key chain models are also available. A suitable size for the hand, the Red Pepper Gel with Flip Top and Quick Release Key Ring is a nice addition to any set of keys or just slipping into a pocket. This model includes 25 bursts with a range of 12 feet and comes with a quick release key ring allowing you to detach the pepper gel from your keys if your keys are compromised in an emergency situation. Personally, this one was my favorite because I have recently been going on daily walks and had an unsafe feeling after one. Now, I just put this little key chain canister in my pocket and it has put my mind at ease. MSRP is $14.99 and has a black or pink color option.
Another key chain style is the Key Case Pepper Spray with Quick Release Key Ring Combo Pack. Pink in color and receiving two small canisters instead of one, this package supports the National Breast Cancer Foundation. Similar to the model above, this configuration includes 25 bursts but has a 10-foot range. In contrast to the one above, this is a pepper spray and not a gel and has a twist lock safety instead of a flip top. Furthermore, both key chain models have a finger grip for enhanced control. I rather liked this feature because it gave me better purchase when holding it. Something I think would be useful in a stressful situation. MSRP is $19.99.
For the runner, Sabre has a runner series. Perfect for athletes, the Runner Pepper Gel with Adjustable Hand Strap easily fits in the palm while exercising. Extremely light, the little canister contains 35 bursts with a range of 12 feet and has the twist lock safety just like the key chain above. Additionally, the hand strap is adjustable as mentioned in the name. Available in black or pink, MSRP is $12.99.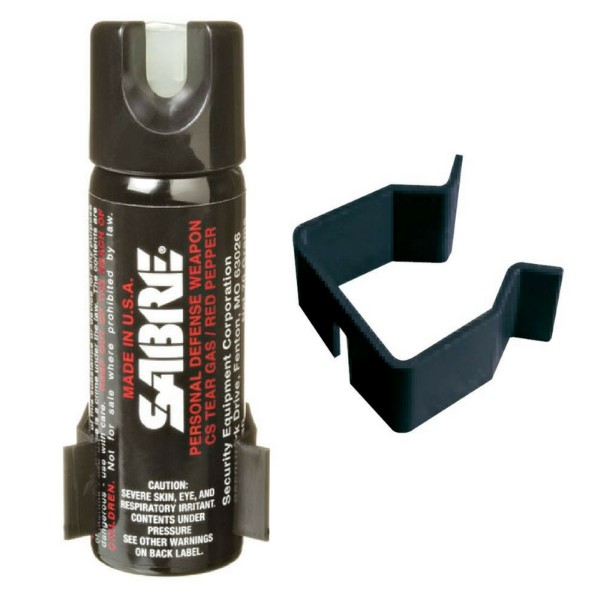 In the Home
If you're looking for something in the home rather than on your person, Sabre has many choices for that too. A bit more heavy duty, the 3-In-1 Pepper Spray Home Protection Kit has an advanced formula containing pepper spray, CS tear gas and the UV marking dye mentioned earlier. A wall mount is included in order to position it near bedsides and entryways. Plus, the twist lock safety is glow in the dark allowing you to see it in low light. Containing 25 bursts with a 12-foot range, the cone shape of the lid provides greater facial coverage. MSRP is $14.99.
Lastly, if you want to take your pepper spray/gel to the next level then the Home Defense Pepper Gel is just the ticket. Specially designed for indoor use, the Home Defense Pepper Gel comes with a wall mount and looks very similar to a small fire extinguisher. Twenty-five bursts are housed in this large canister with a range of up to 25 feet. To deploy, grab the pistol grip, remove the metal safety pin and press your thumb on the long yellow section. MSRP is $50.99.
So, whether you're carrying or needing added protection for the home, pepper spray/gel is a viable option for another level of security, and Sabre has plenty of products to choose from. Don't underestimate the power these little cans have. As it is said, a little can go a long way. Just because you already carry, doesn't mean you should reject other available options. Add it to your bug-out bag or everyday carry kit because you never know what might happen in an emergency situation—it's just better to be prepared and have plenty of choices than be stuck without anything. But as with any personal-defense object, hopefully you are never in a position where you'd have to use them. However, I'd rather not take the gamble and I hope you wouldn't either.

All products have a four-year shelf life and should be tested semi-annually with a quick burst to the ground. For additional info, as well as training videos you can visit Sabre's website: sabrered.com.