by
Shooting Illustrated Staff
posted on January 24, 2012
Support NRA Shooting Illustrated
DONATE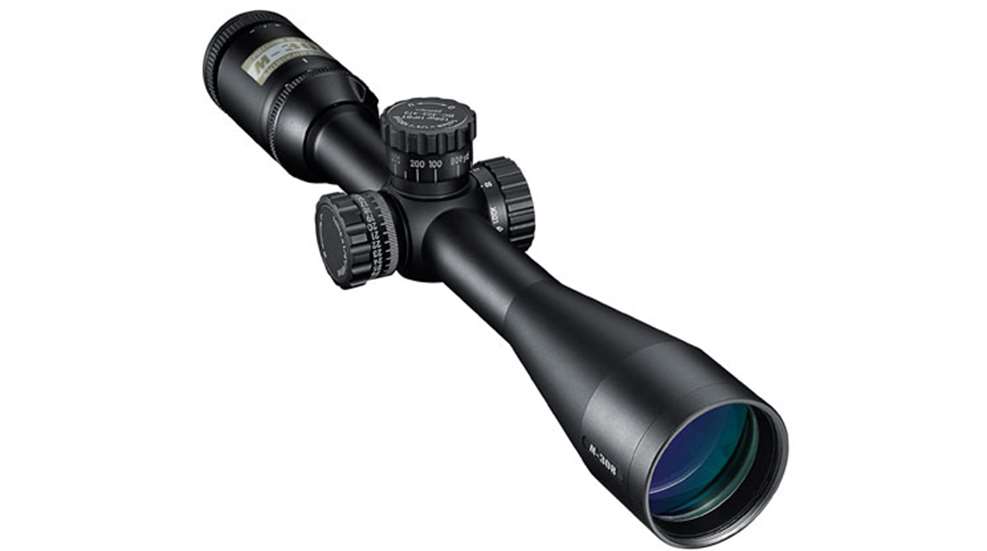 The high magnification range zoom makes it the ideal optic for AR10 platforms.
Developed specifically for the trajectory of the .308 Winchester/7.62x51 NATO round with 168-grain hollow point boat-tail Match bullet, the new BDC 800 reticle offers shooters unique open circles, dots and hash marks from 100 to 800 yards.
The M-308 4-16x42 Nikoplex with Rapid Action Turret technology is an incredible new system based on the .308 Winchester/7.62x51 NATO round. It simply and effectively allows the shooter to dial-in elevation anywhere from 100 to 800 yards away in less than one revolution. Now it's possible to aim directly at the targets, eliminating the need to holdover by changing distances with a quick turn of the turret.
Included with either model is the new M-308 one-piece scope mount. With built-in 20 MOA slope, the M-308 mount enables extreme long-range shooting by adding 20 moa elevation adjustment to the overall system. Like all Nikon AR riflescopes, the M-308 is optimized for use with Nikon Spot OnTM Ballistic Match Technology. Spot On allows you to discover all of the exact aiming points on the BDC 800 reticle for your exact ammunition and load.
The Nikon M-308 4-16x42 also includes the following features:
Ultra ClearCoat optical systemNikon has engineered the entire optical system to provide the shooter with a bright, sharp, incredibly flat sight picture and light transmission up to its theoretical maximum—95%.Eye Box technologyEvery model features an impressive 4-time zoom range and up to four inches of non-critical eye relief. A massive ocular lens delivers a huge, exceptionally bright, high-resolution sight picture.Smooth zoom controlMagnification reference numbers are viewable from the shooter's position.Enhanced mount ring spacingProvides greater mounting versatility.One-piece main body tubeFor minimum weight and maximum strength and durability.Waterproof, fogproof, shockproofNitrogen-filled and O-ring sealed.Locking side focus parallax adjustmentNikon's easy-to-reach dial allows you to quickly focus from a shooting position.
Check out this video interview with a representative of Nikon at the SHOT Show for more details.
Nikon Inc. is the distributor of Nikon sports and recreational optics, world-renowned Nikon 35mm cameras, digital cameras, speedlights and accessories, Nikkor lenses and electronic imaging products.
For more information on Nikon's full line of riflescopes, binoculars, Fieldscopes and laser rangefinders, please contact: Nikon Sport Optics, 1300 Walt Whitman Road, Melville, NY 11747-3064, or call 1-800-645-6687. www.nikonhunting.com.