by
Shooting Illustrated Staff
posted on September 22, 2019
Support NRA Shooting Illustrated
DONATE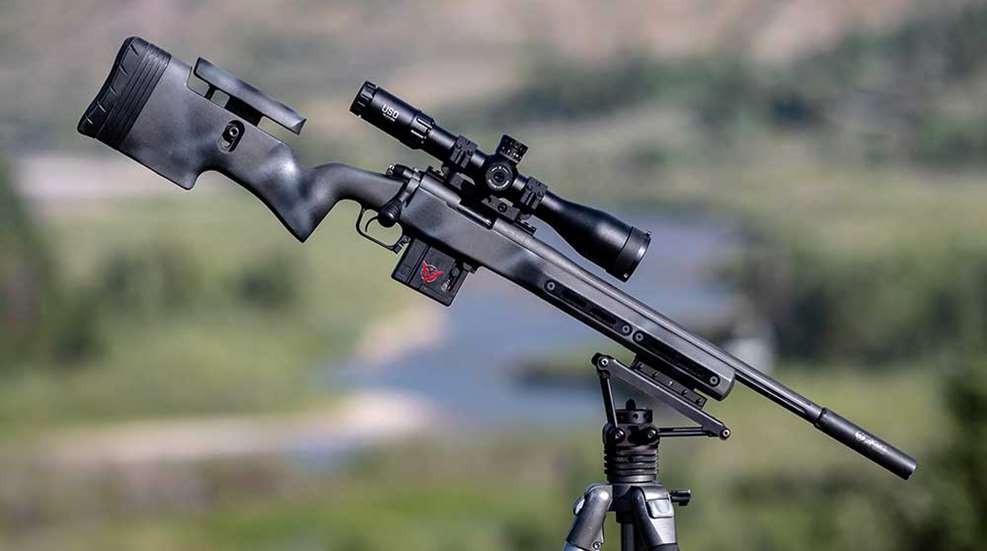 Precision rimfire rifles are a hot commodity right now, with several different shooting sports dedicated to making precise shots with rimfire rifles under the pressure of the clock. In addition to this, a growing number of gun owners are beginning to appreciate the dead-center performance of precision rifle. Vudoo Gun Works is one of the leaders in the precision rimfire rifle market, and now they are adding to the company's V22 line of high-performance rifles with the .17 HM2 cartridge.

As the .17HM2 round is dimensionally very similar to the .22 LR round, the cartridge is a natural performer in Vudoo Gun Works rifles, which are built from the ground up to function perfectly with the classic .22 LR. With the addition of the .17 HM2 round, Vudoo Gun Works customers now have access to a wide range of high-velocity projectiles which are well-suited to a variety of sporting applications.

Developed by Hornady in 2004, the .17 HM2 round was created to give varmint hunters a high-velocity rimfire cartridge that fits in standard rimfire-length actions. With a selection of V-Max or NTX bullets, the .17 HM2 is capable of taking prairie dogs, coyote and fox-size game at ranges of up to 200 yards.

Existing .22 LR Vudoo magazines are compatible with the .17 HM2 round, and existing customers looking to purchase a Vudoo Gun Works rifle chambered in .17 HM2 will enjoy using and the familiar feel and precision of the V22 action.
Vudoo Gun Works .17 HM2 V22 Rifle Features
Short action Remington 700 footprint

Magazines fit standard AICS compatible bottom metal

Large selection of aftermarket triggers

Large selection of aftermarket stocks

V-Max and NTX bullet options
More information on the selection of Vudoo Gun Works .17 HM2 V22 rifles is available at vudoogunworks.com.