by
Shooting Illustrated Staff
posted on January 9, 2019
Support NRA Shooting Illustrated
DONATE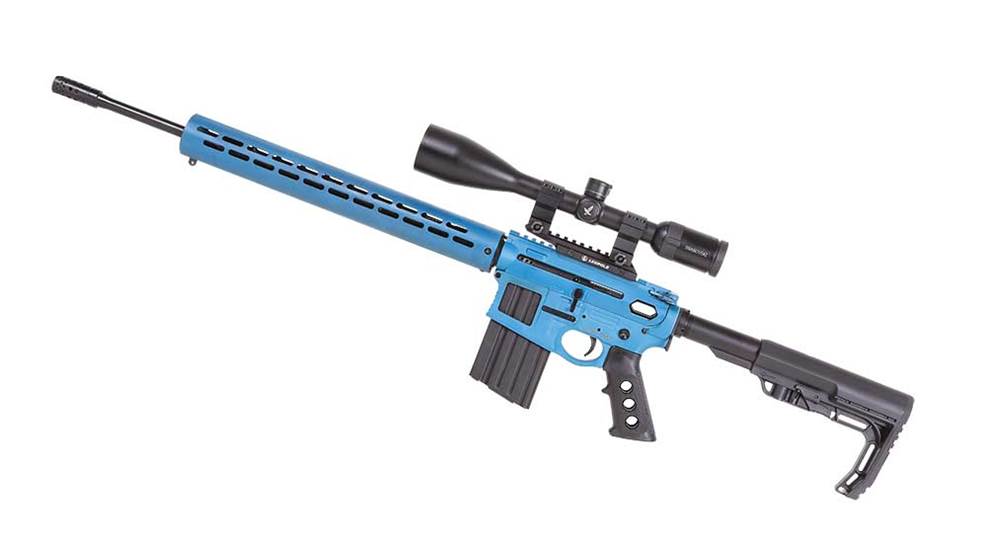 Fans of
MG Arms
guns have long-anticipated a release of the company's expected TaranisX lightweight rifle. In 2019, the company made the rifle a reality, announcing its existence prior to SHOT Show 2019. The new MG Arms TaranisX builds on the success of the company's Taranis2 model, offering more-powerful calibers in a platform designed to be nimble, compact and lightweight.
Each MG Arms TaranisX is constructed on a skeletonized, AR-style lower that blends elements of both AR-15 and AR-10 lowers, providing a compact platform that's matched with the company's custom AR-10 upper receiver. The matched upper-and-lower receiver set is designed to be ultralight, thanks to lightening and skeletonizing that reduces weight without compromising the strength of the action. Upper receivers are machined with a Picatinny top rail, allowing for the easy addition of optics.
Attached to the barrel, consumers will find an ultralight, match-grade barrel measuring 16.5 inches long. The barrel is topped by the company's specially designed, trademarked SE² muzzle brake, which is built to attach to these pencil-profile barrel designs while mitigating the increased felt recoil produced by the lightweight nature of the MG Arms TaranisX. The barrel is surrounded by a slotted, carbon-fiber handguard, which aids in air flow across a hot barrel while simultaneously reducing weight.
To further reduce recoil and lighten the TaranisX, MG Arms added in a skeletonized bolt-carrier group, which reduces the amount of reciprocating mass inside the gun, thereby reducing the impact on a shooter's shoulder. The lightened carrier also removes a significant chunk of weight inside the gun, bringing the overall weight of the platform down even further. Each TaranisX rifle is equipped with the company's proprietary TactiQuick safety design, as well as its M-one/A-one ambidextrous charging handle. Consumers will also find a match-grade trigger inside the receiver, with a trigger-pull weight of 3 pounds.
Three caliber options are available for the MG Arms TaranisX: 6.5 Creedmoor, .308 Win. and .338 Federal. Overall weight varies slightly, depending on the caliber chosen, but all models of the gun weigh in at less than 6 pounds, unloaded. Custom color options are also available for the rifle, with standard or PTFE camo options offered, as well as custom Cerakote finishes. The suggested retail price on the TaranisX is $2,995.