by
Shooting Illustrated Staff
posted on November 5, 2018
Support NRA Shooting Illustrated
DONATE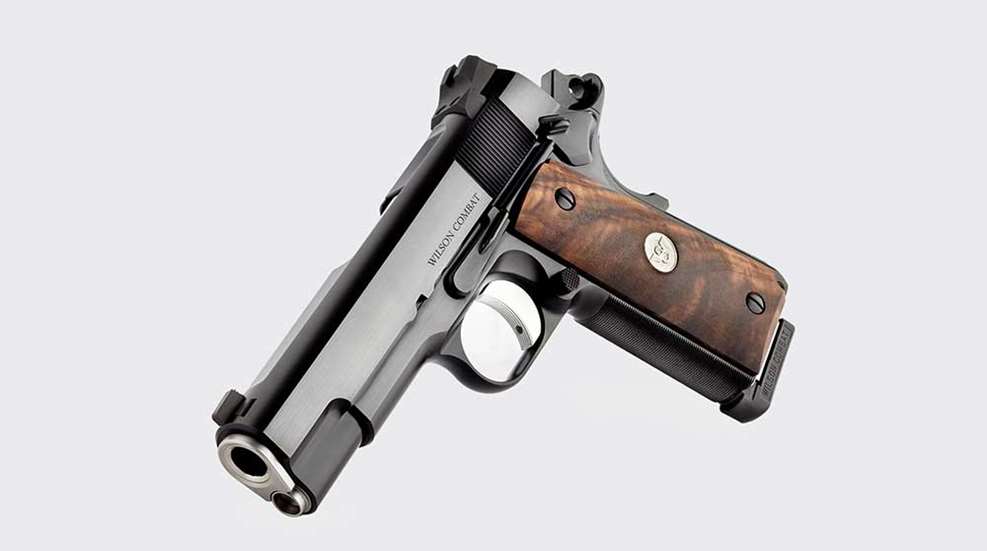 Within the
Wilson Combat
facility located in northern Arkansas, an elite team turns out a select few Supergrade 1911s every year, complete with an attention-to-detail and fine finish capable only from highly experienced pistolsmiths. One of the latest options from the company, introduced in 2018, is the Wilson Combat Supergrade Commander Special.
This finely finished handgun wipes away many of the modern-day tactical touches found on many of today's concealed carry-oriented 1911s and instead returns to the classic roots of the platform. Instead of focusing on cutting-edge features, the gun incorporates many time-tested elements, including a USGI-style thumb safety, traditional rowel hammer and the classic, vertical serrations located only at the rear of the slide, evoking the look of the classic M1911s that served the U.S. military faithfully for nearly 75 years.
Though it shares some similarity in terms of looks, the Wilson Combat Supergrade Commander Special certainly isn't the rattle-prone, mass-produced, battle-worn pistol from years past. Each gun receives special attention from elite gunsmiths, each of whom starts with the company's forged-steel frame and slide. These two components are machined to strict tolerances before heading into the hands of a single craftsman, who hand-fits an oversize barrel measuring 4.25 inches long. Once the barrel is fit, the 'smiths fine-tune the operation of each Commander Special to ensure it feeds reliably while allowing for absolute precision on the range. Each gun leaves Wilson Combat with an accuracy guarantee of 1.5 inches at 25 yards.
Other features found on the gun include a white gold-bead Battlesight at the front of the slide, a first from Wilson Combat, as well as smooth, burl-wood grips complete with a silver Wilson Combat medallion inset in the center of each panel. The pistol comes equipped with a full-length guide rod, fluted chamber, flattop slide, ball cuts, round-butt frame, ledge-style rear sight and a contoured magazine well that all contribute to create a carry-ready pistol.
The overall length of the Wilson Combat Supergrade Commander Special is 7.85 inches, height is 5.6 inches and width is 1.3 inches. Sight radius measures in at 5.95 inches, and the gun weighs 37.2 ounces with an empty magazine. Consumers can choose from options in .45 ACP, 9 mm and .38 Super, as well as all-blued and two-tone models. A host of customization options and upgrades are also available from the company. The base price on the gun is $5,350.