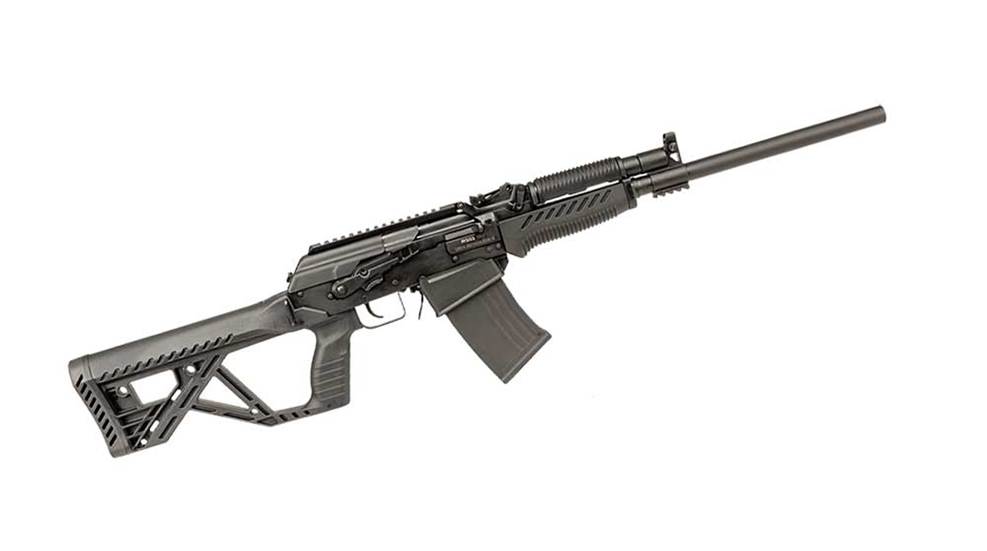 Legacy Sports International
announced the addition of a new shotgun model to its lineup of imported guns under the Citadel brand name. The all-new Citadel RS-S1 semi-automatic shotgun is one of the most-recent AK-style 12-gauge shotguns to enter the market in recent years, and the design bears similarity to other AK-style shotguns, albeit with a few distinct differences that make this new model from Citadel stand out from the pack.
Built with a gas-operated, piston-driven system that earned a reputation for reliability during decades of use in the popular AK-47 and AKM rifle platforms, the Citadel RS-S1 shotgun is designed to cycle smoothly and effortlessly with a range of 12-gauge shotshells available on the market, from light field loads to heavy home-defense 00 buck. Each gun is constructed with a 3-inch chamber and features a 20-inch chrome-moly barrel that's designed for use with steel shot and can be equipped with all Beretta/Benelli choke tubes.
Each shotgun ships with adjustable front and rear sights that will be familiar to those who are used to AK-style iron sights. Should users choose to attach an optic, the dust cover on top of the receiver is equipped with a full-length Picatinny rail, perfect for mounting a red-dot or reflex optic. On the right side of the receiver, users will find a safety lever that can be actuated through the use of a single finger. An oversized magazine release makes changing magazines fast and easy, and the Citadel RS-S1 is even equipped with a bolt hold-open and bolt-release levers.
The Citadel RS-S1 shotgun is equipped with polymer furniture, including a textured fore-end for enhanced support-hand grip and a generous recoil pad on the stock designed to absorb recoil from heavier shotshells. A short section of Picatinny rail mounted on the bottom of the gas block enables owners to attach a light, laser, foregrip or other accessories. Each shotgun is compatible with all Molot Vepr shotgun aftermarket components, though the firearm is 922r-compliant, so owners must be aware of part origins before making modifications to their shotgun.
The suggested retail price on the Citadel RS-S1 shotgun is $799. Each shotgun ships with two 5-round magazines.