by
Shooting Illustrated Staff
posted on February 13, 2018
Support NRA Shooting Illustrated
DONATE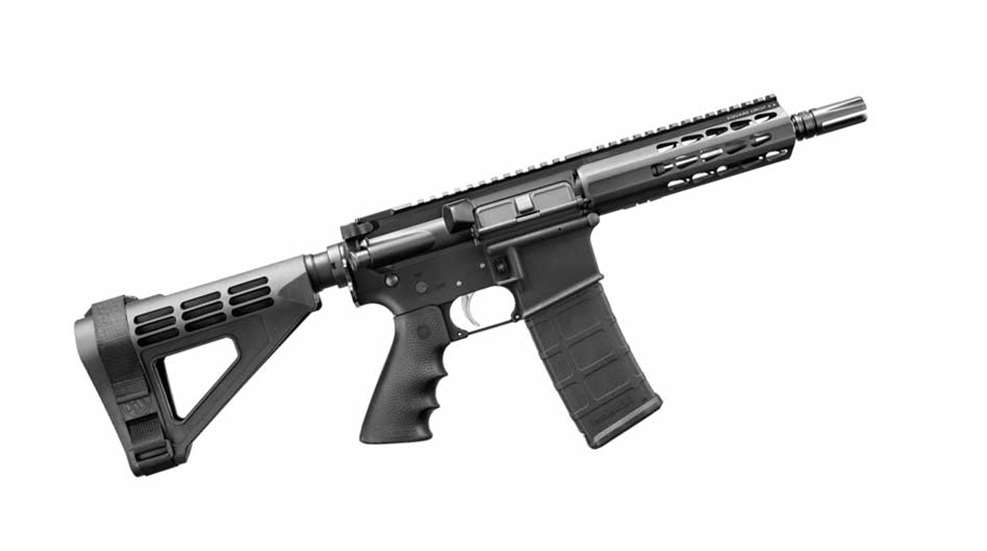 The explosion in AR-style pistols continued in 2018, with
Bushmaster Firearms
adding three new models to its lineup. The all-new Bushmaster XM-15 SD pistol series incorporates several unique elements from other manufacturers in the industry.
One new element in the system is identified by the name of the new SD lineup. The "SD" stands for the SquareDrop modular handguard system developed by sister company
Advanced Armament Corp
. This fore-end design incorporates a unique attachment system that allows for added flexibility in mounting accessories and other attachments to the handguard, using AAC's proprietary SquareDrop attachment system or any KeyMod accessory attachment on the market.
One of the other stand-out features of the all-new XM-15 SD AR-15 pistol is the inclusion of an arm brace designed by
SB Tactical
, known for its unique, innovative brace designs that are made by military veterans right here in the USA. The included SBM4 pistol-stabiliizing brace is constructed from flexible polymer and includes a 1-inch hook-and-loop strap that secures the brace to the user's forearm, providing a third point of contact for extra stabilization. The brace measures 7.2 inches long and weighs 8.4 ounces.
Each Bushmaster XM-15 SD AR-15 pistol is built with a mil-spec 4150 chrome-moly steel barrel, which is finished with a ferritic-nitrocarburized finish that enhances hardness and corrosion resistance for a lengthened service life. Each AR is built with a standard upper and lower compatible with all mil-spec aftermarket components. Another enhanced element of the XM-15 pistol is the addition of an
ALG Defense
trigger assembly, stepping up from the mil-spec to give consumers improved control and feel.
Several models in the XM-15 AR-pistol lineup are available, each with different barrel lengths. The longest pistol built provides users with a barrel length of 10 inches. A second model steps down with a 9-inch barrel, while the shortest option available measures in with a barrel length of 7 inches. Each model can be had either in 5.56 NATO or .300 BLK.
The suggested retail price on the new Bushmaster XM-15 AR-15 pistol starts at $1,399.