When it comes to muzzle devices, there's three main types: Flash hiders, brakes and compensators. They're pretty self-explanatory, although often misunderstood: a flash hider doesn't make the muzzle flash go away, it just makes it less visible to the shooter. If you've ever shot a firearm with a lot of muzzle blast at dusk, or on a dim indoor range, you know how important this can be. Brakes and compensators reduce recoil and keep the muzzle from moving by directing the exiting gasses a certain direction (brakes drive the gasses rearward, to counteract recoil, while compensators drive the gasses up to keep the firearm on target).

Which is best for your rifle? Much depends on what you expect from your rifle or carbine, of course. Those who might participate in 3-gun competition, for example, might want a compensator that reduces muzzle climb to get back on target faster. A home-defense carbine might be better served by a flash hider to reduce the flash should the carbine be used in low light. If you're building a big-bore thumper like a .458 SOCOM, a brake might be the best option. Once you figure out what you want, though, here's a handy list of some great devices: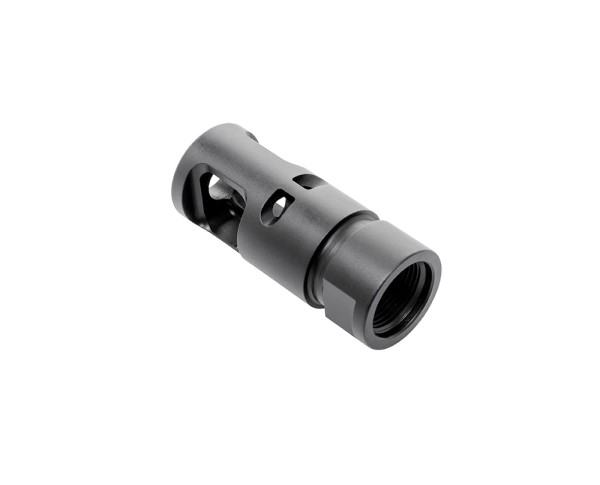 CMMG SV Compensator. Simple, effective and easy to install, the CMMG SV Compensator is based on the AK-74 muzzle device. Shims are included to properly clock the SV on the muzzle, and the single chamber means less area to foul. We tested a Mk4 RCE rifle in .223 Rem. with the SV compensator installed, and found it to function exactly as advertised, helping to reduce muzzle climb. MSRP: $69.95; cmmginc.com.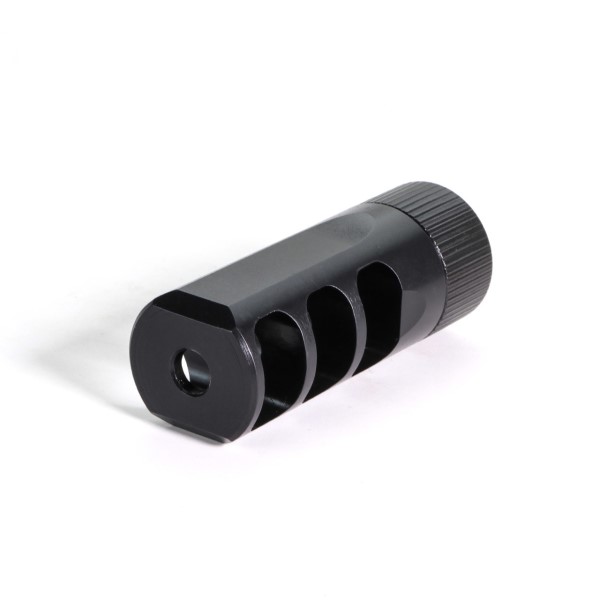 Faxon Gunner 3-Port Muzzle Brake with MuzzLok. Faxon Firearms' MuzzLok attachment system neatly sidesteps the need to properly clock the muzzle device. Rather than have to try a bunch of shims to get the device oriented properly, the MuzzLok system allows the brake to be installed to the right orientation and then tightened separately. In use, the brake is effective, with claims of up to 50-percent reduction in felt recoil. We only have a 5.56 NATO version, which is difficult to judge, but can definitely vouch that recoil is reduced. MSRP: $59.99, faxonfirearms.com.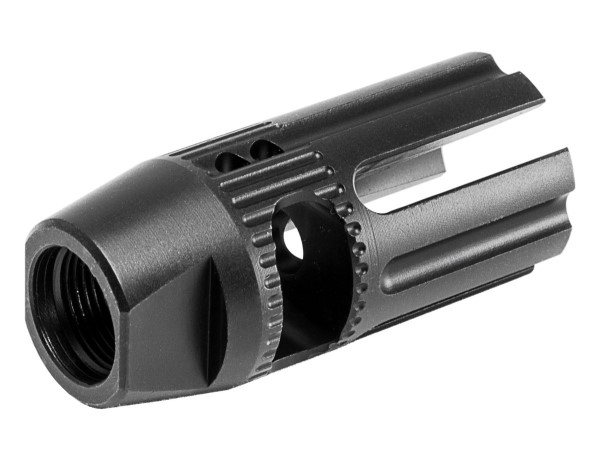 Mission First Tactical Evolv Brake/Compensator Hybrid. Designed to combine the recoil mitigation of a brake with the reduced muzzle climb of a compensator, Mission First Tactical's Evolv hybrid muzzle device also has design elements of a flash hider. As a general rule, hybrids are a compromise between both combined items, and the Evolv is no exception. While it does an excellent job combining the two functions, those looking for a pure comp or brake should investigate other devices in Mission First Tactical's line. If you're looking for a do-it-all device, though, it's worth a look. MSRP: $69.99, missionfirsttactical.com.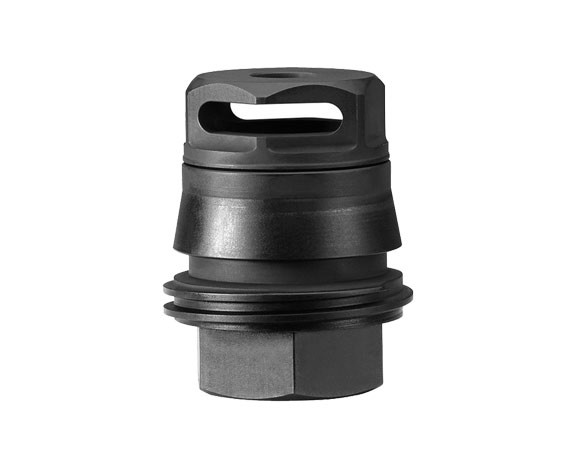 SIG Sauer SRD556 QD Taper-Lok Muzzle Brake. Another option for a muzzle device is something like the SIG Sauer SRD QD Taper-Lok muzzle brake, which offers the recoil reduction of a single-port brake with the quick attachment of a sound suppressor. One note on this device: while it does work wonderfully to reduce recoil (we have it on a 5.56 NATO AR pistol), the muzzle flash is, well, pronounced. You'll notice it, especially on an indoor range or at dusk. If you're looking to mount a suppressor on your firearm, this is a great choice, especially if you plan on sharing suppressors across different devices. MSRP: $71.99, sigsauer.com.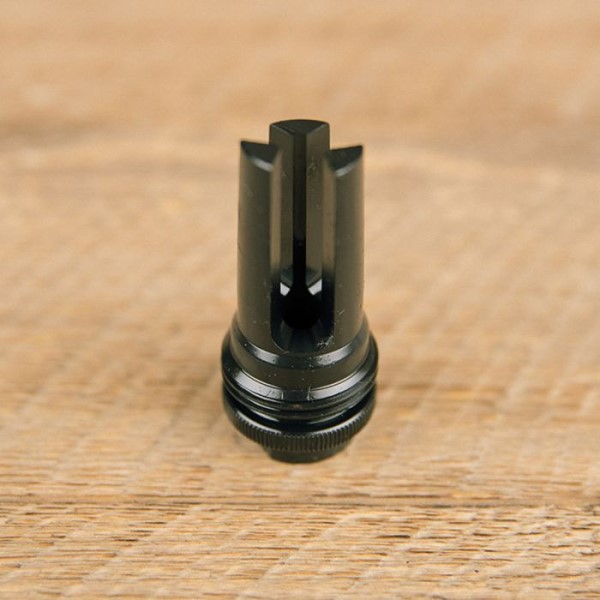 SilencerCo ASR Flash Hider. Another option for quick attachment of a sound suppressor, SilencerCo's ASR (Active Spring Retention) flash hider is designed to allow attachment or removal of an ASR-compatible suppressor with a single hand. It's a fast, intuitive system that gives the shooter the option of swapping suppressors (between firearms of compatible calibers, of course) quickly and efficiently. On the flash hider side, it's definitely effective at reducing the visible flash signature to the shooter, and SilencerCo has even made it beefy enough that you don't get the audible ting often associated with flash hiders. MSRP: $92, silencerco.com.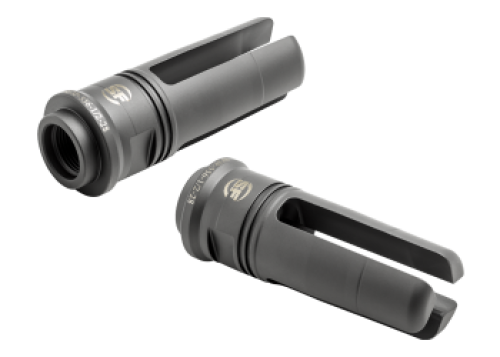 SureFire SF3P Flash Hider. If you're seeing a theme in the last few devices, congratulations. We're big fans of dual-purpose items, and a combination muzzle device/suppressor mount just plain makes sense. If you're building an AR-15, you need to put something on the end the muzzle, so why not plan for the future and add a device that allows rapid addition of a suppressor? SureFire's SF3P flash hider is designed to work with the company's SOCOM line of suppressors and boasts 98-percent reduction in muzzle flash. We didn't measure it, but it does effectively reduce flash on our indoor range. MSRP: $135, surefire.com.
Obviously, this is far from a comprehensive list of all the possible muzzle devices out there. There's a distinct bias for multi-purpose devices, either ones that work as both compensators and brakes or as a muzzle device and a quick-attachment point for a suppressor. Obviously, for the devices that attach suppressors, they are designed to work only with the specific brand of suppressor, but if you've got multiple rifles with which you're looking to share a single suppressor, capping each rifle with the same QD mount makes swapping that one suppressor between rifles a breeze.