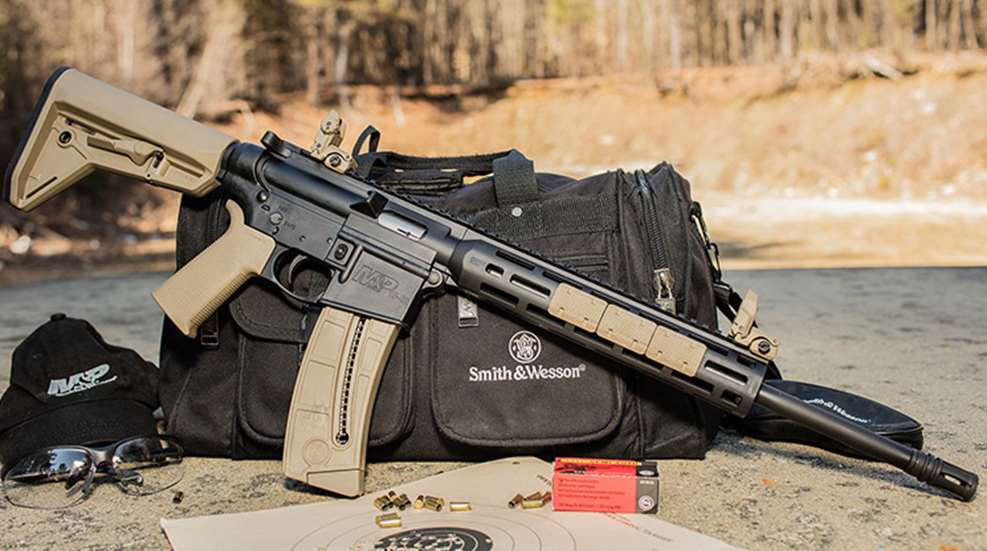 Since the introduction of Smith & Wesson's M&P (Military and Police) handgun line in 2005, its popularity has quickly grown. Many shooters know the gun and many shooters own the gun. Now, Smith & Wesson has released an M&P Sport Rifle made with standard Magpul accessories.
The S&W M&P 15-22 Sport Rifle keeps the M&P look and is a great rifle for law enforcement training or recreational shooting for the firearm enthusiast. It is engineered on a high strength polymer upper and lower receiver, delivers reduced weight, features front and rear MBUS folding sights and the M&P Slim M-LOK handguard. The M&P Sport Rifle also dons a Magpul MOE SL mil-spec carbine stock. This stock has an improved cheek weld due to its sloped comb profile, its ambidextrious release lever is covered which prevents snagging or unintended adjustments, and it features an angled rubber butt pad for an anti-slip surface and impact protection for the shooter.
Another major Magpul accessory that comes standard with the S&W M&P 15-22 Sport Rifle is the MOE SL Grip. The vertical design of the grip is angled so that it brings the primary hand of the shooter closer to their body. The Magpul MOE SL Grip also features a beavertail backstrap, is imprinted with aggressive TSP texture for a confident hold in all environments and its slimmer.
Along with Magpul M-LOK Type 2 rail covers, for positive control wherever you may be, the M&P Sport Rifle is available in black or flat dark earth and comes with a 25-round .22LR magazine.
"As we continue to offer shooters enhanced features and control on a factory built platform, we are especially excited about this new addition to our extremely popular family of M&P15-22 Sport rifles. We continue to look for new and innovative ways to evolve the M&P rifle series and offer consumers enhanced features.  Outfitting the M&P15-22 Sport MOE SL with Magpul original equipment is just another step in creating the ultimate shooting experience," said General Manager of Smith & Wesson's M&P Brand Jan Mladek.
For more information visit Smith & Wesson.
MSRP: $499