We are, it seems, firmly ensconced in the realm of the "tactical." It is our latest and greatest meme, outside of zombies, and it is showing no likelihood of abating. There is, of course, a far stretch between that which is actually tactical on a practical level and those things merely made to look cool. However, when the two can be successfully melded together, then it is truly a cause for rejoicing.
The Mark I Jacket from Kitanica promised to offer just that combination when I first saw it—a combination of shooting jacket, Arnold Schwarzenegger's "Terminator" garb and Rambo (if Rambo wore a jacket, that is). Like a traditional shooting jacket, the Mark I is a bit on the fitted side, so if you carry a lot of extra stuff on your belt you may want to go one size larger than usual.
The distinctive straps on the front don't cinch the jacket any tighter, but do provide the option of closing it without using the zipper. This way, the user can have faster access to the four large interior pockets, which are ideal for concealed carry—for both right- and left-handed shooters. I found every pocket would easily fit a subcompact pistol, the Springfield Armory XD9 Subcompact in my case. The larger interior pockets can also fit a full-size pistol if desired.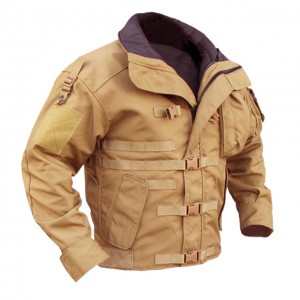 On the outside, there are two hand pockets with quick access hook-and-loop closures, a chest pocket on the left side and a shoulder pocket on the left arm large enough for a modern smartphone, which are quickly approaching old 1980s dumbphone size. On the right side of the chest, there are three rows of MOLLE webbing for attaching accessory or magazine pouches as needed. The top of the right shoulder also features a small flashlight mount for hands free operation.
As befitting any item of apparel claiming to be tactical, the Mark I jacket is built tough from 1000D urethane-coated Cordura nylon for waterproofing. Every corner, joint and seam is reinforced, and the waist, collar and wrists can be cinched for a better fit and to guard against chills. This also helps to keep you in the jacket should someone need to use the drag strap on the back.
Internally, the Mark I has a heavy-mesh fabric lining that both insulates the wearer in cold weather and helps air circulation to keep you cool when it gets warm. Internal zippers allow for the user to add a properly sized liner or fleece. I prefer to pair the Mark I off with the standalone 2-Zip Fleece from Kiatnica, which is super thick. When combined with the jacket, it easily keeps you warm at below-freezing temperatures.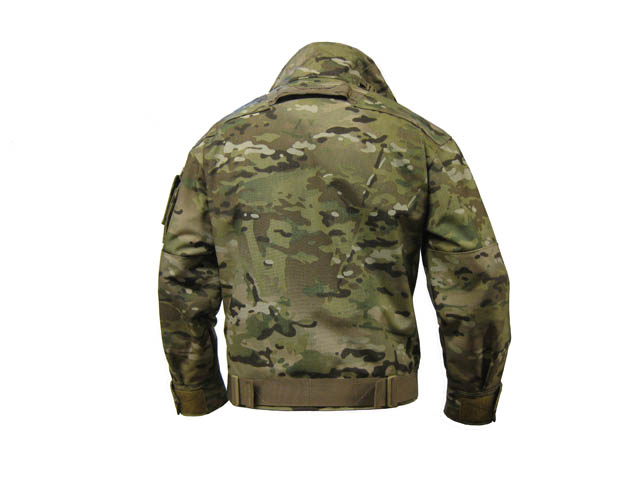 Kitanica features a full line of tactical clothing, all made cyborg-from-the-future tough in the good old U.S. of A., complete with a lifetime guarantee. In what I can only assume is a well-rehearsed answer to a too oft-repeated question, no, the Mark I is neither fireproof nor bullet proof, although it certainly looks the part.