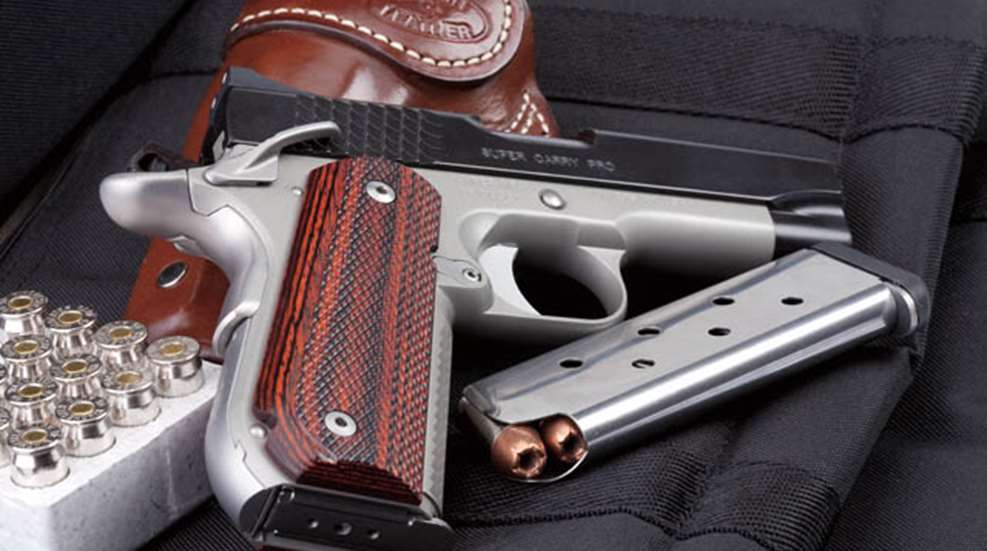 Looking at one of Kimber's newest 1911-style pistols, the Super Carry Pro, I can't think of any additional features I would want on the gun, which is interesting because the Custom Shop received absolutely no input from me when building it.
Remembering some of my past custom-gun projects, I recall dialogues with builders on what I wanted, what was available and what feature packages could be put together. Kimber's custom concept is different. The company conducts market research to find out what features are in demand, and then it determines how best to make a pistol with those attributes while utilizing as much inline manufacturing as possible to hold down costs. In some cases, the decision is to make a limited run of a particular Custom Shop model. Fortunately, that is not the case with the Super Carry Pro, which will be an ongoing edition.
When I first saw the Super Carry Pro, I was immediately attracted to the rounded mainspring housing and modified frame. In a concealed-carry gun, I consider a round butt much more important than a short frame.
This allows you to use full-capacity magazines—in this case, eight-round KimPro Tac-Mags—while minimizing the chance of the pointed butt printing against a shirt or sport coat. The Super Carry Pro has a 4-inch barrel, probably the best compromise between concealability, shootability and reliability in a 1911 intended for concealed carry. Kimber gives the gun its Carry Melt treatment to smooth sharp edges and an aluminum frame to reduce weight to 28 ounces, both pluses for a concealed-carry handgun.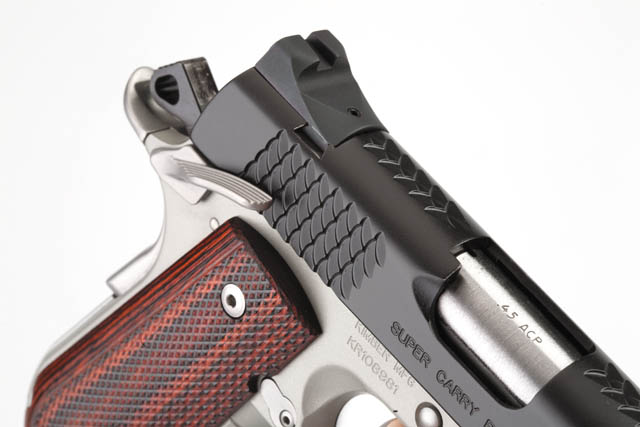 Where a 1911 should not be smooth, the Super Carry Pro has some nice touches. At the rear of the slide and on the frontstrap are what Kimber calls Super Carry Serrations. These provide assistance in manually operating the slide and enhance grip retention during recoil. The same serrations are on top of the slide to help eliminate glare created from light reflecting off the matte-black finish. They remind me of snake scales, but are uniquely unidirectional; they feel smooth when moving your hand across them in one direction, but provide resistance when moving the other way. It's easiest to verify a chamber's condition with the slide serrations, but it also works in establishing your grip. Also assisting in grip retention are the Super Carry Pro's checkered micarta/laminated-wood grip panels. The checkering goes all the way to the front edge of the panels, tapering nicely into the serrations on the frontstrap, but stops about .25 inch from the rear edge of the panels. To paraphrase the old beer commercials, "Looks great, feels great!"
The sights are another example of the Custom Shop's attention to proper detail on a self-defense pistol. Both front and rear are ruggedly dovetailed into the slide. The front blade is fixed, while the rear has a setscrew and can be drifted right or left for windage adjustments. They are Meprolight's tritium night sights with white circles surrounding the tritium insert, providing visibility in bright daylight, low-light conditions and darkness. The rear sight has a cocking shoulder, meaning its face is squared to allow one-handed manual slide operation in case one arm becomes disabled or is occupied with another task. An additional nice touch is the multiple horizontal lines cut into the backside of the rear sight to minimize light reflection.
The Super Carry Pro has an ambidextrous thumb safety, a feature sure to generate ferocious debates between passionate advocates and detractors. A 22-pound recoil spring makes the slide harder to cycle manually than 5-inch models, but it should be manageable by anyone strong enough to handle the forces generated by a .45 ACP handgun. The full-length guide rod means disassembly is a bit more difficult than usual, but Kimber believes it improves the reliability of 1911s having shorter slides and barrels.
The gun comes with one, eight-round KimPro Tac-Mag, sans base pad. KimPros are good magazines, but everyone should have more than one. I suggest ordering at least two extra with the base pads.
I took a mix of ammo to my local indoor range, including jacketed hollow-points weighing from 185 to 230 grains and some Black Hills 200-grain Match semi-wadcutters. With the jacketed-hollow-points there was only one functional hiccup; the eighth round of the first magazine failed to chamber. Aside from that, the gun functioned perfectly with my various assortment. The first two magazines loaded with the 200-grain lead semi-wadcutters each experienced one failure to fully chamber a round before things settled down to 100-percent reliability. It's called the break-in period, a task we should put every new gun through before venturing onto the streets and betting our lives on it.
At 10 yards, groups were .5 to 1 inch low, while at 20 yards they were more like 2 to 2.5 inches low. It surprised me that both the 185-grain and the 230-grain jacketed-hollow-points printed slightly lower than the 200-grain lead loads. I prefer bright daylight for trying different loads to ensure I'm seeing a clear sight picture, and I was definitely fighting for clarity on the indoor range. That said, it's important to do some firing in reduced-light conditions since that's the environment in which you will most likely need a defensive handgun. Group size wasn't bad considering visibility: somewhere between 1.5 to 2.5 inches shooting offhand.
I shot a steel-frame, 4-inch-barreled 1911 along with the alloy-frame Kimber for comparison. As expected, I could feel a slight difference in recoil, but for me it was minor. I say "for me" because I've never been fast on follow-up shots. I suspect that if you were fighting the clock, you'd see a time difference. If you had to carry the gun for an extended period of time and then defend your life with it, perhaps not. Whether or not the lighter weight represents a good trade is your call.
I spent a couple of days toting the Super Carry Pro around the house in concealed mode. On any training range, I use polymer holsters worn on my strong-side hip. It's perfect for the hundreds of presentations you'll do over the course of three to five days. When I carry concealed, my preference is leather, but I still wear it outside my belt and behind my strong-side hip. For the Super Carry Pro, Mitch Rosen sent me an IWB holster. If you've yet to see any of Rosen's work, you're missing out on one of the real joys of handgunning. Normally, my burgeoning love handles don't like company inside the waistband, but with a larger pair of jeans, the Kimber, Rosen holster, love handles and I got along famously. With one of Rosen's combination magazine/flashlight holders riding on the opposite hip, everything was quickly accessible and comfortable enough for daily carry.
Kimber's Super Carry Pro has an MSRP of $1,530, which is a lot for a production gun, but not so much for a custom-shop piece. Initially, I was taken by the gun's great looks, a character weakness I've had all my life. After some personal time together, however, my interest isn't just about appearance. Admittedly, at this point I still don't know what ammo would be best in the Super Carry Pro, but I do know I wouldn't hesitate carrying this little package for a primary self-defense gun.