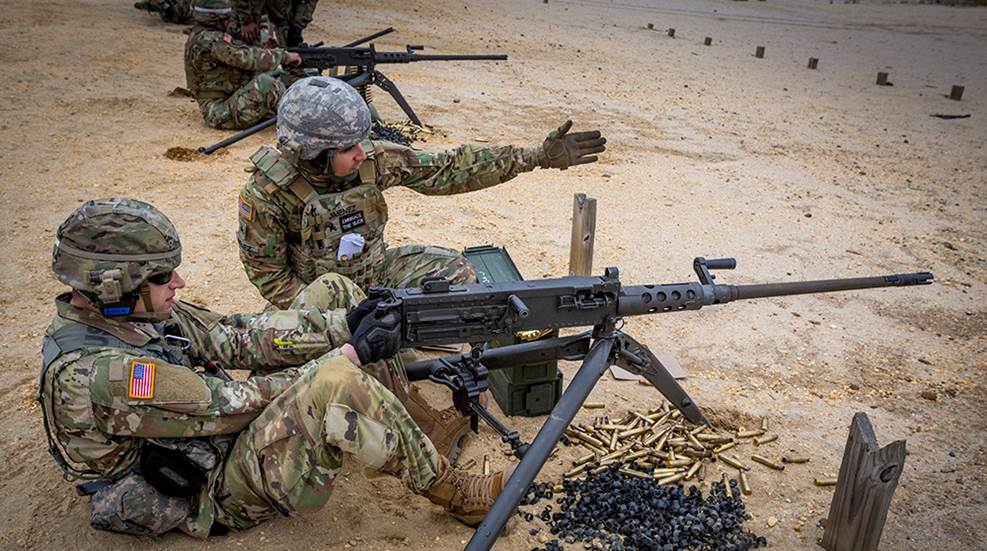 Lead photo courtesy of the Department of Defense.
---
The fact is you probably own a firearm that is or is based on a John Moses Browning idea, but it's possibly wearing another brand name on the barrel or action. With a record 128 patents in firearms designs and manufacturing rights sold to other leading firearms manufacturers, John Browning left a mark on America's firearms that is still very visible today.

Browning learned much of his firearm-building knowledge in his father's shop. His father, Jonathan Browning, designed the first repeating rifle—a near-standard rifle of the time that had an early form of magazine that slid through the action with black powder and balls packed into each chamber of the magazine. Those rifles were shipped with two magazines, so owners could be prepared with a quick reload.

Reportedly, young Browning's first rifle was built from a barrel he scavenged from a junk pile and with a stock he whittled from a board. As firearm-design ideas came to Browning, he would make crude drawings on boxes, papers or anything near he could draw on. Browning was also thinking deeply about how firearms—and ammunition—operated.



Browning sold more than 40 firearm designs to the Winchester Repeating Arms Company, including the Model 85 single-shot. The original is now on display in the Smithsonian Institution in Washington, DC. The patent was issued on Oct. 7, 1879. Next followed several lever-action repeating rifles (Models 1886, 1892, 1894 and 1895) and a couple of .22-caliber rifle designs, which included the pump-action Model 90 and the Model 1900 bolt-action rifle. The Model 1886 repeating rifle was offered in the Winchester line for more than 20 years.

Winchester manufactured more than 2.5 million Model 1894 lever-action rifles in a span of approximately 50 years. In the period of 1884 to 1886, Winchester purchased the rights to 11 other Browning-designed rifles. Next came the .30-30 cartridges, and barrel-changes permitted many Browning designs based on black-powder cartridges to meet the demands of new-era smokeless powder cartridges. Browning, however, did not stop here in his thoughts and designs and did not work exclusively with Winchester.



Remington also purchased its Model 11 semi-automatic shotgun design from Browning, along with several .22-caliber rifle designs and the Model 17 20-gauge pump-action shotgun. Remington, like most leading firearms manufacturers during this period, welcomed Browning and his ideas into its shop with open arms. His track record of combining innovation with easy-to-build designs were proven market winners.

Another John Browning achievement was capturing the gas expended from a fired cartridge and diverting the gas and pressure through a tube to operate the firearms' action. In 1891, Browning filed for a patented for a gas operated firearm—along with another patent for a fully-automatic machine gun.

Up until this time, the crank-operated, rotary designed multi-barreled Gatling gun ruled the world as a machine gun. This changed in 1891 when Browning passed through the doors into the Colt factory in Hartford, CT. His newly invented machine gun fired 200 rounds so fast—without interruption—that the Colt staff were speechless.  

In addition to the M1895 machine gun, Browning also increased the battlefield dominance by unveiling his water-cooled M1917 .30-caliber machine gun to the US government. The initial demonstration worked through 20,000 rounds at the rate of 600 rounds per minute without interruption. Government observers were left speechless. Colt would also eventually bring the BAR (Browning Automatic Rifle) to soldiers and the world in 1917, as well as Browning's .30- and .50-caliber machine guns based on the design of his M1917 machine gun. The Browning M2, developed in 1918, continues to serve as the U.S. Military's primary heavy machine gun. Before Browning was through with machine-gun refinements and new versions, he had invented more than 60 models.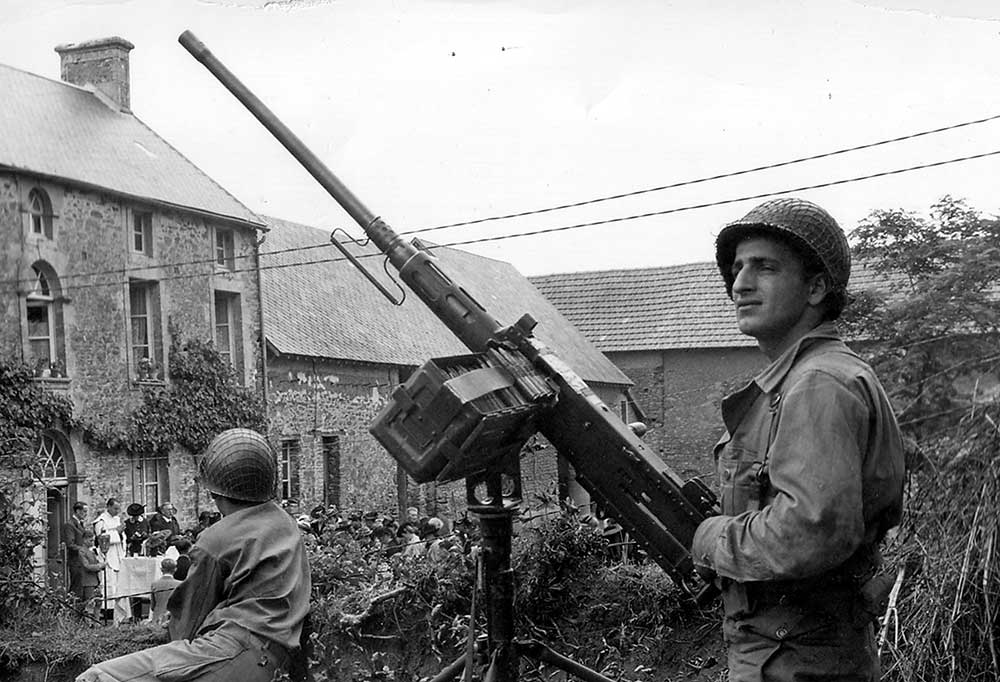 While long guns, shotguns and fully-automatic machine guns had taken much of Browning's design time, he had also been working on pistols—many models of pistols. Several models of semi-automatic handguns had begun catching attention in Europe and America, and Browning considered those firearms too slow and bulky. He decided he could build a better pistol. In 1895, Browning filed for a patent on a design that would eventually become the handgun slide. The revolver had met its match. 

The now-famous Colt pistols such as the Woodsman and the iconic Model 1911 sidearm used by military branches for decades began as an idea in Browning's mind and emerged through the refinements of several designs.

His first four handguns were based on .38-caliber ammunition and built by Colt—including the Model 1900 .38-caliber. All Browning-designed pistols were huge successes. The test of the semi-auto pistol that eventually became the U.S. Model 1911 lasted two days, and the pistol shot without interruption while firing the new, Browning-designed .45 ACP.

At this time, Browning also happened to meet someone –Hart Berg—who was connected to Belgium firearms manufacturing and passed a .32-caliber semi-auto pistol—the Model 1900—to Berg so he could have the pistol reviewed in Belgium by Fabrique Nationale (present-day Fabrique Nationale Herstal). This was the start of a cross-Atlantic relationship that continues today. The .32-caliber pistol began production in a factory that, until the development of the Model 1900, had sat idle.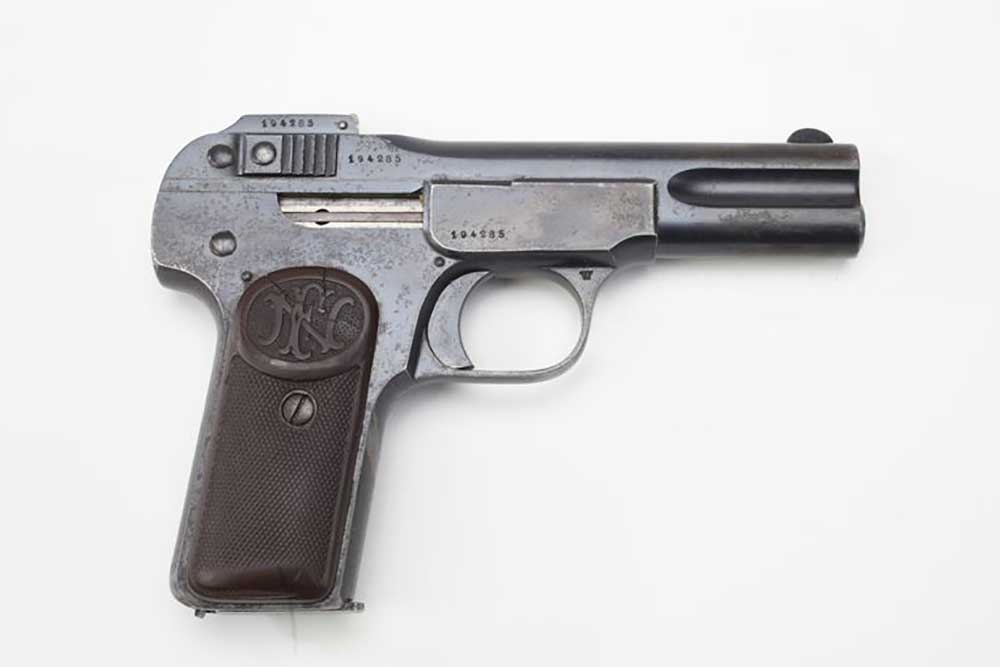 Browning pistols rolling out in production grew to include the Colt Model 1903 Pocket Pistol offered in .32 ACP and .380 ACP (both Browning cartridge designs), the FN Model 1903 in 9 mm, a .25-caliber vest-pocket pistol produced as the M1905 by FN and the M1908 by Colt and the popular Colt Woodsman in .22 LR. Not only had Browning designed a new entire category of pistols with his slide-action design, he created several popular product categories to include pocket pistols and plinkers. Browning, the epic tinkerer, was known to fill his pockets with ammunition and walk into the hills above Ogden, UT, on some evenings and shoot to test pistol models and relax.

Next, Browning arrived in Belgium with the plans for what would become the most successful semi-automatic shotgun ever designed—the Browning Auto 5. Browning was far ahead of his time with the concept, and no one in Europe or America could understand a semi-automatic shotgun. The design had been initially rejected by Winchester Repeating Arms. However, once Fabrique Nationale began producing this revolutionary design, hunters opened their wallets everywhere, and A5 shotgun sales hit new records. Not content to rest on his laurels, Browning followed up the success of the world's first over-under shotgun, which became the Superposed series of sporting arms.



Browning, always designing and drawing, soon created his biggest arm—the 37 mm M1 Autocannon. It, like all Browning-designed firearms, passed military tests with flying colors and was soon purchased by the U.S. Military. At the start of WWII, the 37 mm M1 Gun was a mainstay of the military's anti-air defensive system.

Browning ultimately created more than 80 distinct firearm models and several new firearms categories. He died in Belgium in 1926 while overseeing production of the A5 shotgun and working on what would ultimately become the iconic Browning Hi Power, a double-stack handgun design finished by his protégé, Belgian small-arms designer Dieudonné Saive. Browning's body was returned to the U.S. and met with full military honors. He remains the most prolific firearm designer in the world. Today, his designs are celebrated at the Browning Museum in Ogden, UT and continue to live on in the gun collections of millions of Americans.